The 'Wall Street Journal' Finally Recognizes The "Comics" Effect on Pop Culture
Funny, it wasn't so long ago -- before the movie industry and TV made it "fashionable" -- comics were straw targets for anything and everything from derision to illiteracy. Of course, that perception has shifted rather monumentally, particularly during this first decade of the 21st century, thanks in no small part to the huge piles of cash generated by the mega studios producing the further screen adventures of your friendly, neighborhood superhero, "fill-in-the-blank."
Yes, we can argue until the cows come home about how or if comics reap any financial benefits at all from the proliferation of the summer superheroic blockbusters. Not in debate for a second, however, is how all that attention to mega-dollars has played out in the mainstream media. My argument: Successful summer franchises like Spider-Man may not be helping Marvel Comics Inc. sell comics directly, but they are helping to change the perception of this artform we love among the unconverted masses far beyond the "Biff! Bam! Pow!" era of the 60s Batman TV series for the better. And, that's a good thing.
Some of my counterparts in the comics blogosphere would strongly disagree with that assessment as a facile one, arguing comics never needed movies to prove their legitimacy as an art form, something with which I heartily agree. Yet, there's also no doubt this successful subgenre of movies certainly have drawn the attention of John Q. Media, who is nothing if not curious about this corner of the pop culture universe. With increasing frequency, their observations are finding their way into newspapers, magazines and other electronic media, again, apart from the "Adam West-spawned" sound effects headlines.
Take, for example, a couple of news stories hitting the Wall Street Journal, one of my favorite newspapers (at least until News Corp. takes it over) this week. One story details the temporary swing upward in stock prices among investors of manga publishers and anime, due to rumors Taro Aso, a fan of the medium and secretary-general of Japan's ruling Liberal Democrat party, may replace outgoing Prime Minister Shinzo Abe who resigned abruptly. Believing that "embracing Japanese pop culture was an important step to cultivating ties with other countries," Aso oversaw the creation of the International Manga Award to honor non-Japanese cartoonists, according to BBC News.
Makes one wonder why comic books, an intrinsically American artform, haven't received their due in the United States...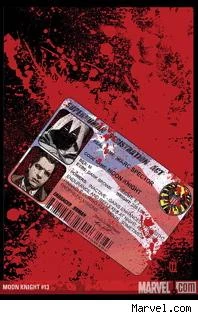 You'll also want to check out WSJ's short interview with Charlie Huston, a self-described pulp writer and childhood fan of Marvel's Moon Knight who's been responsible for the character's successful relaunch a year ago. About that snobbery toward pulp fiction and comics from elitists in the worlds of writers and readers I talked about earlier, Huston reports, that divide still exists.
"I was shocked to discover that those attitudes are alive and kicking. With the exception of very dead writers like Raymond Chandler and Dashiell Hammett who have come to be appreciated for their prose and their ability to write a yarn, there isn't a lot of respect. I think of pulps less in terms of something that means guns, trench coats or westerns but rather in terms of a style of writing that evolves out of a certain economic necessity."
Why did Huston take on Moon Knight in the first place? "A reader is a reader. One of the great things about being involved with comics is that those people are devoted to their characters, writers and artists. The average comic reader isn't casual about their habit. A reasonably successful comic has a monthly print run of 40,000 copies with your name on the cover."