War Fix, Silk Road Nominated For Book of the Year
Press Release
ForeWord, the leading magazine for independently published books, has nominated NBM Publishing's War Fix and Silk Road for Book of the Year. War Fix, by David Axe and Steven Olexa, is one of only five finalists in the Graphic Novel category. Ted Rall's Silk Road to Ruin is one of twelve finalists in the Political Science category, up against such distinguished titles as Nobel Prize winner Aleksandr Solzhenitsyn's The Solzhenitsyn Reader.
This year marks the ninth ForeWord Book of the Year Awards. "Nearly 1,400 books were entered in 59 categories," says the magazine's website. "The winners will be determined by a panel of librarians and booksellers, selected from our readership. . . . Gold, Silver, and Bronze winners, as well as Editor's Choice Prizes for Fiction and Nonfiction, will be announced at a special program at BookExpo America at the Javits Center in New York City. [The ceremony will take place on] June 1st from 2:30pm at LIVE@ Second Stage located on the main show floor."
War Fix, by Axe and Olexa, is combat journalist Axe's journal of his addiction to battle. Amazon.com named War Fix to its list of 2006's ten best graphic novels, and the American Library Association's Young Adult Library Services Association nominated the book for its list of Great Graphic Novels. Critics from sources as diverse as PopularScience.com and UtneReader.com have praised the book's honesty and passion.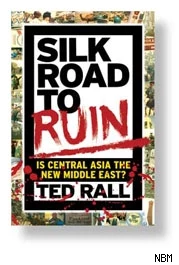 Silk Road to Ruin: Is Central Asia the New Middle East? is cartoonist Ted Rall's account of his travels through Afghanistan and other parts of what he calls the New Middle East. He returned with this mix of travelogue, political analysis, and graphic novel. Rall sees oil wealth, Islamic radicalism, and American ambition colliding to turn the region east of Iraq into something explosive.
NBM is no stranger to the Book of the Year awards. Last year, for instance, Richard Moore's Boneyard in Color took the gold medal as the year's best graphic novel. Among the year's other nominees was Patrick Atangan's Tree of Love, also from NBM.
For more information, visit www.nbmpub.com/news/latestnews.html or www.forewordmagazine.com/botya/.