 ComicsAlliance Presents The 50 Sexiest Male Characters in Comics It's Valentine's Day! What better way to celebrate love than by ogling some fine-looking fellas?
We know what you're thinking. "This is lowbrow stuff, beneath the lofty ambitions of clever old ComicsAlliance, and hey, where are all the hot chicks?" But we do this not because it is easy, but because it is hard. Comics provide such a rich vein of female objectification that female character's ranks on the Comic Buyer's Guide's 100 Sexiest Women in Comics list is treated as important information on Wikipedia. So we're providing a little balance.
We've consulted with friends and experts, with readers on Twitter and Tumblr, and we've put together our own list of the sexiest male characters in comics. If you want a list of sexy ladies, some other site will probably have one for you soon. We're not going to do that. We're here to check out some dudes. Disclaimer: You probably won't agree with this list, because it's a list on the internet. That's fine. If you want to make your own list, do so with our love. We think that would be great. Let's start a conversation about sexy guys in comics.
Second disclaimer: This is all about comic book characters, not characters from movies, TV shows, anime or games. We know Tom Hiddleston is delightful, but Tom Hiddleston is not in the comics. You're right, he should be, but he isn't. We apologize for all of your feels.
And now, ComicsAlliance presents: The 50 Sexiest Male Characters in Comics.
50. Roy Harper
(Red Hood & The Outlaws, etc. DC)
Created by Mort Weisinger, Paul Norris
Illustration by Kenneth Rocafort
New 52 redesigns aren't always an improvement, but giving Roy his missing arm back was a welcome move, because the lad has biceps we don't want to lose - especially now he's rocking some ink. Is the baseball cap a little douchey? Maybe. Isn't that part of Roy's appeal?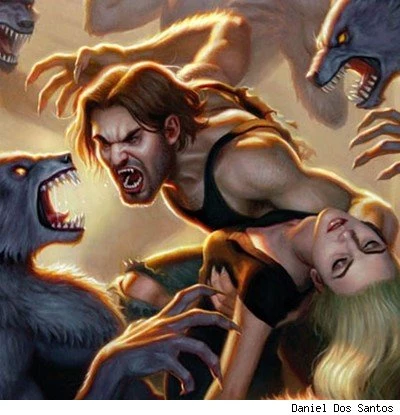 49. Bigby Wolf
(Fables, DC/Vertigo)
Created by Bill Willingham, Lan Medina
Illustration by Daniel Dos Santos
In a world of charming princes and fairy tale romance, it's the growling wolfman who gets our attention. Bigby Wolf is an nice bit of ruff.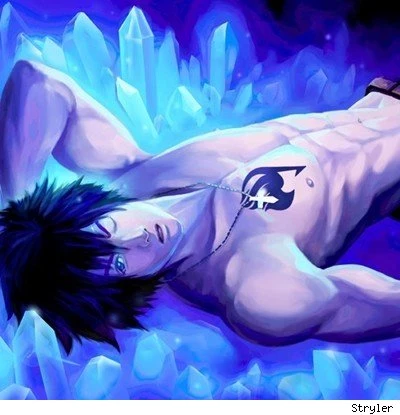 48. Gray Fullbuster
(Fairy Tail, Kodansha)
Created by Hiro Mashima
Illustration by Stryler
There's nothing frosty about Fairy Tail's ice mage. A chronic exhibitionist, he's all about gratuitous shirtlessness and flashing his perfect abs. Ten points to Gryffindor!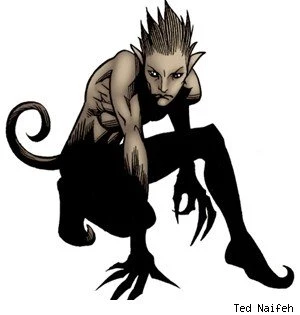 47. Skarrow
(Courtney Crumrin, Oni Press)
Created by Ted Naifeh
Illustration by Ted Naifeh
A sweet-natured puppyish prince of the fey with a slightly sinister appearance and the most soulful eyes you ever saw. Even withdrawn little Courtney Crumrin let her heart get bruised by Skarrow.
46. Bruce Wayne
(Detective Comics, etc. DC)
Created by Bill Finger, Bob Kane
Illustration by Tony Daniel
Batman is a scary eunuch, but when he puts on a tux and pretends to be socially capable billionaire playboy Bruce Wayne he gets a little James Bond swagger and does a convincing impression of a stud.
45. Rei Kashino
(Mars, Kodansha)
Created by Fuyumi Soryo
Illustration by Croftman93
This angelic fellow is what a tortured, dangerous, playboy speed demon biker looks like in Japanese romance manga. The word you're looking for is dreamy.
44. Havok/Alex Summers
(X-Factor, etc. Marvel)
Created by Arnold Drake, Don Heck, Neal Adams
Illustration by Tom Raney
The rock 'n roll alternative to brother Cyclops' easy listening. Havok has the power of a sun wrapped up in tight pants and a surly mutant James Dean attitude.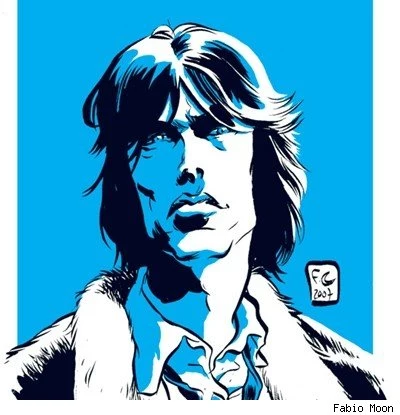 43. Casanova Quinn
(Casanova, Icon/Marvel)
Created by Matt Fraction, Gabriel Bá, Fábio Moon
Illustration by Fábio Moon
Nick Fury by way of Mick Jagger, back in the days when Nick and Mick were inventing sexy.
42. Larry B. Max
(IR$, Le Lombard/Cinebook)
Created by Stephen Desberg, Bernard Vrancken
Illustration by Bernard Vrancken
No-one likes the taxman, but they don't usually look like Larry Max, the unlikely star of bande dessinee series IR$. Yes, it's a book about a special agent who hunts Nazis for the Internal Revenue Service. And he does it all with icy blue eyes, cool tailored suits and a riviera tan.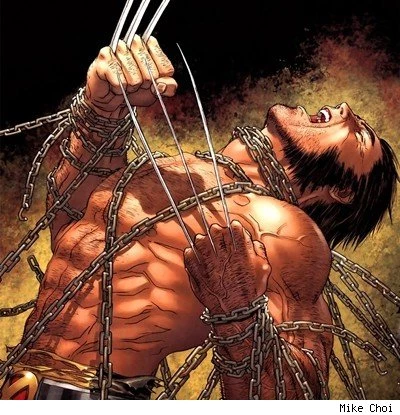 41. Wolverine
(Wolverine, etc. Marvel)
Created by Roy Thomas, Len Wein, John Romita Sr, Herb Trimpe
Illustration by Mike Choi
A feral knuckle of muscle and fur with a bad haircut. But having the right attitude is sexy, and Wolverine is 100% adamantium-laced attitude.
40. John Blacksad
(Blacksad, Dargaud/Dark Horse)
Created by Juan Diaz Canales, Juanjo Guarnido
Illustration by Juanjo Guarnido
He's the archetypal worn-down grizzled private eye, with all the gruff world-weary sex appeal that implies. Sure, he's also an anthopomorphic cat. It's comics. You're allowed to get a little freaky.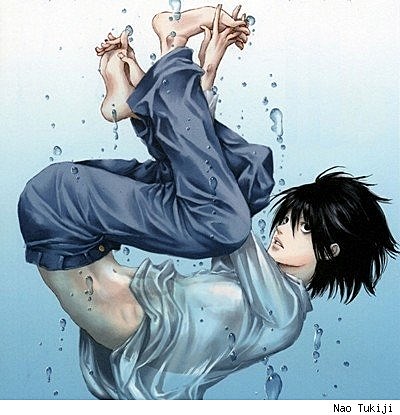 39. L. Lawliet
(Death Note, Shueisha/viz)
Created by Tsugumi Ohba, Takeshi Obata
Illustration by Nao Tukiji
Speaking of freaky, the youthful detective of Death Note is the weird, spooky antithesis to Light Yagami, the book's pretty and psychotic leading man. The tension between the two made them both popular, but sinister L takes the edge because, well, he's not a serial killer.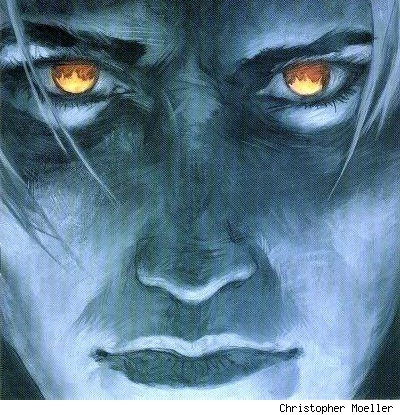 38. Lucifer Morningstar
(Lucifer, etc. DC/Vertigo)
Created by Neil Gaiman, Mike Dringenberg
Illustration by Christopher Moeller
Not that being bad isn't sometimes hot, and Lucifer has a reputation for being pretty bad. He's the most beautiful of the angels; the most brilliant of the devils. It's a seductive combination.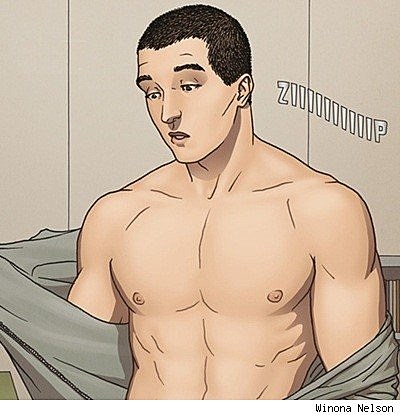 37. Deacon
(Artifice, yaoi911.com)
Created by Alex Woolfson, Winona Nelson
Illustration by Winona Nelson
Can a robot learn to love? Can a really hot robot learn to love? That's a question explored by Alex Woolfson's yaoi romance webcomic, with the added bonus of the buffest fully operational fleshbot you ever saw.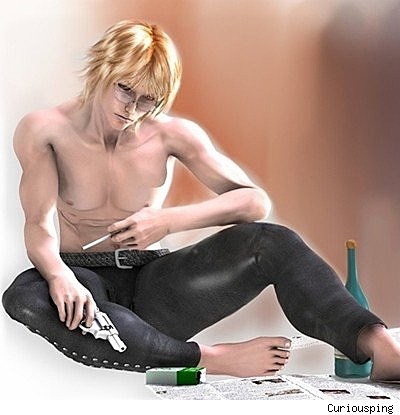 36. Genjo Sanzo
(Saiyuki, G-Fantasy)
Created by Kazuya Minekura
Illustration by Curiousping
Saiyuka was one of the first manga to introduce North American audiences to kick-ass-and-pretty bishonen action heroes. Sanzo is a cocky gunslinger with too many vices to list. Smoldering is one of his virtues.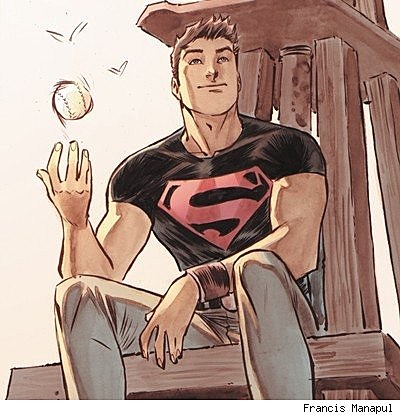 35. Superboy/Conner Kent
(Teen Titans, DC)
Created by Karl Kessel, Tom Grummett
Illustration by Francis Manapul
Sure, Superman is admirable, and sure, Clark Kent fills out a suit, but Supes is a little lacking in the raw sexual energy and tight black t-shirt departments. That's where Conner Kent comes in. Who knew that Gap basics could make for such a compelling superhero costume?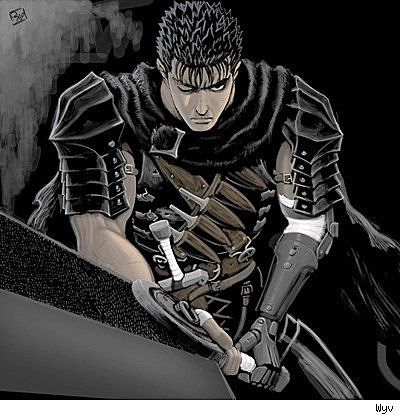 34. Guts
(Berserk, Hakusencha/Dark Horse)
Created by Kentaro Miura
Illustration by Wyv
The scarred and savage Black Swordsman is the buffest and baddest of the big barbarian boys. And you know what they say about a man with an unfeasibly large sword. Good grip. Strong shoulders.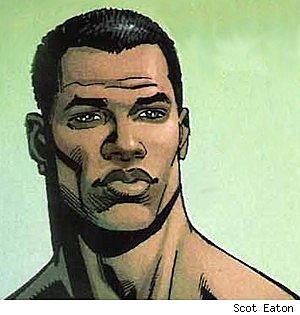 33. Black Panther/T'Challa
(Black Panther, etc. Marvel)
Created by Stan Lee, Jack Kirby
Illustration by Scot Eaton
Now he's back on the market T'Challa is surely at the top of every eligible bachelor list in the Marvel U. Not only is he ridiculously handsome, he's also the smartest of the great fighters, the toughest of the big brains, and an actual honest-to-goodness king (usually). Also, we're fairly sure his whole country vibrates.
32. Sodam Yat
(Green Lantern Corps, etc. DC)
Created by Alan Moore, Kevin O'Neill
Illustration by Patrick Gleason
Some people like Hal. Some people like Kyle. Some people like John. We like the broad-shouldered jarhead of the Green Lantern Corps, the man so damn hot they called him Sodam Yat.
31. Andrew Bennett
(I, Vampire, etc. DC)
Created by JM DeMatteis, Tom Sutton
Illustration by Andrea Sorrentino
Sexy vampires aren't a fad. They will always be with us, no matter how whiny some of them can be. Andrew Bennett is thankfully not the whiny type. He's a fine chunk of toothy alabaster in a form-fitting sweater (or, frequently, out of it).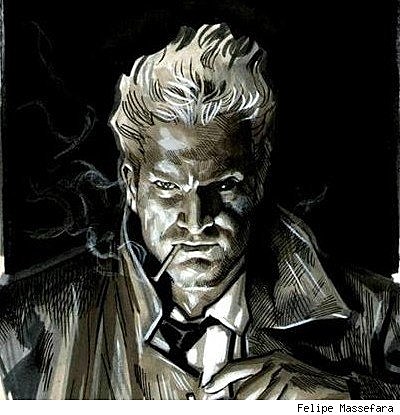 30. John Constantine
(Hellblazer, etc. DC Vertigo)
Created by Alan Moore, Steve Bissette, Jamie Delano
Illustration by Felipe Massefara
Vertgo's trickster magician is a terrible person to fall for judging by all his past relationships, though those people aren't around to warn you away, and even knowing he's bad for you may be no defense against John Constantine's wily charms.
29. Shatterstar/Gaveedra Seven
(X-Factor, etc. Marvel)
Created by Fabian Nicieza, Rob Liefeld
Illustration by Morita Tsubaki
As originally conceived, Shatterstar wasn't a sexy character. All mullet and no personality. It took Peter David's reinvention to uncover his charm, and a new look from Valentine De Landro and David Yardin to make him dashing. His relationship with Rictor and his sexual curiosity have cemented his place as a character fans can appreciate as both a lover and a fighter!
In the weird, wild world of Chad Sell's superhero pastiche Manta-Man, sex is a good thing, and being sexy is a great thing, and Manta-Man - a man who turns into a manta ray and tickles his girlfriend's fancy in either form - is a rare and welcome example of a superdude who's meant to be eye candy. (But we're not so hot for the manta ray.)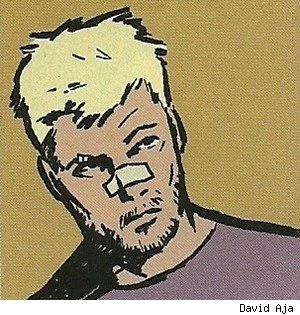 27. Hawkeye/Clint Barton
(Hawkeye, etc. Marvel)
Created by Stan Lee, Don Heck
Illustration by David Aja
Every superhero is someone's crush, but Hawkeye didn't really rise above the Aquamen and the Captains America until his recent upgrade at the hands of Matt Fraction and David Aja. Now the second-string Avenger has found his true hotness as a slightly slovenly sweatpants-wearing beer-swilling blue collar Joe with a goofy insouciance and, of course, the body of a world class athlete.
26. Thugboy
(Empowered, Dark Horse)
Created by Adam Warren
Illustration by Adam Warren
Adam Warren is known for the gorgeous pin-up gals in Empowered, but Emp's ripped boyfriend Thugboy gets his share of attention too, and while Emp gets the boys hot and bothered, Thugboy is the boy who gets her hot and bothered. We absolutely see why.
25. Priapus
(Priapus, Mentaiko)
Created by Mentaiko
Illustration by Mentaiko
Mentaiko is a creator of gay erotic doujinshi (self-published comics) in Japan, and Priapus is the breakout star of two of the artist's recent works. Priapus is a sleazy demon stud sent by Zeus to unleash the world's gayness one sordid encounter at a time. You absolutely should not Google it at work.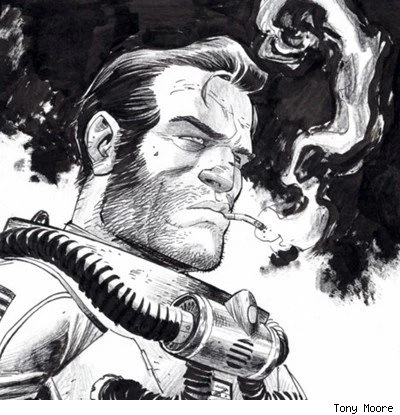 24. Heath Huston
(Fear Agent, Dark Horse)
Created by Rick Remender, Tony Moore, Jerome Opena
Illustration by Tony Moore
A hapless rugged rockabilly spaceman who just about scrapes his way from one adventure to the next. Heath Huston is old school macho with a good heart and a great jawline.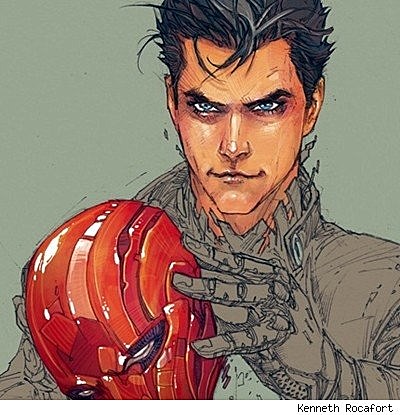 23. Red Hood/Jason Todd
(Batman, etc. DC)
Created by Gerry Conway, Don Newton
Illustration by Kenneth Rocafort
Can there be a bigger rebel than the black sheep of the Bat family? Jason Todd should ditch the shiny Skittle mask and let the whole world see his beautiful sullen sneer.
22. Colossus/Piotr Rasputin
(Uncanny X-Men, etc. Marvel)
Created by Len Wein, Dave Cockrum
Illustration by Rick Leonardi
Petey Pureheart, the X-Men's knight in shining armor, is a fine serving of premium beefcake. The soul of a hero. The body of an unusually sexy hood ornament.
In HamletMachine's explicit dom/sub sci-fi webcomic, Cain is the quintessential jackass in black leather. And he owns it. And he knows it.
20. Roranoa Zoro
(One Piece, Shueisha/Viz)
Created by Eiichiro Oda
Illustration by Ikemura
One swordsman, three swords, infinite swag. Zoro offers more swash than most other men can buckle.
19. Nightcrawler/Kurt Wagner
(Uncanny X-Men, etc. Marvel)
Created by Len Wein, Dave Cockrum
Illustration by Kevin Wada
On the subject of swashbucklers; heroes don't come more dashing than the indigo elf of the X-Men. He looks like a devil. He smiles like a devil. He probably dances like one too.
18. Alucard
(Hellsing, Shonen Gahosha/Dark Horse)
Created by Kouta Hirano
The king of the sexy vampires. Because everyone loves a dapperly dressed, diabolically dangerous Dracula in a floppy red fedora.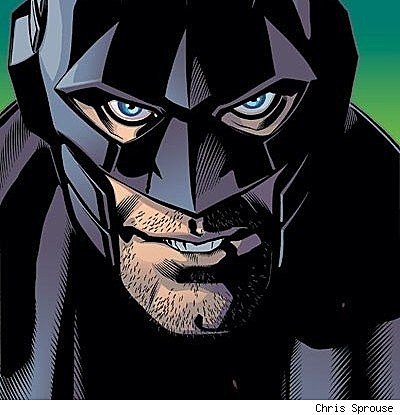 17. Midnighter
(The Authority, etc. DC/Wildstorm)
Created by Warren Ellis, Bryan Hitch
Illustration by Chris Sprouse
He's rugged, he's macho, and his entire wardrobe consists of black leather. Remember when Midnighter was happily married and didn't have a spike on his chin? Someone needs to slap the walls of the DC universe to bring this sexy back.
16. Namor the Sub-Mariner
(Namor, etc. Marvel)
Created by Bill Everett
Illustration by Olivier Coipel
Comics' all-time greatest sexy-and-he-knows-it arrogant jackass. Slippery when wet, and you know he's always wet.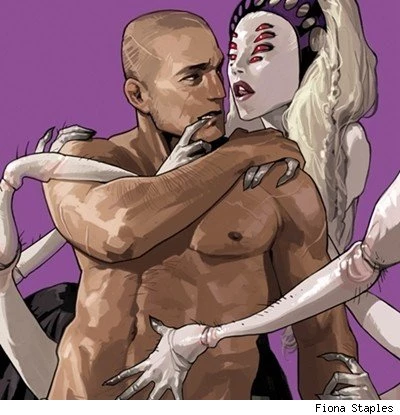 15. The Will
(Saga, Image)
Created by Brian K. Vaughan, Fiona Staples
Illustration by Fiona Staples
A cynical world-weary mercenary with deeply held principles and an awesome cape, The Will appears to be the archetypal decent man in an indecent world. He also appears to spend a lot of time in the gym. Where there's The Will, there's the way-hey!
14. Grimmjow Jaegerjaquez
(Bleach, Shueisha/Viz)
Created by Tite Kubo
Illustration by Nakaji
There are a lot of demons, devils and vampires on this list. Among the demonic "hollows" of Bleach, Grimmjow must be the star. It's probably his svelte figure, or his cool hair, or his kooky jawline mask, or his lustful appetite for destruction.
13. Kake
(Kake, Tom of Finland)
Created by Tom of Finland
Illustration by Tom of Finland
Kake is delicious. The sexually voracious leatherman star of Tom of Finland's vintage gay comics is an icon of 20th century erotica, and the key to his appeal was his grinning bonhommie. So of course the whole thing was illegal.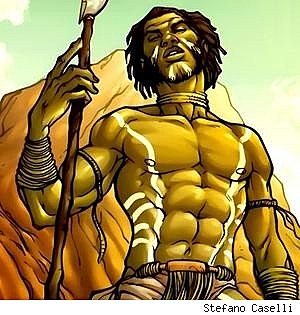 12. Manifold/Eden Fesi
(Secret Avengers, etc. Marvel)
Created by Jonathan Hickman, Stefano Caselli
Illustration by Stefano Caselli
He's the new guy on the block, the hero who wanted to be a rock star. Eden Fesi brings some lead guitar sizzle to his new gig, and we're expecting great things from him as an Avenger. It's just a shame he started wearing a proper costume.
11. Sebastian Michaelis
(Black Butler, Square Enix/Yen Press)
Created by Yana Toboso
The top-ranking demon in our list is the one with the tailcoat and the white gloves. There's a special kind of hotness that comes with a full tea service.
10. Boy
(Kill Your Boyfriend, DC/Vertigo)
Created by Grant Morrison, Philip Bond
Illustration by Philip Bond
In a story about youthful nihilism, the unnamed Boy represents sexual self-discovery and reckless rebellion. He's every bad boyfriend you almost threw everything away for, and every terrible choice you secretly don't regret at all.
09. Catman/Thomas Blake
(Secret Six, etc. DC)
Created by Bill Finger, Jim Mooney
Illustration by Dale Eaglesham
Unlike Catwoman, Catman manages to be sexy without chiropractic intervention. He's also never done the deed with Batman on a rooftop. That comic would probably be pretty popular, but we think he'd be happier with Deadshot.
08. Jaeger Ayers
(Finder, Lightspeed/Dark Horse)
Created by Carla Speed McNeil
Illustration by Carla Speed McNeil
The scrappy hero of Carla Speed McNeil's early Finder stories is our small press pin-up of choice. He's all about effortless charm, knowing smirks, and sleeveless tanks that flash a little chest hair.
07. The Scorpion
(The Scorpion, Dargaud/Cinebooks)
Created by Stephen Desberg, Enrico Marini
Illustration by Enrico Marini
An 18th century treasure hunter waging war on corrupt church officials, the Scorpion is a great fighter, a world class lover, and he has knee-length leather boots and a ruffled pirate shirt. What's not to love?
06. Daken
(Dark Wolverine, etc. Marvel)
Created by Daniel Way, Steve Dillon
Illustration by Giuseppe Camuncoli
Ah, Daken. Dark Wolverine if you're nasty. Bad boys don't come much meaner than Wolverine's devious mohawk-sporting tattooed kid. But we'll forgive a lot for a guy who really knows how to wear a suit.
Axis is a loudmouth rentboy who thinks he knows everything. He's hot when he's trying to prove it; he's hotter when he's learning he's wrong. Teahouse is a delightfully dirty series, and Axis is the tomcat of the Teahouse.
04. Gambit/Remy LeBeau
(Uncanny X-Men, etc. Marvel)
Created by Chris Claremont, Jim Lee
Illustration by Vincent Vernacatola
Terrible accent. Awful costume. Weird eyes. Yet the charming Cajun thief is still one of the most attractive guys in comics. And, OK, maybe we like the terrible accent just a little bit. Mon chere.
03. Amal Chakravarthy
(Less Than Epic Adventures of T.J. and Amal, tjandamal.com)
Created by E.K. Weaver
Illustration by E.K. Weaver
E.K. Weaver's road trip across America shows two guys discovering the depth of a serendipitous connection. It's not hard to see why mercurial T.J. falls for sweet-hearted (but crazy hot) Amal. Motel-hopping with this guy would be an excellent way to waste a summer.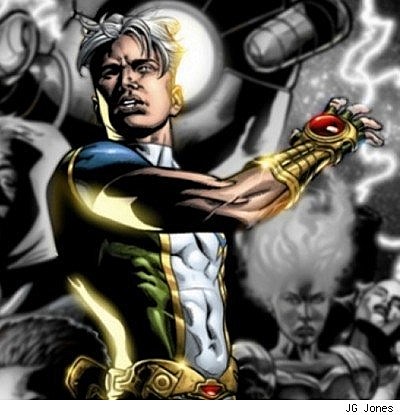 02. Marvel Boy/Noh-Varr
(Young Avengers, etc. Marvel)
Created by Grant Morrison, J.G. Jones
Illustration by J.G. Jones
Noh-Varr was designed to be sexy. That happens a lot with superheroes, but usually only the women. We're delighted to see him get back to his roots in Young Avengers. He's an other-dimensional rebel punk with pretty lips and snake hips. He's meant to fight Skrulls in his underwear. (How the Skrulls got in his underwear is a question for another day.)
01. Nightwing/Dick Grayson
(Nightwing, etc. DC)
Created by Bob Kane, Bill Finger, Jerry Robinson
Illustration by Jem Allman
The original Boy Wonder turned into quite the leading man. He has the nicest hair, the slickest costumes, and the best backside in comics, plus a weird propensity for accidental villainous bondage. Long before Noh-Varr, Nightwing was the male superhero who was written as sexy when most of the other guys were still boy scouts at a bikini convention. When it comes to sexy guys in comics, it always comes back to... let's call him Richard.