Daniel Johnston Releases 'Space Ducks: An Infinite Comic of Musical Greatness' [Preview] On sale this week from BOOM! Town, the alternative comix imprint of BOOM! Studios, is Space Ducks: An Infinite Comic Book of Musical Greatness #1. The book is created by none other than Daniel Johnston, the prolific and influential musician and subject of the award-winning documentary, The Devil and Daniel Johnston, which chronicled Johnston's career and his struggles with schizophrenia and bipolar disorder. Although best known for his decades-long music career (with songs covered by Tom Waits, Beck, TV on the Radio, the Flaming Lips and more), Johnston's early aspiration was cartooning, a dream he finally realizes in this idiosyncratic graphic novel about sci-fi ducks and Satan.


In addition to the BOOM! graphic novel, Space Ducks takes the form of a new studio album (Johnston's first since 2009) and an app for Apple's iOS platform. According to a press release, the Space Ducks app is meant to come "with games to play, surprising voices from different talents, animations and videos from the comic book, links to exciting new Space Ducks merchandise, and a slew of Easter eggs, including contributions from some of the critically-acclaimed musicians who number amongst Daniel's biggest fans."
Johnston is best remembered by some for a single drawing, that of an alien that made its way onto a t-shirt worn in some popular photographs of the late Nirvana frontman Kurt Cobain. The artist's fascination with life on other worlds -- as well as a concern with Satan -- is fully represented in Space Ducks, which sees "General Duck" put into action to stop the Devil from destroying all life.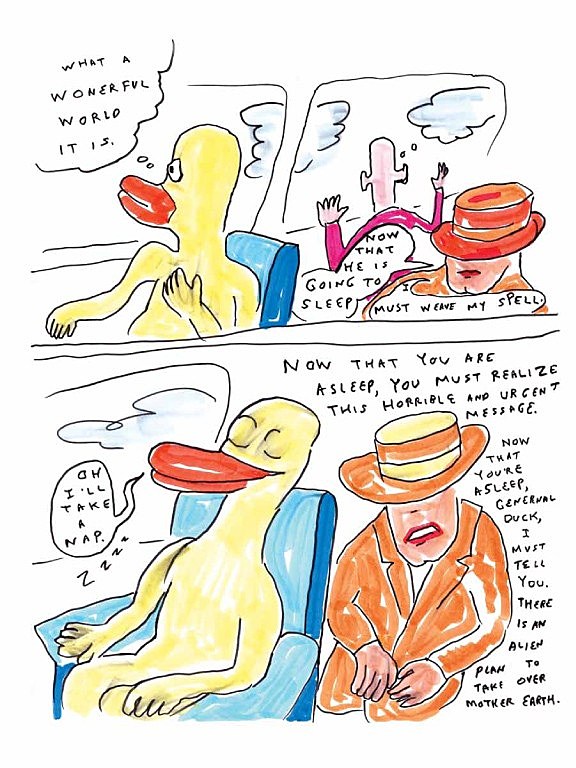 The book goes on sale this week in finer comics stores this week from BOOM! Town.