Joe Kubert Presents Hawkman & Hawkgirl, DC Reintroduces Blue Devil & Black Lightning
On October 31, DC will ship the first issue of the six-issue anthology project Joe Kubert Presents, each issue of which will feature a Kubert story as well as work from Brian Buniak and Sam Glanzman. That first issue will feature a Hawkman (and, based on the cover image, Hawkgirl) story written and illustrated by Kubert, as well as an Angel and The Ape story by Buniak and an autobiographical story set on the U.S.S. Stevens by Glanzman.
Kubert said his stories in future issues would star Sgt. Rock, another one of the characters Kubert is most closely associated with; The Redeemer, a character Kubert created to star in a 12-issue, 1983 maxiseries that never actually saw print; and "Spit" and "The Biker," two characters whose names are completely unfamiliar to me... and minutes and minutes of Internet research hasn't made them any more familiar to me.
Kubert has of course enjoyed one of the longest and most fruitful careers in American comics publishing, and is one of the few creators who was working in the industry's Golden Age that is still working today --vand, it should be noted, still producing great work. In the past decade alone, DC has published his Yossel, Dong Xaoi, Jew Gangster, Tor: A Prehistoric Odyssey and Sgt. Rock: Between Hell and a Hard Place. He also occasionally contributes to the publisher's superhero-oriented efforts, liked drawing the Sgt. Rock feature in 2009's Wednesday Comics and more recently inking his son Andy's pencil art in one of the controversial Before Watchmen prequel miniseries.
His less-famous collaborators have both worked with Kubert in the past. Buniak is currently an instructor at The Kubert School and has drawn for Dark Horse, Charlton and Archie; his past DC work includes contributions to the now defunct Paradox Press imprint's Big Book Of... series. Glanzman, for his part, has worked in comics about as long as Kubert has, for publishers including Charlton, Dell, and Marvel. At DC, Glanzman worked under then-editor Kubert for on various war and horror anthologies.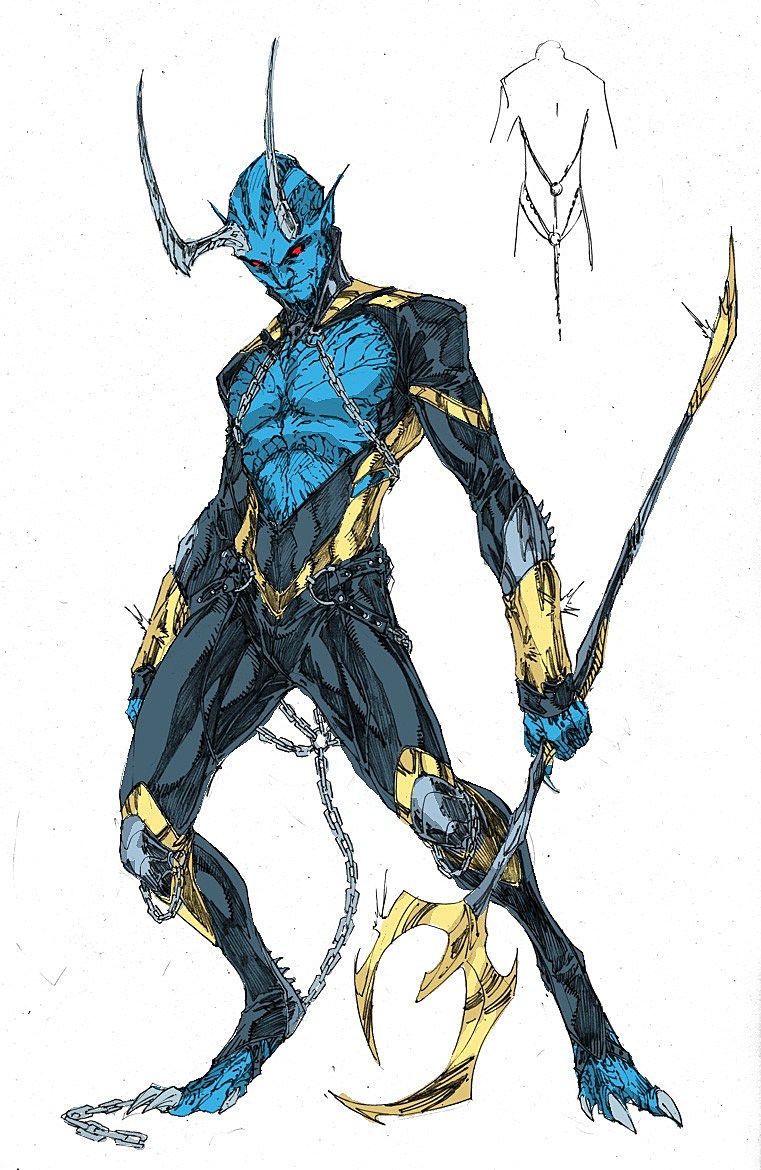 Meanwhile, in the DC Universe, Black Lightning and Blue Devil will make their post-reboot debuts in a five-issue "buddy concept" arc beginning in October 17's DC Universe Presents #13.

The story arc will be written by Marc Andreyko, perhaps best known for his work on the critically-acclaimed and fan-favorite (but not market-supported) series Manhunter, and artist Robson Rocha, who has a handful of pencil credits to his name at DC, including work on Demon Knights.
Black Lightning was created in 1977 by Tony Isabella and Trevor Von Eeden, and was DC's first major black superhero. An athlete who wore a mask, an afro wig and a special electricity generating apparatus, Jefferson Pierce fought crime by hurling bolts of lightning at his foes. He managed to carry to short-lived volumes of a solo title (eleven issues in '77; 13 issues in 1995), but has had great success as a supporting character in team books, usually the various incarnations of The Outsiders, although he did have a short stint on the post-Infinite Crisis, pre-New 52 Justice League.
Blue Devil was created in 1984 by Dan Mishkin, Gary Cohn and Paris Cullins to star in his own series. He was Hollywood special effects wizard and stuntman Daniel Cassidy, who created a costume to play the character in a movie, but, after a run-in with a real demon, he found that he was stuck in the costume for good. The Blue Devil series lasted 39 issues, after which the character became a sort of free-floating supporting character, usually popping up in stories that accentuated his supernatural aspects. He was most recently seen starring among the magic-based heroes in DC's Shadowpact series.
DC released redesigns of the characters by Teen Titans artist Brett Booth. The full-color Blue Devil sketch reveals a character that seems decidedly supernatural, based on his goat-like legs and clawed feet. He's also clothed head-to-toe in leather, with plenty of chains, armor and, naturally, a high collar.

The Black Lightning sketch is in black and white, but his costume redesign seems a lot less drastic and rooted in the aesthetics of early '90s Image Comics; he too sports a high collar and a more "realistic" ribbing and details on his feet and elbows. He also seems to have a few bolts of black-colored lighting emanating from him, which would be a neat solution to the problem of his name, which harkens back to an era when too many black superheroes had the word "Black" in their name, suggesting white heroes were the default (as they were, in the 1970s, I suppose). If he shoots black-colored lightning, then his code name can be de-coupled from race entirely. Why is he called Black Lightning now? It's not because he's a black guy with lightning powers, but because he shoots black lightning-same reason Green Arrow calls himself Green Arrow.
We won't know until someone colors those first Black Lightning comics, of course, but, if he does shoot black lightning now, then I guess that makes him the one DC character who definitely benefits from a reboot setting his origins in the modern times, rather than on the sliding timeline DC used up until last fall.