Behold, the Glory That is 'The Incal' by Moebius [Preview]

We've talked glowingly about the French artist and comics genius Moebius (a.k.a. Jean Giraud) several times before, always lamenting the fact that basically all of his work is out of print the U.S., and expensive if not impossible to get a hold of. Well, the great news this week is that The Incal -- one of his greatest and most influential masterworks -- is back in stores for another printing after a limited edition sold out almost instantly last fall, and now you can grab yourself a copy of the sci-fi epic that Mark Millar called "quite simply one of the most perfect comics ever conceived and probably the most beautiful piece of graphic literature ever drawn."Written by author and filmmaker Alejandro Jodorowsky -- for whom Giraud had done extensive concept art and storyboarding on an aborted Dune movie project -- The Incal is not only a marvel of intricate visuals, but also of ideas, set in a vast galactic empire where luminescent aristocrats hiding ugly secrets cavort with dog-headed men deep in the depraved bacchanalia of the Red Ring, technorats roam the garbage plains in terrible swarms that multiply in proportion to your fear, and enormous floating citadels open like flowers into mechanical spiders the size of skyscrapers.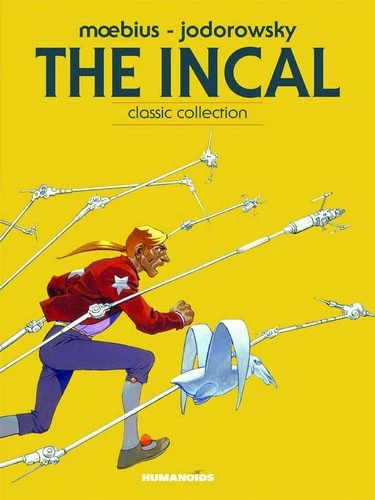 It is a strange, dazzling world that Moebius and Jodorowsky launch us into at breakneck speed, and never let up as they keep laying down new innovations, characters, dangers, plot twists and stunning, perfectly framed visual spectacles like men with hands full of infinite trump cards. In one small corner of this universe, a lowly private detective named John Difool -- based on The Fool Tarot card -- finds himself in possession of a tiny, mysterious pyramid called the Incal, an object of such power that it inspires a galaxy-wide manhunt and transforms him into an unlikely (and unwitting) messiah.
The reprint also contains an all-new introduction, where Marvel Comics writer Brian Michael Bendis describes his first experience with The Incal in terms that can best be described as awe: "[It] meant everything to me... I didn't buy clothes so I could buy graphic novels by Moebius. I didn't buy food and some of the graphic novels weren't even in English."
If you're curious to see what all the creators and critics have raving about like madmen, we've got a ten-page preview, and you can purchase your own copy at your local comic shop or online. As Bendis says in his intro, "to those of your who are about to read this for the very first time: I'm truly jealous."