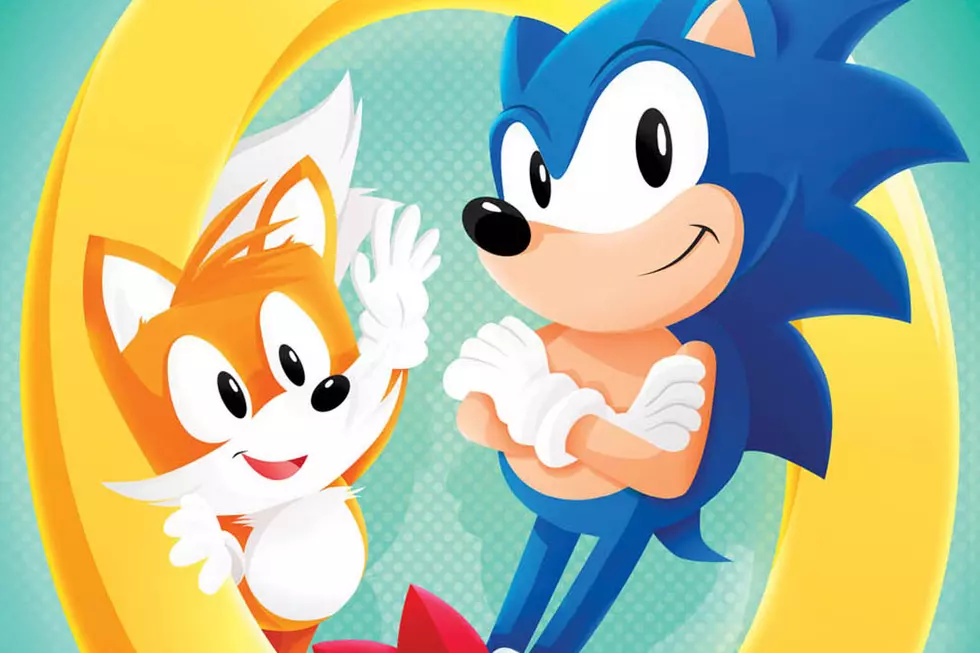 Archie Action Releases for October 2016 [Solicitations]
Archie
Courtesy of Archie Comics, ComicsAlliance brings you an advance look at new periodical comic books, collected editions, and graphic novels going on sale in October 2016 from the publisher's Archie Action line featuring Sonic the Hedgehog.
This fall Sonic is taking things to the Next Level, and not just metaphorically. It's the name of this November's extra-sized one-shot picking up right where Mega Drive left off. You can say a lot of things about the Blue Blur, but you can't ever say the dude slows down for one second.
It's all about that hustle, and he's been running non-stop since the conclusion of Worlds Unite. Oh what's that? You missed out on Worlds Unite? Archie's got you covered with the second volume collection coming in hot this November, too.
Of course, it wouldn't be a proper 2016 without Archie getting in on the 25th Anniversary of Sega's mega mascot. To celebrate the occasion, Sonic the Hedgehog #288 is going all the way back to the start where Sonic and Eggman first tussled. Ripped straight from the original game, find out what happens when hedgehogs stop being polite, and start getting real.
You can check out the full solicitations and variant covers below.
SONIC: MEGA DRIVE – THE NEXT LEVEL #1
Script: Ian Flynn
Art: Tyson Hesse, Matt Herms and Jack Morelli
Sonic: Mega Drive – The Next Level #1 CVR A Reg: Tyson Hesse

Welcome to "The Next Level": The sequel to the hit Sonic: Mega Drive is here! Picking up right where things left off Sonic, Tails, Amy Rose and Knuckles are on the hunt for the Ancient Gears and on the move to stop Dr. Eggman's latest scheme! But not everything runs like clockwork when Sonic breaks away to do his own thing. And Dr. Eggman has a certain high-speed robot up his sleeve. You can't miss out on this exciting new installment in the Sonic Mega Drive series! Featuring cover art by mega-talent Tyson Hesse!
On Sale Date: 11/2
48-page, full color comic
$4.99 U.S.
SONIC/MEGA MAN: WORLDS UNITE 2 – BROKEN BONDS (TR)
Script: Ian Flynn, Ryan Jampole
Art: Patrick Spaziante, Edwin Haung, Gary Martin, Gabriel Cassata, John Workman, Ryan Jampole, Rick Bryant, Jamal Peppers, Terry Austin, Elaina Unger, Rachel Deering and more!
Cover: Patrick Spaziante

The sequel to the record-shattering Sonic the Hedgehog and Mega Man crossover is here! You saw what happened when "Worlds Collide!" Now brace yourself for when WORLDS UNITE! Sigma--the brilliant villain from the future—has fused the worlds of Sonic the Hedgehog and Mega Man together! Now he feeds on the super-planet's energy to become unstoppable! It's up to Sonic and Mega Man to raise an army to fight the time-hopping villain. Joining them are the Freedom Fighters, the Robot Masters, X and his Maverick Hunters, Sticks and her friends, and--Dr. Eggman and Dr. Wily?! But it won't be easy, as Sigma uses his powers to reach across space and time to recruit an army of his own! It's a battle of epic proportions to save the Unified World! Featuring the introduction of the STREET FIGHTER cast, including Ryu, Chun-Li, Guile and Ken! This volume collects WORLDS UNITE parts 5-8, including SONIC UNIVERSE #77, SONIC BOOM #9, SONIC THE HEDGEHOG #274, MEGA MAN #51 and selections from the MEGA MAN: WORLDS UNITE BATTLES and SONIC THE HEDGEHOG: WORLDS UNITE BATTLES one-shots and includes bonus materials such as creator spotlights, production art, and an expansive cover gallery. Featuring cover art by Sonic comics legend, Patrick Spaziante.
978-1-62738-868-9
$14.99/$16.99CAN
6 5/8 x 10 3/16"
TR
136 pp, Full Color
Direct Market On-Sale Date: 11/2
SONIC SUPER DIGEST #18
Script: Ian Flynn
Art: Various
Cover: Jamal Peppers, Gary Martin & Matt Herms

Gear up for thrills, fun and supersonic speed—it's Sonic Super Digest! Embark on some of Sonic's best adventures from the Sonic the Hedgehog, Sonic Universe and Sonic Boom™ comic series! Watch as Sonic and his team, the Freedom Fighters protect the world from dastardly villains, wicked wizards and all baddies in-between! Dash into adventures that only Archie Comics and Sonic Super Digest can bring! Featuring awesome cover art by Jamal Peppers and story & art from the biggest names in Sonic comics history!
On Sale Date: 11/9
128-page, full color comic
$4.99 U.S.
SONIC THE HEDGEHOG #288
Script: Ian Flynn
Art: Tracy Yardley, Terry Austin, Gabriel Cassata & John Workman
Sonic the Hedgehog #288 CVR A Reg: Patrick Spaziante
Sonic the Hedgehog #288 CVR B Variant: Genevieve FT

SONIC is BACK in "Genesis of a Hero" Part One: It's Sonic's 25th Anniversary and we're celebrating in style—retro-style that is! See Sonic in his first climactic show-down with Dr. Eggman, straight from the gameplay of the first Sonic the Hedgehog game! But what happens after the battle? And what new force arises once the dust has settled? It's the story you know with a new twist! Featuring cover art by the legendary Patrick Spaziante and a "Best Buds" variant by the lovely Genevieve FT!
On Sale Date: 11/9
32-page, full color comic
$3.99 U.S.
SONIC UNIVERSE #91
Script: Ian Flynn
Art: Adam Bryce Thomas, Jim Amash, Matt Herms & Jack Morelli
Sonic Universe #91 CVR A Reg: Tracy Yardley and Ben Hunzeker
Sonic Universe #91 CVR B Variant: Jason Piperberg

Vector, Espio and Charmy are on the job in "The Case of the Pirate Princess" Part One: The Chaotix are back! Our favorite detectives are hired to find a missing princess from the bottom of the ocean! There will be pirates! There will be ninja! (At least one, anyway.) There will be a car that drives underwater! Don't miss the beginning of a new, wacky adventure! Featuring cover art by Sonic comics veteran Tracy Yardley and a "Super Sleuths" variant by super-talent Jason Piperberg!
On Sale Date: 10/26
32-page, full color comic
$3.99 U.S.