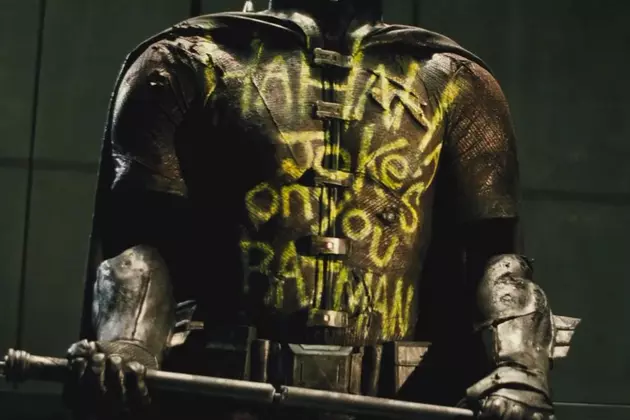 'Batman vs. Superman' Almost Featured Two Major Batman Villains
Warner Bros.
Batman v Superman: Dawn of Justice already has a pretty stacked deck when it comes to characters, with both superheroes bringing their own roster of supporting players to the table in addition to a couple of big villains — maybe more. According to Zack Snyder, there were almost two more villains to contend with in his superhero epic; specifically, a couple of major Batman baddies. And even though these characters never made it into the script, the film still wound up having to leave a few others on the cutting room floor.
Speaking with Collider at the Batman v Superman junket, Snyder revealed that two key Batman villains came very close to appearing in the film:
The Joker and The Riddler both came close to being in this movie. We talked about the possibility of putting them in. [Screenwriter] Chris Terrio and I talked about it a lot and felt that their mythological presence is felt in the movie and that's cool, but I didn't want to get my eye too far off the ball because I needed to spend the time, frankly, with Batman and Superman to understand the conflict.
There's already a lot going on in Batman v Superman, including the titular heroes, their supporting allies, Wonder Woman, Doomsday and Lex Luthor (not to mention that a third threat has been teased in the final act), and cameos from a couple of other DC superheroes. Snyder recently revealed that he had to cut Jena Malone and a few other actors from the film, though their scenes will be restored for the Ultimate Edition Blu-ray, which will be over three hours long.
Could you imagine throwing the Joker and the Riddler into that mix? What's interesting to consider, however, is that if Snyder had included the Joker, that may have very well affected David Ayer's Suicide Squad. As Collider points out, Snyder would have creative control over the direction of Batman's most famous foe, and Jared Leto might have never been cast in the role.
Batman v Superman: Dawn of Justice hits theaters on March 25.
A History of Batman On Screen, In Pictures