ComicsAlliance's 11 Best Comics of 2011, #6-5
As 2011 draws to close, ComicsAlliance has assembled its annual list of the best comics and graphic novels of the year with the help of our editors, writers, and readers. Like any list, it is naturally subjective, but we've packed it chock full of eleven comics that have awed us, excited us, and entertained us over the last 12 months and books that we're passionate about recommending. Read about #11-9, #8-7, and now #6-5 in our Top 11 Comics of 2011.
#6. Hark! A Vagrant by Kate Beaton (Webcomic/Drawn & Quarterly) Kate Beaton's Hark! A Vagrant at first seems like an unlikely contender for comics superstardom. Beaton is a history nerd and a Canadian, and while her comics sometimes feature geek favorites like Jules Verne and Edgar Allan Poe, they also tend toward figures like Matthew Henson, the historically neglected first man to set foot (and, according to Beaton's brain, do squats) on the North Pole, and Canadian prime ministers Lester Pearson and Pierre Trudeau. And Beaton's artwork is often aptly described as sketchy, favoring a loose, messy energy to clean and polished lines.
But there's always the sense when reading Hark! A Vagrant that you have somehow climbed inside Beaton's head and are looking back on the history of the world through her very unique lens. No event in Beaton's world is dry, no person stodgy.It's great fun to imagine that every historical figure was as wild-eyed as Beaton imagines them; that Napoleon constantly had to correct misperceptions about his height; that Watson and Crick followed Rosalind Franklin around with schoolboy taunts ("Is it a scientific breakthrough in feelings?"); that Charlotte and Emily Bronte would spend their afternoons swooning over horrid men, with Anne groaning in the background; that Joe Kennedy forced his children to wrestle for his affections (and scolded an infant Ted for lacking ambition). Even if you're not familiar with the figures she's lampooning, each comic feels spontaneous and silly and, above all, human, and they're sure to send you to Wikipedia to suss historical fact from anachronistic goofiness.
Drawn & Quarterly's Hark! A Vagrant is actually the second collection of Beaton's work, after the TopatoCo-published Never Learn Anything from History, and it's very much a webcomics collection. Beaton occasionally wanders away from her historical roots, poking and playing with notions as diverse as Nancy Drew mysteries, Edward Gorey's book cover illustrations, Canadian stereotypes and sexy Batman.
Online, Beaton's impulse to pursue anything that captures her imagination is one of her great strengths; it keeps Hark! A Vagrant fresh and exciting, and these random riffs on her obsession du jour is yet another reason her comic feels so intensely personal. If Hark! A Vagrant had started first as a print comic, it's less likely we'd see these ahistorical tangents between the covers. The result is that the print collection closely replicates the gloriously messy experience of reading the comics as they appear online.
For folks who have long followed Beaton online, Hark! A Vagrant offers a bonus beyond merely collecting her comics in print. Beaton's comics stem from her genuine affection for history, and even the shortest and strangest comics are drawn from real historical events. In this print volume, Beaton adds her own witty commentary, putting each comic in proper historical context, so the less historical inclined among us can enjoy them on almost the same level that Beaton herself does.
#5. Criminal: Last of the Innocentby Ed Brubaker and Sean Phillips (Marvel/Icon)
Created by Ed Brubaker and Sean Phillips as a series of self-contained graphic novels, Criminal has been one of my all-time favorite comic book titles since its inception. Other comics just invite you to read them. You know, look at the pictures and words and put them together in your head and follow along in that fashion until you get the end, ideally becoming somewhat "lost" in the narrative and taking the occasional mental break to admire the craftsmanship of the authors.
Reading Criminal is a different experience. So creatively powerful is the collaboration between these men that their stories actually usurp your power as a reader. You find yourself not simply looking down upon a beautifully drawn, colored and lettered comic book page and processing that data in the matrix of your imagination, but experiencing the story as if it were real. Criminal spreads itself over your mind's eye and you see the worlds of Phillips and Staples and Stewart's creation as clearly as if they were your own memories. You see the scars, cuts and bruises on the faces of Criminal brutish men as if they'd just spat in your own, and you smell the hair and taste the cigarette smoke of Criminal beautiful women as if you'd just kissed them in the corner booth of a darkened bar.
You live every Criminal story in this completely visceral way until you reach its conclusion, at which point you feel a wholly unique synthesis of exhilaration and dread. Exhilaration because you've just snapped out of a transcendental experience that completely supplanted your own senses of of perception, and dread because you've just thought the thoughts of Brubaker's variously flawed, amoral and doomed heroes villains protagonists as if they were yours. Those thoughts and those actions, experienced so intimately in the true genius of this long-running series, make you feel guilty and make you feel sick.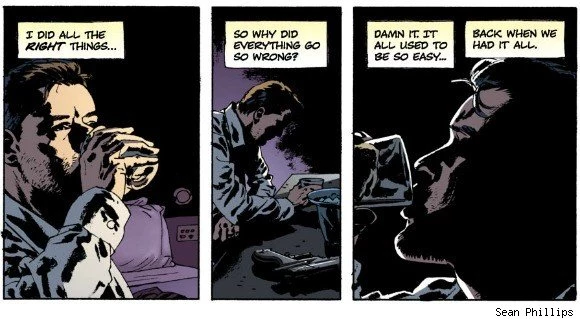 This phenomenon was never more potent than it is in The Last of the Innocent, the Criminal story of 2011. While Brubaker and Phillips did plenty damage in previous storylines by transplanting us into the worlds of career crooks and other underworld unsavories that most of us wouldn't otherwise know, they twist Criminal's narrative knife even deeper by introducing a character who's so much like us that we can tell right away that this one is really going to hurt.
Last of the Innocent stars non-criminal Riley Richards, a guy from a small town with a drop-dead gorgeous wife and a great job at her impossibly rich father's company. Sadly, Riley's father-in-law hates him, Riley's wife is cheating on Riley with his high school rival, Riley's burnout best friend from childhood has a substance abuse problem, and Riley's obese father is dying of stomach cancer. Riley returns home to visit his sick father and takes stock of what's become of the young man he used to be, when two girls fought endlessly for his affections, his best friend made him laugh for days just by eating a really huge number of hamburgers, and he spent days tinkering with his endlessly malfunctioning jalopy.
It becomes purposefully obvious very quickly that these characters are reminiscent of some American comic book icons familiar to us all. Some people have called it "Riverdale Noir," and it is an exceptionally cool way for Brubaker and Phillips to adapt the Criminal format to say something about the deception of nostalgia.
(It is also, I have to admit, entertaining enough on just that surface level to see Archie Comics analogues in a sexy and violent crime story, and it's really weird just how well they work in that context.)
Like many of us -- maybe comic book readers in particular? -- Riley makes the mistake of allowing the past to intrude upon his perception of the present. Riley's memories of "the good old days" are represented cleverly by Phillips in a flat, retro art style that recalls the comics of the '60s and '70s, where everybody is cute, colorful and simple. It's in stark contrast to Riley's life in the present day, where everybody is sleazy, corrupt and mean; and where Riley owes money all over town. In what Brubaker has stated is a deliberate reference to Fredric Wertham's Seduction of the Innocent, Riley is indeed seduced by his nostalgia-poisoned, comic book-style notions of the life he should have had, and he takes tragic, extreme, and criminal action to make that life real.
The resulting yarn is as brutal as any Criminal story that's come before, but it is unquestionably the most painful book yet in this most essential creator-owned series.