11 of the Most Hilariously Unlicensed Pieces of Bootleg Super-Hero Merchandise
Here at ComicsAlliance, there are few things we love in this crazy mixed-up world than the charming copyright infringement of bootleg super-hero toys. The sheer hilarity involved in mistranslations, close-but-not-quite logos and deliberate lies designed to trick grandmas into giving children the Worst Christmas Ever are truly the light of our lives.
So imagine our joy when a pal of mine hipped us to KnockingOff.com and their amazing gallery of bootlegs culled from dollar stores and flea markets all over the world, including some absolutely amazing, utterly shameless and hilariously stupid attempts to cash in the world of super-heroes, including this amazing triptych of hard liquors:
Folks, there's drunk, there's Myrtle Beach drunk, and then there's Eternia Drunk.
And that's just the tip of the iceberg. Catch a rundown of ten more of our favorites after the jump!That DuTNo discussion of bootleg toy could possibly be complete without the ol' standby, Spader-Man. We've often wondered just what kind of "lights and sounds" such a thing would produce, and while it's pretty likely that it's just a midi of the Superman movie theme, I'm holding out hope that it's actually sound clips of James Spader as Alan Shore in TV's Boston Legal:
It might not be licensed, but at least Specialman lives up to his name: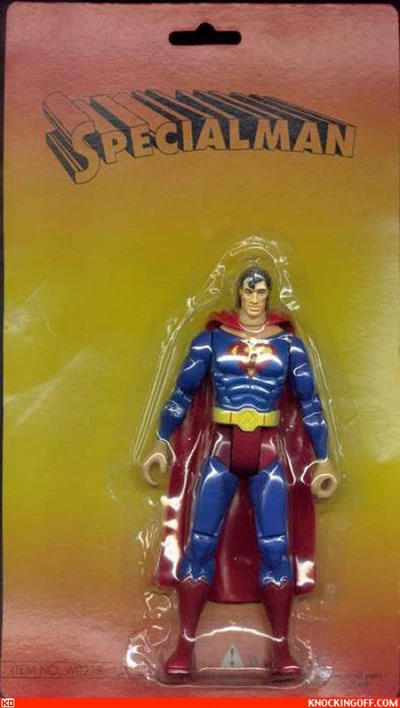 There is nothing about the picture in the lower right identifying the world's favorite Pocket Monica that does not fill me with pure undiluted joy:
You know, I've read a lot of Spider-Man comics, but I don't seem to recall the one where he belly-crawls up the side of a building with an M-16. Was that part of Maximum Carnage?
On the other hand, I definitely remember the one where you find out that Spider-Man is actually a T-800 Terminator robot sent back in time to kill J. Jonah Jameson. That really explains a lot:
This one just flat-out does not deliver on the promises of the packaging, but at least it contains The Naruto:
Okay, not even joking here: If Marvel doesn't release a manga-style comic about the Hulk called Superior Powered Thunderbolt Overlord Top King, that will be the biggest missed opportunity in the history of comic books: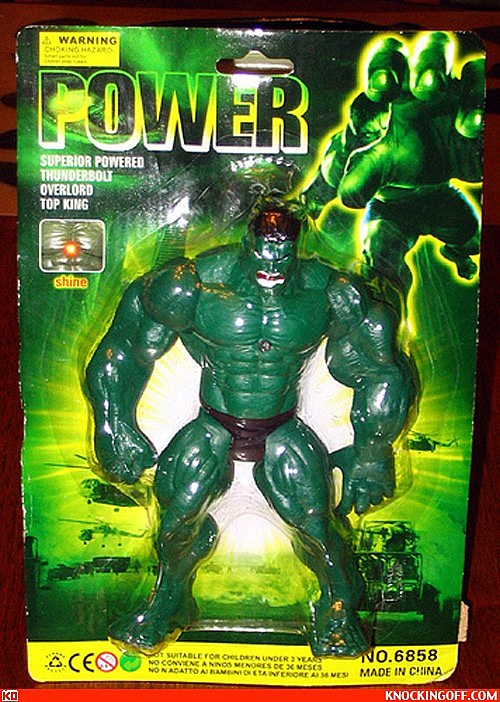 I've never been all that into the Transformers, but I'm pretty sure that if they changed Starscream's name to Starholler and gave him a Southern accent, there's a good chance that it would become my new favorite thing:
The real question here is what happened to Robert Cop 1 and 2:
And finally, we have something truly wonderful, a backpack that might dethrone even Harry Potter Obama the Hedgehog #10 as the single greatest piece of bootleg merchandise of all time: The HOUsE M,d. Quake III Arena Pikachu vs. That Dude From Prodigy Apple Pack:
The only thing that could make this better is if the gentleman on the left had actually been Headbanger Mosh from the late-90s World Wrestling Federation tag team like I initially thought, but regardless, I just love how stoked Pikachu and Keith Flint are to be sharing an artistic representation of an apple.