Filipe Andrade & Jordie Bellaire Are Arting the Hell Out of 'Captain Marvel'
One of ComicsAlliance's picks for the Best Comics of 2012, Captain Marvel began the new year with a striking visual overhaul courtesy of Filipe Andrade and Jordie Bellaire, whose work can be described in any number of ways, but "Marvel house style" is not one of them. These artists' increasingly attractive collaboration has made the already distinctive solo-woman superhero series stand out even further from the rest of the Marvel line, and you can get an idea of why in the sample pages below.


New artist Filipe Andrade had previously worked on various Marvel characters but he was favorite of mine for the hyper-stylized, frenzied illustration work he posted to the collective art blog Brand New Nostalgia (who'll be releasing a special crowd-funded book soon). Colorist Jordie Bellaire blew me away with her work on John Carter: Gods of Mars with the award-winning artist Ramón Pérez and writer Sam Humphries, making what could have been an innocuous movie tie-in one of Marvel's most beautiful books of the last few years. Assembled by Captain Marvel editor Sana Amanat, the team of Andrade and Bellaire create an exciting visual world for superhero Carol Danvers that's at once appropriately exaggerated and emotionally sincere, complimenting the humorous and heartfelt stories devised by writer Kelly Sue DeConnick (and from #10, co-writer Christopher Sebela). Whether it's a sequence of Carol getting a cup of coffee or Captain Marvel fighting a giant dinosaur in the streets of New York City, Andrade and Bellaire bring the book to life in a fun, idiosyncratic way that's not seen in many superhero comics these days.


This approach to Captain Marvel -- which includes character design and covers by Jamie McKelvie and Joe Quinones -- is in line with other titles overseen by Stephen Wacker, the Marvel Senior Editor whose aesthetic tastes seem to overlap often with those of this site's contributors. Wacker's staffing of Daredevil with Marcos Martin and Paolo Rivera in 2011 was practically revelatory, and current artist Chris Samnee (one of editor Scott Dunbier's ridiculously talented army of fantastic Rocketeer artists) continues the great work on that Mark Waid-written series. David Aja's art on Wacker's newest book, Hawkeye, is manifestly inspired, as was Humberto Ramos' long run on Amazing Spider-Man.
While Andrade is still a relative newcomer, what he has in common with these more established artists is -- without sacrificing clarity -- a daring, utterly audacious approach to figures and storytelling that confounds the reader's expectations for a modern cape comic. You can get impeccably drafted, photorealistic and cinematically rendered superhero action in any number of Marvel or DC comics, but on virtually every level Captain Marvel offers the capes fan something he or she rarely gets to see: a properly kick-ass, takes-her-cat-to-the-vet super-heroine drawn not just respectfully, but truly awesomely.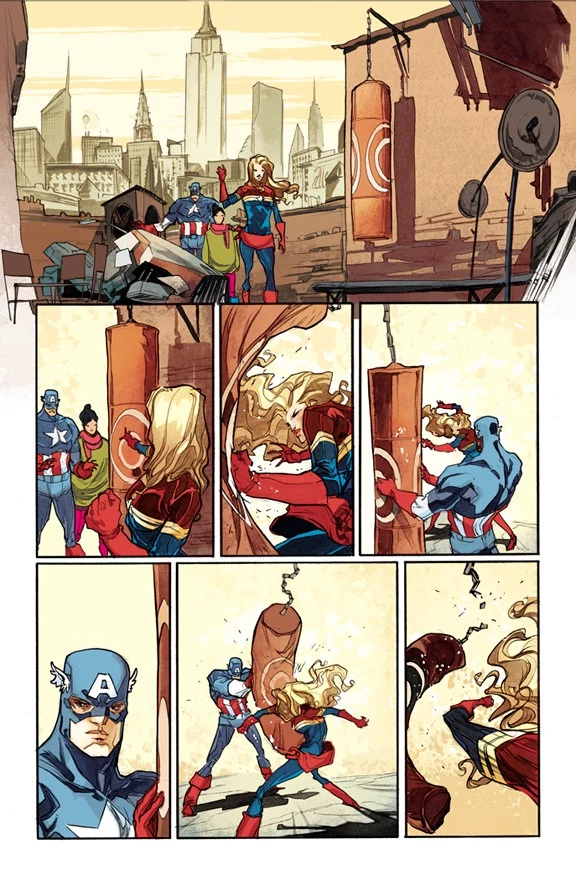 Filip Andrade and Jordie Bellaire's first issue of Captain Marvel, #9, is available in comics shops and digitally via ComiXology. Issue #10 goes on sale February 20.