 The 'Fantastic Four'/'Scalped' Bathroom You Dared not Dream
You've heard of shelf porn? How about bathroom porn? Or is that already a thing? Anyway, Los Angeles film editor and podcaster Aaron Brewer has given new meaning to one or all of those terms with his astonishingly geeky bathroom, which is covered wall-to-wall with pages from the first 20 issues of Jack Kirby and Stan Lee's Fantastic Four and the covers of Scalped by Jock.Brewer will be known to those ComicsAlliance readers who've listened to The Meltcast, the official podcast of the great Hollywood comics retailer, Meltdown. It's been my privilege to appear in four episodes of the routinely riveting show and in that time I've noticed that regardless of how timely or specific the conversation gets, Brewer will find some way to invoke Scalped or the Fantastic Four. Nevertheless, it came as quite a shock when I discovered that Brewer, who is an accomplished film editor here in Los Angeles, had papered his entire bathroom with pages from the earliest issues of Fantastic Four - specifically, those reprinted in Marvel's Essential Fantastic Four Volume 1.
Our friends at Robot 6 run a regular "Shelf Porn" feature where readers send in photographs of their exceptionally impressive comics and collectibles, but after some thought, I decided that Aaron Brewer's FF/Scalped bathroom was too amazing and/or too unsanitary to pass along to them, so I insisted he grant ComicsAlliance a brief interview about his tricked out fanboy restroom.
ComicsAlliance: Aaron Brewer! Explain yourself at once.
Aaron Brewer: Well, I'm a neurotic comics fan so I had been planning this for numerous months. I was originally going to wait until Scalped was complete and all the issues signed by the awesomeness that is Jason Aaron, and then waiting until I had enough office wall space to put up a wall of Scalped covers. However, since I recently re-upped my lease for another year at my current apartment, I decided it was now or never, so I basically found the place where I had the most wall space to decorate. And that happened to be my 1/2 bathroom/washroom.

CA: Surely, this is the best tribute Jason Aaron and Jock have ever received. But what about the Fantastic Four pages?
Aaron Brewer: As for the FF idea, I took an Essential Fantastic Four volume 1 and basically covered every inch left with early covers and pin-up pages. It took like hours one night, but once I started I couldn't stop.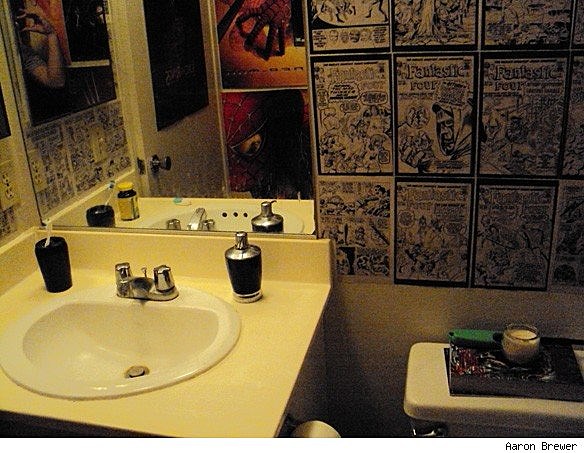 CA: How has your bathroom affected the lives of your friends and loved ones?
Aaron Brewer: My friends (most of whom at least occasionally read comics) took a look, marveled at what I did, and shook their heads. My roommate laughed pretty hard when he saw it.

CA: You must be pretty proud of yourself.
Aaron Brewer: I have a bathroom wallpapered with Jack Kirby and Jock, what could be better?

For a closer look into the adventure that is Aaron Brewer's life, visit his new website at thebrewstew.com and check out The Meltcast, which releases a brand new episode every Thursday.