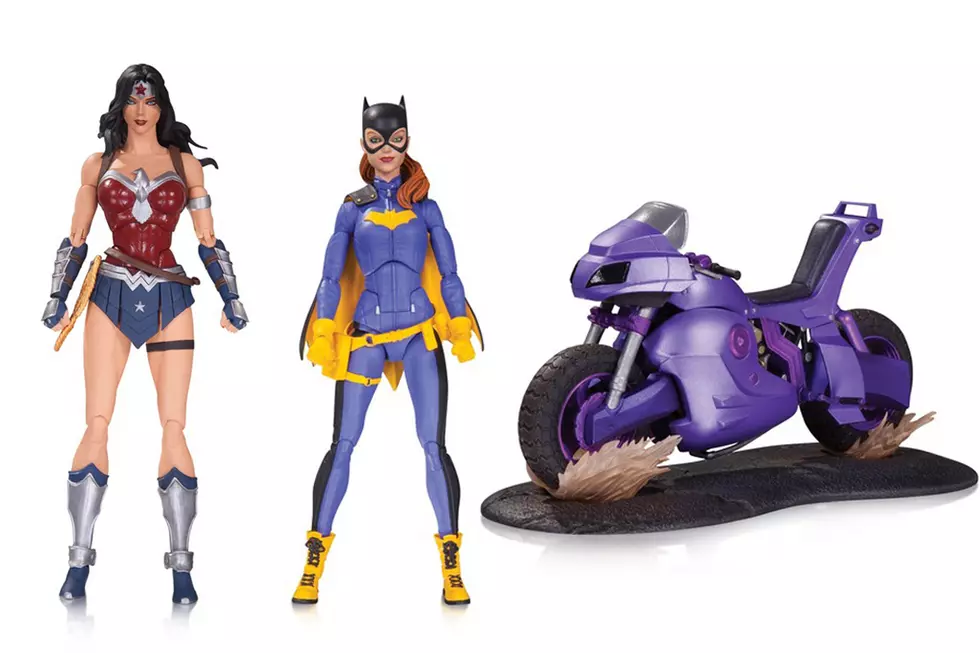 DC Collectibles Icons Line Adds Batgirl, Wonder Woman, Swamp Thing and More
DC Collectibles
The one and only Batgirl of Burnside is getting her own DC Icons action figure, complete with motorcycle and smartphone this November. That's it. That's the news. We can wrap it up. I could talk about the rest of the new DC Icons announced by DC Collectibles today (via IGN), but then I wouldn't be able to get in my car to drive to Los Angeles and grab this figure from the production room while all of the DC Collectibles employees are at Toy Fair this weekend. I consider myself a patient man, but I can't wait until November for this.
Batgirl was just one of six new figures announced for the Icons line, as well as two accessory packs to add even more Easter egg mayhem to these figures. Technically I guess you would count Grail as a seventh figure even though she's part of a two-pack with Darkseid, but you get what I'm saying. Right?
Once again, all of the figures have been designed by Ivan Reis, who's done a terrific job mixing and matching eras and styles for the Icons line to date. While the scale of this figures is still causing some consternation for fans, those of you not obsessed with how the Icons will look compared the other DC Collectibles figures on your shelves should find plenty to like about these new Icons. I fall into that trap of being disappointed with sizes of figures not matching myself from time to time, but ultimately I just want figures of characters I like, regardless of how they match up with other toys.
September will see Swamp Thing, Wonder Woman, Cyborg and Deathstroke released. All of the figures come with at least one other set of hands alongside some weapons/accessories to complete the look. Because of Cyborg's Black and Decker generator, he'll be boxed as a deluxe figure at $45 versus the others at $28 each when they arrive. It's nice to see a more classically-styled Deathstroke after the recent trend of armoring the character up across various media properties. I do wish he came with an unmasked alternate head, but there's always seeing it added in an accessory pack.
The first accessory pack will be available this September as well for $28, and comes with a bunch of tchotchkes for characters that were in the first installment of the Icons line. Batman gets more batarangs, Joker gets some clown fish, Green Arrow gets more arrows, and Green Lantern gets his little buddy Ch'p to go on adventures. The second accessory pack comes out in October (also $28), and has more of those accessories you've been looking for to give the second batch of Icons, including Flash and Harley Quinn. Bat-mite is included for reasons beyond, well, reason, as well as a Dr. Fate helmet. Not a bad bit of add-ons.
October will also see the release of the deluxe two-pack of Darkseid and Grail. In keeping things to scale, Darkseid comes in hot at 12" tall, with Grail the more standard-sized 6" tall. The $100 set includes a big ol' axe, and some alternate hands, but that's about it. He does look pretty damn imposing though, and a 12" Darkseid to match up against my 24" Galactus from way back when does sound promising (though probably not to my wife). The aforementioned Batgirl set is due in November for $60, and I will probably be the guy hounding the LCS most about making sure I get one.
We'll have more on DC Collectibles' Toy Fair plans this weekend, though at this rate, I'm not quite sure just how many more secrets they'll have to show off.