DC's 'New 52′ Website Accidentally Reveals 'Old Writers': Brian Wood and More
DC Comics has launched a new area of its website dedicated to "The New 52," or the 52 new superhero series that will launch or relaunch this September. The landing page features all the images and video that we've published previously on ComicsAlliance, as well as the 52 creative teams -- although some of them are curiously inaccurate. Clicking around, we discovered a few writers who are not a part of the September relaunch, but who were rumored to have been -- including Brian Wood on Supergirl.Since DC's September relaunch was first announced, rumors have persisted that some creators were working on assignments from which they were ultimately dismissed or otherwise replaced. Most prevalent was the rumor that Brian Wood of DMZ, DV8 and Northlanders was to write Supergirl, a rumor that Wood had some fun with back in April when he posted to his blog some obnoxious fanboy message board chatter about Supergirl's breasts and asked, "Why on Earth would ANY writer want to take [Supergirl] on?"

Clicking on the Supergirl thumbnail on DC's The New 52 landing page opens a new page that identifies Wood as the series writer, which would seem to confirm the rumor. Supergirl will actually be written by Michael Green and Mike Johnson when it debuts in September.

Voodoo #1 will be written by Ron Marz (Witchblade, Artifacts), but clicking on the thumbnail on DC's site suggests that Michael Alan Nelson may have been in the running for the series as well. The writer of numerous BOOM! Studios books including 28 Days Later, Hexed, Fall of Cthulhu and more, Nelson tweeted on May 31 that he was involved in the DC Comics relaunch, but only seven days later wrote, "I spoke too soon. I won't be part of the DC revamp after all." It would appear that Voodoo was the book Nelson was working on.

IDW's Transformers and G.I. Joe writer Mike Costa would seem the perfect fit for a reimaginining of DC's Blackhawks title, and he will be the writer behind the series come September. The "New 52" landing page, however, lists a "C.O. Austen" as the writer of Blackhawks. Could that be former Uncanny X-Men writer Chuck Austen?

The debut issue of DC Universe Presents #1 will come with a Deadman story by Paul Jenkins and Bernard Chiang, but DC's website suggests that Judge Dredd and Silver Surfer: In Thy Name writer Simon Spurrier was working on something similar.
UPDATE: Following publication of this article, Spurrier confirmed via Twitter that he was working on the Deadman project but elected to leave.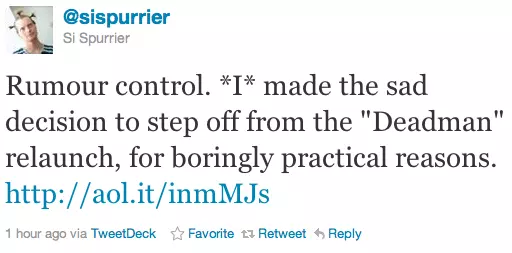 Given the veracity of other materials accidentally uploaded to DC's servers, it's reasonable to assume the alternative creative teams listed on the "New 52" landing page were working on those books in some capacity in advance of the relaunch. However, it is known that Atomic Robo writer Brian Clevinger was working on the new Firestorm series for DC, which will instead be written by the team of Gail Simone and Ethan Van Sciver, but he is not listed as the Fury of Firestorm writer on DC's new site. When contacted last night for comment, DC Comics did not reply before publication.