Down the Rabbit Hole with Bryan Talbot
"Reality is not enough; we need nonsense too. Drifting into a world of fantasy is not an escape from reality but a significant education about the nature of life. And reality is not an escape from nonsense. Our education goes on everywhere."
- Edmund Miller, Lewis Carroll Observed
It is with the above epigraph that Alice in Sunderland, Bryan Talbot's masterful new non-fiction graphic novel begins. As thesis statements go, this one's perfect as in no uncertain terms, it prepares the reader for the journey on which Talbot is about to take them.
As exhaustively researched as it is lovingly presented, Talbot sets out to present the history of a place, Sunderland, beginning roughly 600 million years ago and winding up through the Middle Ages and on into the present ... but wait! Make no mistake, this is no dull history lesson, this is an entertainment (it says so right on the cover), and Bryan Talbot is a master entertainer.
Using Lewis Carroll and Alice Liddell (the real-life inspiration for Alice's Adventures in Wonderland) along with a host of related and unrelated historical and contemporary figures as his cast of characters, Talbot himself (literally) serves as your guide. With Lewis Carroll serving as his locus, Talbot takes the reader on a dizzying trip through history --history including, but not limited to, culture, architecture, arts and literature-- effortlessly modifying his drawing style throughout the book to best suit the particular anectode at hand.
Alice in Sunderland is not only an immensely satisfying read --most especially for the reader with an interest in the twilight intersection of history and myth, as Talbot weaves the two together magically in this book-- but it's also a triumph for Bryan Talbot. I was priveleged to have dinner with Bryan while he was in the U.S. briefly on a promotional tour for the book, but the following interview was conducted via email (mostly because I'm lazy and don't want to transcribe an interview, but also because I think there's something special about conducting an interview with a writer via the written word) and, as such, I've left Bryan's English spellings intact in his responses.
Our interview with Bryan Talbot appears after the jump.
CA: Which came first, the desire to document the history of Sunderland and its effect upon the world (particularly regarding art and literature), or the desire to examine the life and work of Lewis Carroll? And, on a related note, was there any one particular "aha!" moment where you decided to place Lewis Carroll and his literary creations at the center of your history of Sunderland?
BT: That actually came first. I'd long harboured a desire to do a project based around the Alice books and Lewis Carroll but it was only when I moved here, about nine years ago, that I discovered that both he and Alice Liddell's family had extensive links to the area and that many of the roots of Wonderland were firmly based in the North East. This was the starting point of the book. I then had to research the subject thoroughly, which also involved looking into the history of Sunderland, which astonished me with its richness. I realised then that this had to also be an integral part of the mix.
CA: Once you decided to embark on the project, how did you gain the support of --and access to-- Michael Bute, the Carrollian scholar who assisted you with your research?
BT: I heard that he was doing an MPhil [Master of Philosophy] on the subject at Sunderland University. My wife is a lecturer there, so it was a simple matter of contacting his supervisor, who passed on his email. Michael was enthusiastic about the project as soon as I mentioned it to him and was a constant source of information for the duration of my work on it.
CA: In the text, you reference having spent, "two, three years of my life realising a fantasy vision." Was that the total amount of time you devoted to the creation of the book, inclusive of research as well as the actual writing and drawing?
BT: It was actually more like four or five years, more if you include research done over three years before that in my so-called "spare time."
CA: Regarding the art, you blended a wide variety of media (pen and ink, paint, collage, computer-generated effects) to achieve your desired look for the book. In addition to varying the medium, you also rendered different passages of the book in radically differing artistic styles. Tell us about your decision-making process in determining the appropriate medium and/or style for a given passage.
BT: I decided very early on that the book needed to be a "variety performance," the setting being an Edwardian "palace of varieties." The decisions about what style or technique to use with each sequence were, on the whole, intuitive – in fact they seemed so natural that I didn't question them. It seemed obvious to me that the heroic story of Jack Crawford, Hero of the Battle of Camperdown, should be told in a 1940s "Boys' Own" adventure comic style, the ghost story of The Cauld Lad of Hylton as a '50s horror comic pastiche, the Lewis Carroll sequences in sepia wash, etc.
CA: Was it one of your goals at the outset to do your bit to reclaim from "the [Oxford] Carrollian establishment," Carroll's connection to England's northeast?
[This is one of those bits where an email interview loses out on the immediacy of a spoken interview. Were this a spoken interview, this is the part where the I'd note "laugher" by way of my response to Bryan's pointed reply.]
CA: How has the reception been from Carroll scholars at large? Other than Mr. Bute, was your project known within the Carroll community during its creation? If so, did you detect any hesitation on the part of Carroll scholars at the notion of a "comic book" treatment of the author?
BT: The reception of the book with Carrollians has been, so far, very positive. They seem to have embraced the book enthusiastically. They know that it can only have the effect of making more people want to read Carroll's work, which can only be a good thing. I've already heard from people who've read Alice in Sunderland and gone straight back to the original. And it has been known about by the Carroll community, by and large, from the outset. I'm a member of the British Lewis Carroll Society and also a member of the Carroll email discussion group and have had feedback and advice from many members while I've been working on the book. Surprisingly enough, I've come across no negative reaction to me dealing with Carroll in the form of a lowly graphic novel. Quite the opposite, in fact. I think this says a lot a
bout the extent to which comics are becoming an acceptable medium.
CA: You recently gave a presentation to the American Carroll Society in New York. What was that like?
BT: It was incredible to be at their annual meeting, held this time at Columbia University on the seventy-fifth anniversary of Alice Liddell receiving her honorary doctorate there – an event that I illustrate in the book. The members were exceptionally welcoming and my talk seemed to go down very well.
CA: As friends and mutual admirers, I'm curious if Alan Moore's experiment with presenting something akin to an urban biography of his own hometown of Northampton (in his novel Voice of the Fire) was any influence on Alice?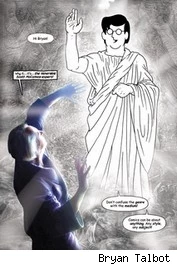 BT: I think that it must have been, but the connection didn't strike me until I was well into the artwork. The two books are so totally different in all aspects apart from the fact that they both deal with history. I think Alice in Sunderland is closer to Larry Gonnick's Cartoon History of the Universe and Scott McCloud's Understanding Comics than it is to Voice of the Fire.
CA: Alice is full to bursting with fascinating historical anecdotes. What was the single most surprising fact or coincidence that you discovered while working on the book?
BT: Probably the fact that the guy who had my house built in 1850, the first householder, knew people connected to both Lewis Carroll and the Liddell family. That came as a complete shock – I only discovered it after I'd written the first draft of the script.
CA: Two final related questions, and I'll let you get back to your U.K. tour: What can you tell us about your upcoming book, The Naked Artist...And Other Comic Book Legends, and what's next on your drawing board comics-wise?
BT: The Naked Artist is a fun book of anecdotes about comic creators, fans and the comic industry that fans usually don't hear – the urban legends of the comic community. I make it clear that these stories – some quite outrageous – aren't necessarily true, but it IS true that they are told...usually late at night in the con pro bar. Prepare to be tickled and shocked!


Also in June, the first part of a four-part supernatural comedy-adventure miniseries, Cherubs!, is published by Desperado. I've written it and it's being drawn by top British indy artist Mark Stafford, who's doing an awesome job.
And I have The Art of Bryan Talbot book coming out in the fall from NBM, collecting many of the magazine and book illustrations I've done over the last thirty years.
All my time at the moment seems to be taken up with promoting Alice in Sunderland – an extensive tour, interviews, presentations and so forth. I do have a twelve-page proposal and a couple of sample images of the next GN I want to do with several publishers at the moment. Just hoping right now that one of them bites.
CA: Thanks for taking the time out of your hectic tour schedule to fit in one more interview, Bryan!