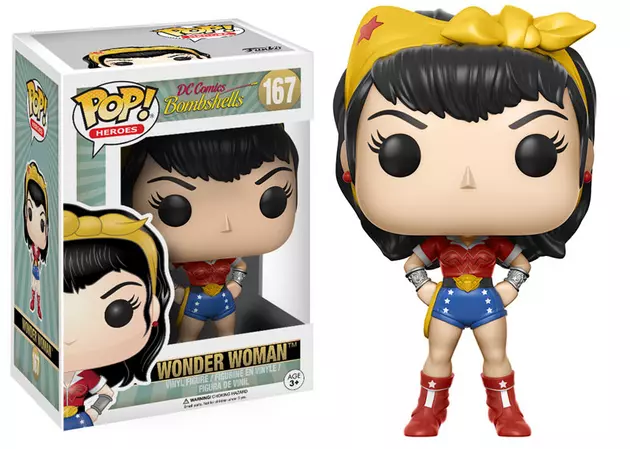 The DC Bombshells Fly High Over at Funko
Funko
It was only a matter of time until the DC Bombshells made their way to the realm of Funko Pop. The characters that started as a statue series, then got their own series, and then got action figures and more collectibles based on that comic series have officially come full circle. As with any bit of pop culture though, you haven't truly transcended your medium until you get a Funko figure. Now that the DC Bombshells have found their way to the affordable vinyl figure series, they're even more unstoppable a force than they were before.
With this collection, slated to arrive in February, you'll find the big three DC Bombshells --- Wonder Woman, Batgirl, and Harley Quinn --- included. While those three might not be the biggest stars of the comic itself, the merchandising arm for DC Bombshells has continually put the alternate universe Trinity in the spotlight. In fact, the designs and poses are very close to existing statues, prints and art featuring these three characters that we've been seeing since the Bombshells arrived on the scene. Katana will also be included in the initial wave, which is great, but certainly not anyone that I would have pegged for a wave one assortment. Poison Ivy or Supergirl are arguably bigger draws, but perhaps they'll be in wave two if there is one.
Additionally, there is a Joker coming exclusively to Hot Topic. Now, it's worth noting Joker doesn't actually play much of a role in the comic tales of the DC Bombshells, and has only appeared in the statue line as part of a duet with Harley Quinn. The reason this Pop is covered in kisses is based on that statue concept, which swapped the classic World War II image of the sailor kissing a nurse with Harley as a nurse kissing a sailor Joker. Without the Harley Quinn included, the context is lost, and given that the comic doesn't focus on Joker much at all (Harley is in a relationship with Ivy there), his being part of the set is a bit of an odd choice. Then again, Hot Topic is pretty much the go-to store for Joker merchandise, so as an exclusive it makes perfect sense. The good thing is, the core base of the line is focused on the ladies.
Funko also announced a new line of DC Cinematic Universe-inspired plushes would be coming out in March. The series features Superman, Batman and Wonder Woman as they appeared in Batman V Superman: Dawn of Justice, and Harley Quinn as she appeared in Suicide Squad. It's always nice to see Funko explore more avenues than Pop, and its plushes have come out quite well since they launched. That said, there have been a number of plush dolls featuring this quartet already, and I'm not sure the cinematic versions are different enough to make them must-haves.