 Garth Ennis' Bloody Post-Apocalyptic 'Crossed' Gets a Free Webcomic Spinoff

Garth Ennis and Jacen Burrows' pandemic horror comic Crossed has been in print since 2008, but now Avatar Press is taking the brutal act online with a webcomic sequel. Crossed: Wish You Were Here (not safe for work or anyone with a sensitive stomach) has just debuted, giving all of its gory murder and dolphin rape away for free. Crossed is set in a world where a plague has triggered the apocalypse. But this plague doesn't knock you down with a high fever; instead it tears out people's intestines while molesting your cat. Folks infected with the plague -- known as the Crossed for the cross-shaped rash that breaks out across their faces -- act out their worst impulses. Soon, nearly everyone in the world is either infected or dismembered.Coming on the heels of Avatar's success with Warren Ellis' webcomic Freakangels, it's proof that the publisher has learned what webcomics creators have long known: that giving away free stories is good for business.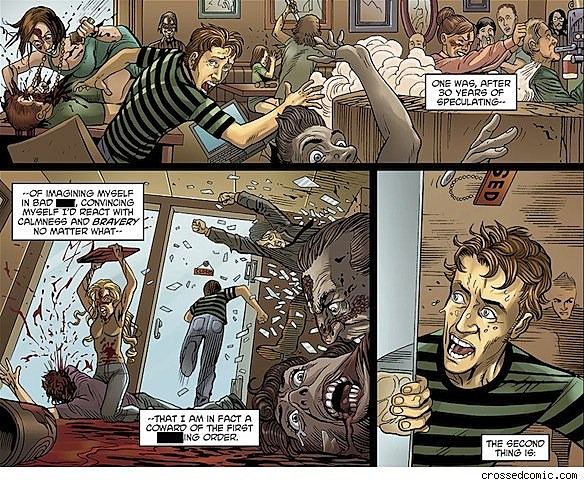 Written by Simon Spurrier (Lobster Random, The Simping Detective), with art by Javier Barreno (Crossed: Family Values), Wish You Were Here follows a small group of uninfected survivors who have established a colony on a small island. Although the colonists have succeeding in setting up houses, raising livestock and growing vegetables, they're constantly fending off the Crossed -- not to mention the ennui of the end of the world.
Wish You Were Here launched March 14 to coincide with the launch of the latest Crossed print series, the biweekly Crossed: Badlands. And it's more than just free entertainment; it's a marketing plan. In fact, on the webcomic's website, Avatar co-founder and creative director Mark Seifert explains that the online presence will keep readers connected with the print comic:
But crossedcomic.com is more than just a weekly webcomic. There's plenty else going on in the world of CROSSED as well, including the just-released CROSSED 3D, the current Crossed: Psychopath, and the original trade paperback - all available from your local comic book retailer. crossedcomic.com will keep you updated on all the latest news, and let you know what's going on with the Crossed in comic shops around the world.

It's a neat idea. Have a story that keeps readers coming back to the site (or subscribing through their RSS readers) and you can put your marketing for other in-universe comics right in front of their eyeballs. In fact, it's precisely what our own Chris Sims suggested Marvel and DC do with their superhero comics. However, Avatar Press is probably more open to this type of audience-building than the Big Two since it's already had a web hit in Warren Ellis and Paul Duffield's Freakangels. In an interview with Bleeding Cool, Spurrier notes that Freakangels' success was an inspiration for this new web series:
The publishing model Warren and Paul used for Freakangels was fabulously successful – free weekly episodes online, accessible to all, which are collected, printed, and shilled-like-crazy every half year or so. Given Avatar's astonishing success with other stories set in the Crossed universe, it made sense to bring the plus-faced bastards and their world into the slot vacated by Whitechapel's wonderful weirdists.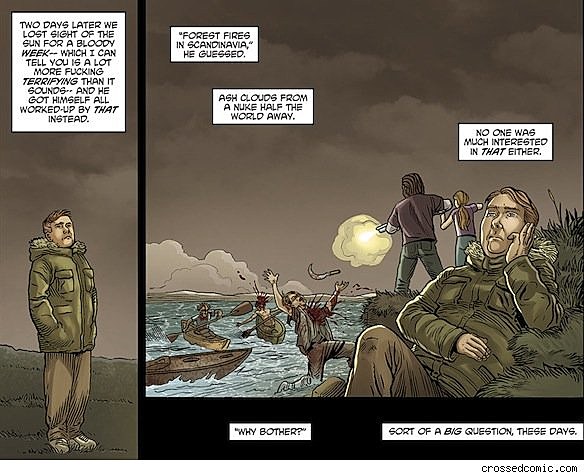 Perhaps, if Wish You Were Here succeeds in translating an online readership into a bigger numbers for Crossed in print, more publishers will follow Avatar's lead and create their own webcomic tie-ins -- even without the blood and guts.