All 'Glory' to Joe Keatinge and Ross Campbell's Amazon Warrior [Preview] It is still very strange for me to accept that among the new comics I'm most looking forward to this year are revivals of characters from Rob Liefeld's infamous Extreme Studios, but that is quite honestly the case. One of the resurrected titles is Glory, in which writer Joe Keatinge and artist Ross Campbell refine Liefeld's dubious 1990s take on a certain amazon princess into the kind of superhero comic I really want to read in 2012: epic, thoughtful, and beautifully drawn.
Keatinge and Campbell's story begins in Glory #23 (continuing the numbering of the original series, which ended in 1997), which doesn't go on sale until February. But hey, you can check out a preview below!As I said, the bombastic, hyper-stylized library of Extreme Studios was not on my weekly pull-list back in the mid-1990s, when I was an angsty teenager obsessed obnoxiously with what I was convinced were the greatest comics of all time: Spawn, Preacher, and Johnny the Homicidal Maniac (I apologize for nothing). In other words, I was aggressively not into comics that looked like this: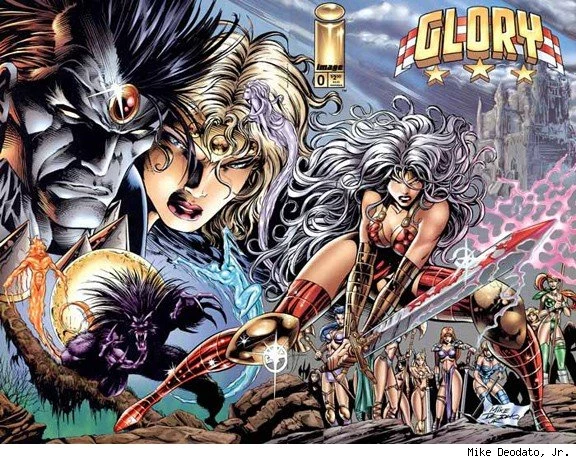 But as it turns out, I was a bit of an a**hole teenager and loads of people bought those Extreme Studios comics. Some of them, like Glory's Ross Campbell, turned out to be some of my favorite creators as an adult.

Campbell, the creator of Shadoweyes and Wet Moon (and prodigious Jem redesigner) teams up with Joe Keatinge (Brutal, editor of PopGun) to identify what their younger selves found compelling about Glory -- whom even Image publisher Eric Stephenson once described as "a moribund character" -- and synthesized a truly cool new version that I think fits in extremely (hurrrr) well with the energized style of a lot of this year's new comics (like Extreme sister title Prophet by Brandon Graham and Conan the Barbarian by Brian Wood and Becky Cloonan and and Sacrifice by Sam Humphries and Dalton Rose). I've read Glory #23 and found not the garish Wonder Woman knockoff of the ancient '90s, but rather a forward-looking adventure story with a powerful heroine at the center and artwork that doesn't look like anything else on the stands. The Wonder Woman roots are there, to be sure, but I think that after you read the preview below, you'll agree that the Amazon warrior concept is being very well served by Keatinge and Campbell.