 Ivan Brunetti's Covers For 'The New Yorker' Are Diverse And Personal [Art]
Many of the greatest cartoonists and illustrators working in comics today have provided cover art for the The New Yorker over the years, and Ivan Brunetti is no exception. The Ignatz Award-winning creator of Schizo has done several covers for the magazine, but it still came as a pleasant surprise to see his latest contribution, which adorns this week's issue. The cover celebrates the arrival of summer, and comes a few weeks after the release of Brunetti's new book -- Aesthetics: A Memoir, an illustrated autobiography that traces his trajectory as an artist from childhood doodles to his professional work.
Brunetti is inarguably one of the most respected and talented cartoonists we have, and like most of his work, his covers for The New Yorker are often reflections of his life and personality. Below is his latest cover, plus several other covers he's done for the magazine, including descriptions of his thought process for some of the more personal contributionssince his first cover six years ago.
"Box Garden"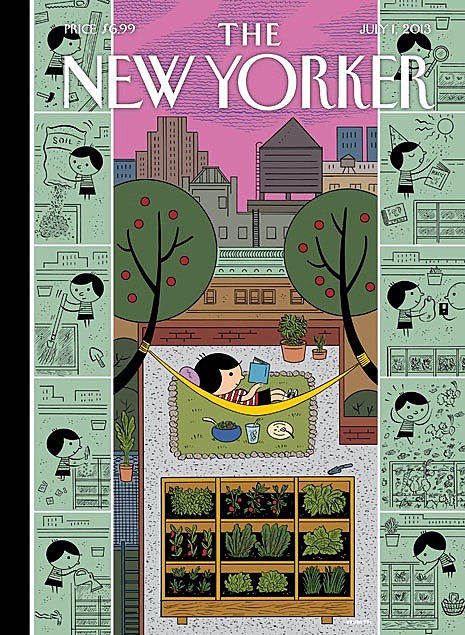 "My family is Italian, obsessed with having the absolute freshest ingredients, so you have to have a garden. I wanted to erect a box garden in my backyard, so I had to draw it first. There is this cartoonist idea that if you draw it, it will happen. But many plants, like the Swiss chard, just did not work out. The only thing I've been able to grow is your basic herbs like basil and rosemary, but a dog probably could have figured that one out."
"On Thin Ice"
"Style Sheet"

"Ecosystem"

"Required Texts"

"Ring Out The Old, Ring In The New"

"Biodiversity"

"Union Square"

"Dressed Down"

"Warmth"

"I always like that moment when you take a break from painting. I tried to capture the moment when you're in the middle of the transition. Many years ago, I was depressed, and I decided to paint all the rooms with the same colors that I use in my comics, the same palette of eight colors I use all the time. For the main room, the largest room, I wanted that warm red. But my depression was a little too severe for it to make a difference, and it actually was heartbreaking later when I moved-the landlord charged me to paint everything back to white."
For more insight into Brunetti's process, you can check out the book trailer for Aesthetics: A Memoir below.