Your Jonathan Hickman Indie Comics Library is Now Complete
With this week's release of the collected edition of Red Mass for Mars, your Jonathan Hickman indie comics library is finally complete. The Image Comics trade paperback marks the end of an uncommonly ambitious opening slate of creator-owned work initiated by the novice writer/artist/designer Hickman following the success of his debut work, The Nightly News, in 2007. The four miniseries -- The Nightly News, Pax Romana, Transhuman and Red Mass for Mars -- are based on concepts both outlandish and brilliant, and are in each case explored with depth, elegance and action. When this body of work is contemplated as a whole, it is less of a surprise that Hickman became one of Marvel's most crucial writers in just three short years.
Beyond the preview of Red Mass for Mars, we've put together after the jump a helpful guide to the Image Comics work of Jonathan Hickman, including a very short but eminently cool little story you probably haven't heard of.

Hickman spoke to ComicsAlliance about completing the first "block" of his creator-owned work, and preparing to publish his next wave of indie content:
This release completes the first concrete section, or block, of my professional work, and I'm very happy with how the collection came out... The design of the trade echos all of my other Image books: NIGHTLY NEWS, TRANSHUMAN and PAX ROMANA. The color sets are all different, as are the covers (they DO, however, imply 'family'), but the thing to take notice of is the spine. This is how most people see your work, so it's important to suggest unity... or at least that's my line of thinking. Regardless, I'm committed now, and this design will extend through all my creator-owned books, regardless of publisher.

The next twelve months will see the publishing of my second block of creator-owned books. Some of this will come from Image (my PLUS! work), and some from other houses. And while I'm generally not a fan of calling my shot, I do feel like these next books will clearly show that I continue to evolve as a creator and as an artist/designer.

I also wanted to say that this is a very complicated and interesting time to be doing any type of 'consumable entertainment.' I don't think I'm shocking anyone when I say that economically these are difficult times and I believe this places a distinct, and honorable, burden on creators like myself. Readers are currently demanding our very best and, in fact, they deserve something more - not just momentary escapism, or untimely (or unwanted/unneeded) enlightenment, but a narrative journey that engages on both an emotional and intellectual level. I don't think I'm there yet, but these first four volumes of creator-owned work (and my Marvel work that flows out of that) represent the first steps of my trying to achieve just that.

So, now I go back to work.


While we wait anxiously for the next of Hickman's creator-owned projects, the time seems right for a look at what's available right now. Note the continuity of design across the collections.
Red Mass for Mars, Written by Jonathan Hickman and illustrated by Ryan Bodenheim

Red Mass for Mars is a particularly unorthodox book, even for Hickman. Mars is a superhero who's hundreds of years old and has lost touch with humanity and the society we've built for ourselves. When an alien threat looks certain to wipe Earth out for good, Mars wonders if he should even bother saving us. Like all of Hickman's creator-owned work, Red Mass for Mars is really about society, and specifically, what the idea of utopia might mean to different people throughout human history -- in this case, a Godlike being with the power to change everything.

The Nightly News, written and illustrated by Jonathan Hickman

In short, The Nightly News is Network meets Fight Club, as writer Andy Diggle (The Losers) says in his introduction to the collected edition. The story of a mysterious cult of media assassins, The Nightly News confronts its audience with tough questions and ideas about America's corrupted relationship with the Truth, most of which will leave readers angry, inspired or depressed. It also comes with a truly classic ending and some of the best and most innovative comic book storytelling you will ever see.
Pax Romana, written and Illustrated by Jonathan Hickman
Perhaps the most "high concept" of Hickman's uniformly high concept graphic novels, Pax Romana is the story of the Catholic Church sending an army of 5,000 men into the ancient past to conquer the world and build a "perfect society" and, naturally, how it might go all wrong. In a comics landscape where the simple invocation of variously "crazy ideas" are often enough to earn a book glowing reviews, Pax Romana is unusually cerebral and attempts very successfully to truly delve into the implications of such an endeavor, both philosophically and practically. Visually constructed in a way not unlike The Nightly News, Hickman's Pax Romana is very much a precursor to the writer's work on Marvel's S.H.I.E.L.D. You can buy it here.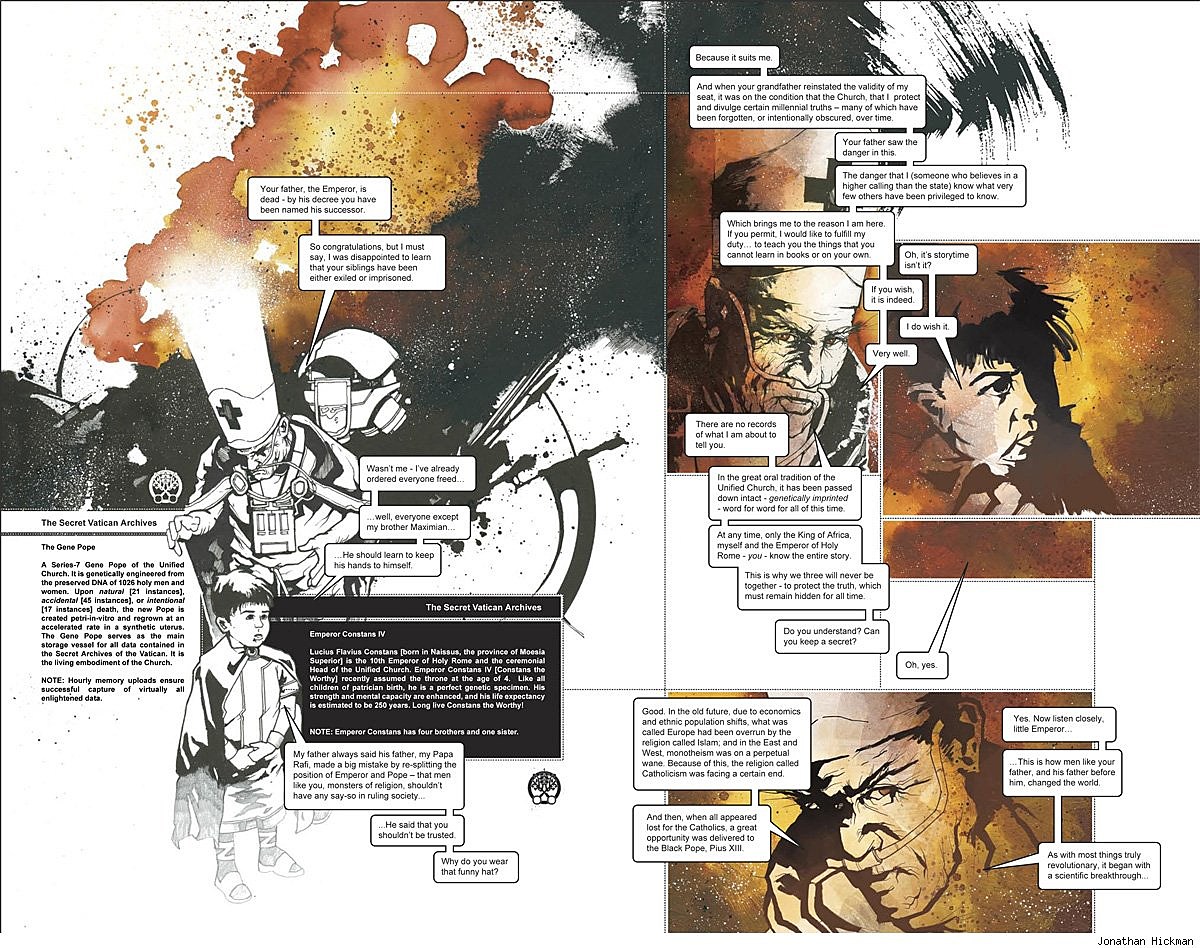 Transhuman
, written by Jonathan Hickman and illustrated by J.M. Ringuet
Though the lone comedy in this body of work,
Transhuman
continues Hickman's fascination with the fabric of our society and how it may be affected by extraordinary events or powerful forces. In this case, revolutionary genetic enhancements. Told in a documentary style,
Transhuman
is, by my reading, a wild satire of Silicon Valley and Startup culture, with superpowers and cybernetics taking the place of personal computers and Web services. You can
buy it here
.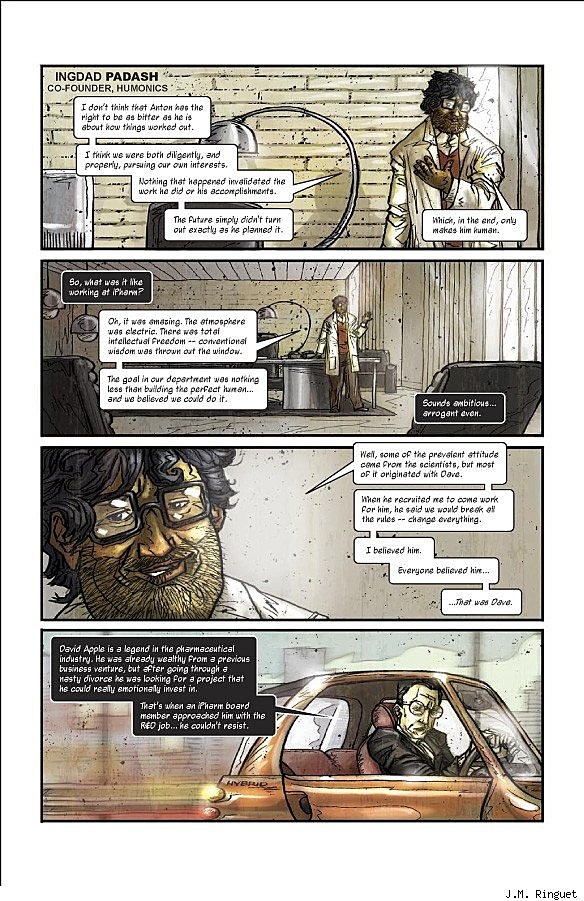 Black Circle White: The Recycle Soul Project, written and illustrated by Jonathan Hickman
In a short, five-page story in the first volume of Image's Popgun anthology series, Hickman depicts beautifully what might be the nature of the universe. A disclaimer indicates the story isn't meant to be an endorsement of one particular belief system, but rather just a layman "dabbling." What Hickman calls five pages of "dabbling" is actually genuinely moving, and worth seeking out. You can
buy it here
.