 ComicsAlliance Goes MAD: Chris Sims Visits the 'MAD' Magazine Offices
Last weekend's trip to the New York Comic-Con was also my first ever trip to New York City, and while the entire trip was a great time, one of the biggest highlights came on Monday, when I went to the "MAD Magazine" offices. I was invited in by Tom Fowler -- who, in addition to drawing comics like "Mysterius the Unfathomable " and an upcoming issue of "Deadpool Team-Up," is the regular artist of "Monroe" for "MAD" -- and given the grand tour by Assistant Art Director Ryan Flanders.
And of course, just like the tourist I was, I took a bunch of pictures. So if you've ever wondered what it looks like to work with the Usual Gang of Idiots, rest assured: Their offices are way more fun than yours.

The lobby outside the office was done up much like newspaper and magazine offices I've seen in movies -- things being exactly like I've seen on TV being a recurring theme of my trip to New York -- with cover reproductions lining the walls. I was a little surprised that, aside from the reproduction of "MAD" #1 at left, they were all from more recent issues, but I imagine that a giant poster of this cover (mildly NSFW) greeting visitors to a business office might send the wrong message.Once we were in the "MAD" offices proper, I was legitimately shocked to see this dominating the reception area:

The statue of Alfred E. Neuman that appeared in 1980's "MAD Magazine Presents Up The Academy," a movie made as an attempt to cash in on the popularity of "National Lampoon's Animal House" that by all accounts was so unbelievably wretched that "MAD" founder Bill Gaines paid $30,000 to have every reference to the magazine cut out of the version that aired on TV:
I actually haven't seen the movie -- though the fact that it's on Netflix Instant means I'm going to remedy that ASAP -- but I have to admit, "Have you ever been tied up? You know, with rope?" is a pretty great bit of comedy.
From all accounts, though, it is not a great film, and Gaines hated it so much that he wrote personal apologies to every complaint MAD received, which is probably why someone, possibly Gaines himself, according to Ryan Flanders, defaced the placard on the base to make it much more accurate:
MAD Magazine Resents Up The Academy
The entry hall also featured a pair of display cases that were full of officially licensed products and things sent in by fans...
...as well as props that had been created for the magazine, like the "Poison Bottle" from the cover of #125:

For the record, the cans of Moxie soda are there because that's what Alfred E. Neuman's girlfriend, the suspiciously Alfredesque Moxie Cowznofsk, was named after.
I was actually expecting a pretty good amount of "MAD" memorabilia (because really, why wouldn't they have some), but the funniest thing I saw was actually in an alcove that housed both a fax machine and Piñata Batman:

I asked, and Ryan had no idea what he was doing there. I mean, other than the obvious thing, which was fighting any crime that was both a) fax machine related, and b) perpetrated by criminals who did not have sticks.
Across across the hall, a wall had been designated (and labeled accordingly) as "The MADropolitain Museum of Art," which featured various spoofs of famous paintings produced for the magazine over the years:

These were framed prints, but a pretty impressive display of original art was literally right around the corner:

This was easily one of the best things about the office: A section of the wall for artists to draw on and sign whenever they stopped by the offices. It was wide enough that I couldn't get the whole thing in one shot, but I did manage to get a few of my favorite pieces. Fold-in artist Al Jaffee's signature self-portrait was pretty neat to see, but the show-stealer was "Spy vs. Spy" artist Peter Kuper's contribution:

Also, as I mentioned to Ryan, even when he's drawing on a gigantic piece of the wall, Sergio Aragones still has to fill up the corners:
The original art wasn't just limited to the walls, though. According to Ryan, Bill Gaines would actually pay a higher rate (and pay on delivery) to his artists back in the day in exchange for keeping the original art, and while the policy has changed so that the artists keep the originals, the office still had a pretty amazing art collection housed in these drawers:

I'm not going to lie, it was a pure geek-out moment to see drawers full of art by Jaffee, Mort Drucker, one of the primary caricaturists responsible for illustrating the mag's famous TV and movie parodies and Paul Coker, who also designed Frosty the Snowman for Rankin/Bass. Unfortunately, I didn't get a picture of the two magazine-sized posters of Malcolm Jamal Warner (circa 1986) adorning the office, but I did get a few shots of the art:
Close on the "MAD" logo by Aragones:
"Monroe" strips by Tom Fowler:
A piece by "MAD's Maddest Artist," Don Martin, that not only had art, but two layers of hand-cut overlays and a pretty hilarious note about "instructions that you guys didn't read!!"
Rejected Super-Heroes by Bruce Timm: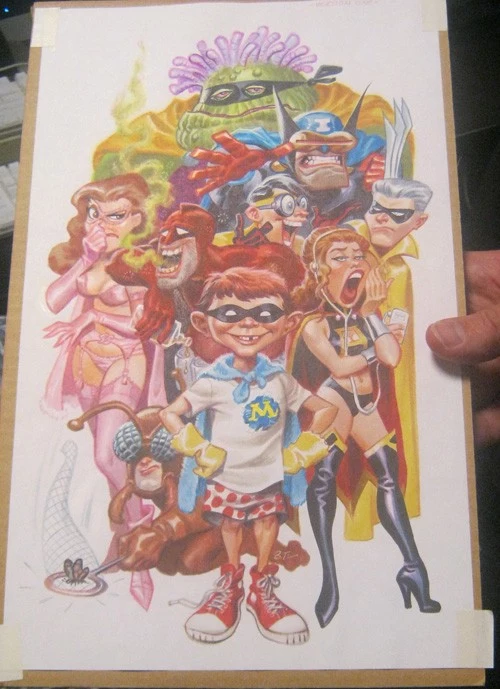 As awesome as it was to see Timm and Martin, though, the high point (and the piece that Ryan said he always uses to end the tour) was a full-page illustration by the legendary "MAD" and EC Comics artist Jack Davis: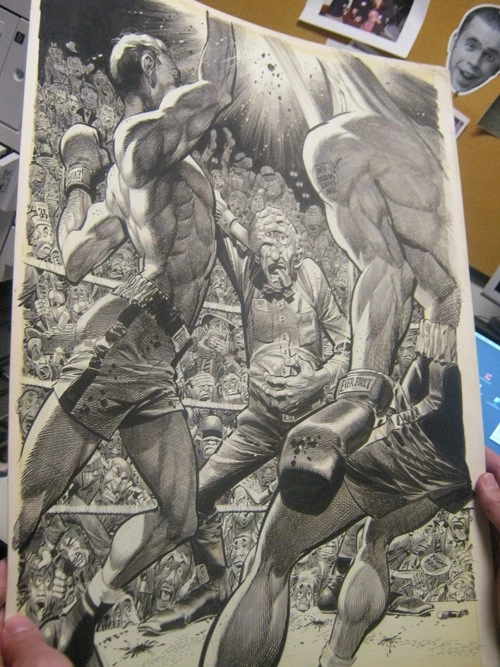 The amazing thing about this one -- aside from the fact that it's an absolutely incredible piece of art -- is that it actually wasn't published. Ryan didn't know if it was a result of Davis finding a flaw with his own work or an editor not being thrilled with it, but the entire page was completely re-drawn for the printed version.
Also of note: This page totally stinks. Not in terms of quality -- just look at it, it's phenomenal! -- but in terms of actual odor. It was drawn on Craftint Duotone board, a kind of paper that would bring out patterns (like crosshatching or zip-a-tone dots) when treated with the chemicals. The side effect of adding chemicals to treated paper, though, was a pretty unpleasant smell that lasts for decades.
Of course, that didn't stop Tom Fowler from wanting to get close to the work of one of his artistic heroes:
For someone who grew up reading "MAD" and still reads it today, it was pretty amazing to see all this stuff, and there was even more that I didn't get pictures of. The offices of guys like art director Sam Viviano and Dick DeBartolo were full of great stuff, but since everyone there was so nice, I would've felt really awkward saying "hey, can you move that picture your kids drew you for Father's Day so I can get a shot of this bookshelf?"
Especially since they let me in despite my brief tenure as a contributing editor for "CRACKED."