More Calvin & Hobbes Covered by Artists
A few weeks ago, we posted images from a fan sketchbook with a "Calvin and Hobbes" theme, where various indie comics artists had drawn their own versions of the inseparable boy and tiger duo. Since that time we have discovered or been pointed to a plethora of other artists with their own take on the great and much-missed comic strip, and thought perhaps another roundup was in order.
Although many of the commenters on the previous post saw any new or different versions of the characters as sacrilegious -- in part because of creator Bill Watterson's fierce resistance to merchandising -- I would suggest that while these are certainly not works of art on the same scale as the original comic, they are mostly heartfelt tributes from a generation of artists that grew up loving "Calvin and Hobbes," and want to express either the spirit of the comic or their affection for it in their own way.
As a dedicated, lifelong fan to whom "Calvin and Hobbes" is the holiest of holies in newspaper strips, I can certainly think of fan art that I find disrespectful, creepy, or incredibly sad. But if I became that quick to condemn creative reinterpretations of deeply revered works simply for daring to exist, I'm not sure I'd be particularly different from these guys.
And so: A "realistic" Calvin and Hobbes by Nina Matsumoto a.k.a. Space Coyote (via depro9):

Matsumoto also drew a "philosophical" version of John Calvin and Thomas Hobbes in the style of Watterson: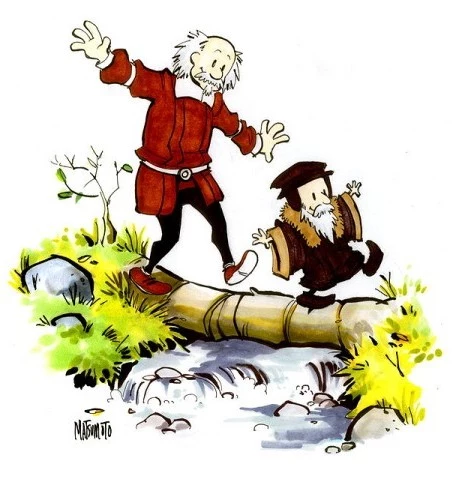 A custom version of toy Hobbes that makes us momentarily sorry that Bill Watterson never created C&H toys:

Calvin and Hobbes (and Susie!) Grown Up by Nami with color by Sora: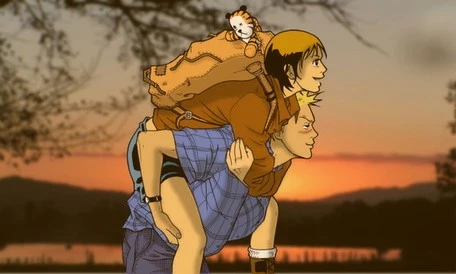 Chris Hoobler reinterprets "The Days Are Just Packed" on the Covered blog.

Calvin and Hobbes x Fight Club by Sean Clauretie:

A fireplace scene by Sashatiainen:

Calvin & Hobbes, Private Investigators by Eric J. Durwood II:

Calvin Cubee by Pinkapoodoo: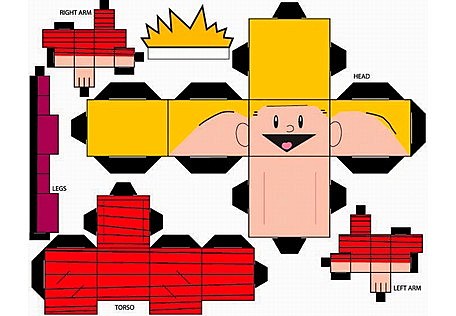 Calvin Cubee assembled: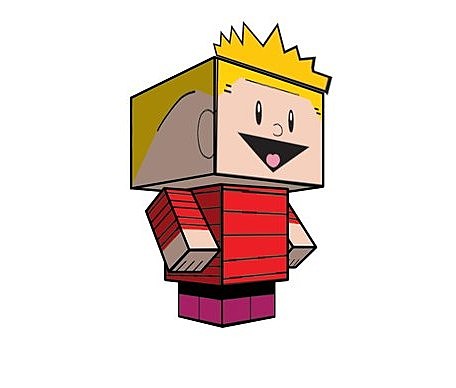 Calvin Self-Portrait by Jaime Posadas: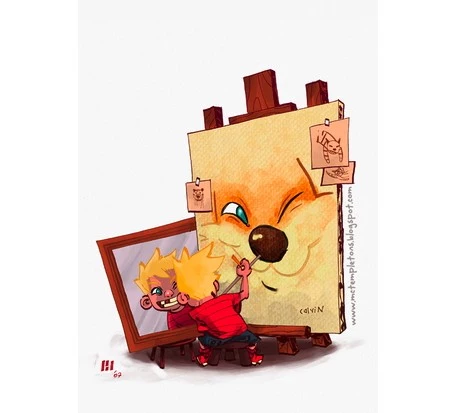 A wagon flume by Celestial4ever:
"The Future"
Elsewhere on the web: