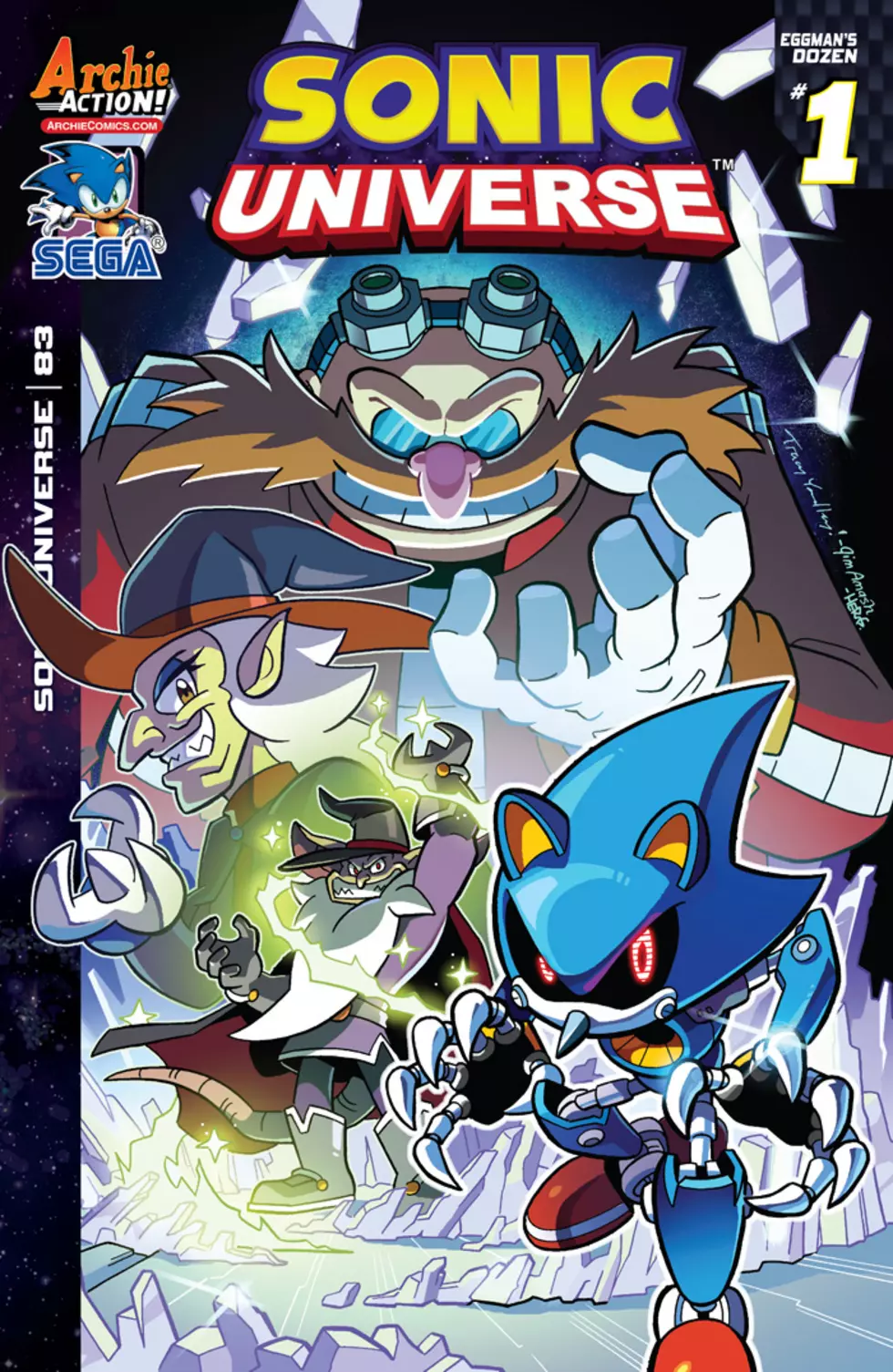 Eggman Won't Be Bossed Around in Sonic Universe #83 [Preview]
Archie Comics
No one ever said being bad was easy, but Sonic the Hedgehog's main rival Eggman just can't buy a break. Not only does Eggman constantly have to deal with the Blue Blur and his friends mucking up his latest world domination plan, but he's also got all the other evil villains of Mobius to contend with. Now, Eggman's got to turn his eye from fending off Sonic to recapturing his own fortress from a devious duo in order to keep his spot as Big Bad Numero Uno.
Fortunately for Eggman, his genius in creating robots to do all his dirty work for him will come in handy. Where two wizards might pose a problem for just one mere man, no matter how great his intelligence, they're hardly a match for an army of Egg Bosses. When you absolutely, positively have to put some up and coming villains in their place, what better tactic than to throw everything you have at them. Check out Eggman going big or going home in the preview for Sonic Universe #83.
SONIC UNIVERSE #83
Script: Ian Flynn
Art: Tracy Yardley, Jim Amash, Jack Morelli & Matt Herms
Sonic Universe #83 CVR A Reg: Tracy Yardley, Jim Amash & Matt Herms
Sonic Universe #83 CVR B Variant: Rafa Knight

EGGMAN'S BASE is UNDER ATTACK in, "Eggman's Dozen" Part One: Dr. Eggman's plans for controlling the shattered world were going perfectly—until now! The wizard warlords—the Naugus Twins—have taken over Eggman's base and Dr. Eggman's source of Dark Gaia energy! No mere robots will do for this mission—the doctor's going to need ALL his Egg Bosses! Featuring cover art by Mr. Sonic comics himself, Tracy Yardley, and an "Evil Genius" variant by CG artist supreme, Rafa Knight!

On Sale Date: 3/30
32-page, full color comic
$3.99 U.S.