DC Superhero Inspired Fashion on the Runway at NY Fashion Week
Fashion designer Jeremy Scott showed his Fall 2011 ready-to-wear collection last Tuesday at New York Fashion Week, paying a stylish homage to some of DC Comics' superheroes amongst the sea of Coca Cola parodies, religious figures, recreational drug motifs, and skeletal sweaters. Known for his bold iconic pop art motifs and previously pulling inspiration from Disney characters and The Flintstones, it's clear that Scott has taken (and created) a few fashion tips from comic strips as well, with revamped classic emblems, large lightning bolts, star-spangled fabric, and capes.
We've got a runway rundown of his fashion homages to Superman, Batman, Wonder Woman, and Black Adam -- and a guide to how you can get these looks yourself for a fraction of the cash.

SUPERMAN

Superman made the boldest statement in Jeremy Scott's collection through a manipulated emblem, appearing in both casual and evening ensembles. Unlike the heart-shaped Super-M logo featured in the Moschino collection from Fall 2007, Scott both recognizes and effectively uses the power of iconography through the Superman symbol in his collection. While the stylized question may resemble the backwards Bizarro-S at first, All-Star Superman fans will be delighted to see that the Unknown Superman of 4500 AD has made an appearance on the runway.
Emblems aside, after years of witnessing Supergirl's skirt getting shorter and shorter, it's quite refreshing to see the Super-emblem paired up with this red leather pencil skirt. Similarly, the sheer cape on the sequined evening gown is a rather elegant translation of Superman's red cape.
GET THIS LOOK:

With Jeremy Scott's Fall 2010 show occurring within a week prior to the release of the All-Star Superman animated feature on DVD, this would be an opportune time for DC to release shirts featuring the Unknown Superman's emblem. But until then, coordinate a classic blue Bizarro t-shirt with a red knit pencil skirt. You am unfashionable!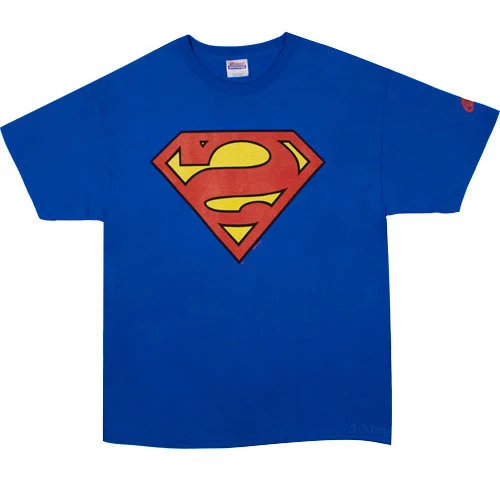 Bizarro t-shirt, from Graphitti Designs.
Red zippered mini skirt, from Sophistix; red pleated knit skirt, from Forever 21.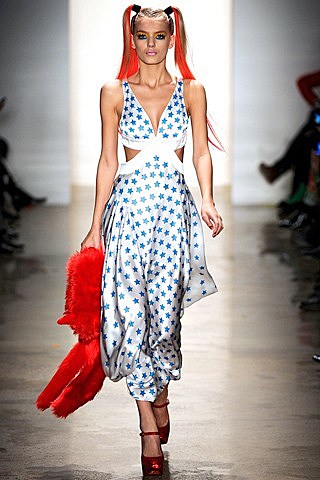 Although many superhero costumes feature star motifs, the scale of the pattern on Jeremy Scott's star-spangled dress is reminiscent of the iconic stars on Wonder Woman's costume. The reversed colorway of blue stars on a white background still allow to the ensemble to be bold, without being audaciously patriotic.
GET THIS LOOK:

Create a simple, comfortable Spring/Summer ensemble by complementing a star-spangled shift dress with simple red wedges or red accessories. The red accents will add enough pop to this outfit without competing with the bold motif of the dress.


Star-printed shift dress, from YESSTYLE.
With a metallic Batman tank top, Jeremy Scott completes the fashionable Trinity. Unlike his treatment of the Superman emblem, the Bat-symbol itself is untouched, but instead, printed on a sheer metallic lamé mens' tank top.
GET THIS LOOK:

Every wardrobe should contain a classic Bat-symbol; bonus points if it's metallic. While not everyone can pass off shiny black leather pants, coordinate the shirt with a black leather jacket, combat boots, and accessories in black and gold.


Batman Foil Metalix t-shirt, from SuperHeroStuff.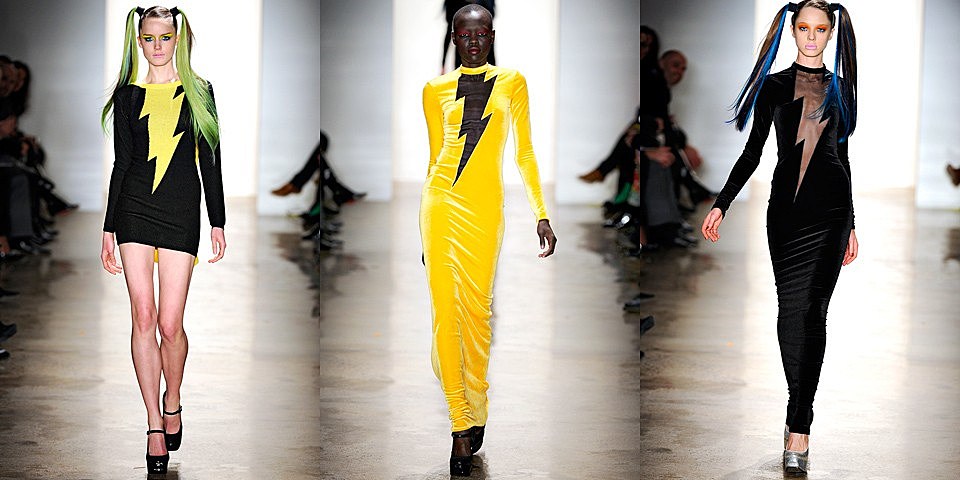 While the lightning bolt symbol may be the most popularly synonymous with The Flash, the black and yellow colorway and the placement of the lightning bolts on these Jeremy Scott's dresses are totally Black Adam. The use of knits, mesh, and plush velvet both defines and softens the large lightning bolts, creating a classic silhouette and an incredibly wearable look.


GET THIS LOOK:

For a casual look, pair up this long-sleeved Black Adam top with a sleek black or yellow bodycon skirt (or layer the top over a bodycon dress in a matching color). Dress up the top with soft evening wear fabrics, such as a velvet skirt or a sheer scarf.


Long-sleeved Black Adam shirt, from SuperHeroStuff.
[Jeremy Scott Fall 2010 RTW photos: Style]