The Most Bizarro Moments of M.O.D.O.K.
digg_url = 'http://digg.com/comics_animation/The_Most_Bizarro_Moments_of_M_O_D_O_K'; digg_bgcolor = '#ffffff';
Oh, MODOK. You are, hands down, one of the weirdest supervillains ever to grace a comics page, mostly because you are a giant, creepy floating head whose name means "Mental Organism Designed Only for Killing." We're hot off of MODOK week at Marvel, which saw the launch of "Dark Reign: MODOK" and "MODOK's 11" digital comics, and best of all, a new "What The?!" video where MODOK is a pirate voiced by Brian Michael Bendis. In honor of his headliness, Chris Sims of the Invincible Super-Blog put together a highlight reel of the best and most bizarre MODOK moments, including the time a squirrel made him scream like a little girl.
soKe.flace('comics-modak_moments', '645', '700'); var uid = new Date().getTime(); var flashProxy = new FlashProxy(uid, 'http://www.aolcdn.com/_media/modtools/kit_swfpublisher_javascriptflashgateway.swf'); var flashvars = {}; try { flashvars.lcId = uid; } catch (Exc) { }; try { flashvars.targetAds = 'comics-modak_moments'; } catch (Exc) { }; try { flashvars.omniture_tracker = '0'; } catch (Exc) { }; try { flashvars.adrefresh_wrapper = '1'; } catch (Exc) { }; try { flashvars.appswfURL = soKe.fv('http://xml.channel.aol.com/xmlpublisher/fetch.v2.xml?option=expand_relative_urls&dataUrlNodes=uiConfig,feedConfig,entry&id=626156&pid=626155&uts=1244564969'); } catch (Exc) { }; if (typeof(screen_name) != 'undefined') try { flashvars.userName = screen_name; } catch (Exc) { }; var params = {}; try { params.wmode = 'opaque'; } catch (Exc) { }; try { params.menu = 'false'; } catch (Exc) { }; try { params.bgcolor = '#262525'; } catch (Exc) { }; try { params.quality = 'best'; } catch (Exc) { }; try { params.allowScriptAccess = 'always'; } catch (Exc) { }; try { params.allowFullScreen = 'true'; } catch (Exc) { }; var attributes = {}; try { attributes.id = 'outlet'; } catch (Exc) { }; top.exd_space.refresher.ads2Refresh(new Array( 'comics-modak_moments', new Array('93301066','300','250','0','I','1') )); top.exd_space.refresher.iFrm2Refresh(new Array( 'comics-modak_moments', new Array('Placement_ID', '1368367'), new Array('Domain_ID', '994774') )); top.exd_space.refresher.mmx('comics-modak_moments', 'http://www.aolcdn.com/_media/channels/ke_blank.html', ''); swfobject.embedSWF('http://cdn.channel.aol.com/cs_feed_v1_6/csfeedwrapper.swf', 'comics-modak_moments-swf', '645', '700', '9.0.115', 'http://www.aolcdn.com/ke/swfobject/expressinstall.swf', flashvars, params, attributes); top.exd_space.refresher.launcher( 'comics-modak_moments',{ dynamicSlide:[''], size:['456t'], photoNumber:['0'], title:['The Most Bizarro Moments of MODOK'], numimages:['12'], baseImageURL:['http://www.aolcdn.com/photogalleryassets/comics/625999/'], imageurl:['MODOKSquirrel.jpg'], credit:[''], source:[''], caption:['As far as design flaws go, "prone to squirrel-based defeat" is probably pretty major.'], dims:['http://o.aolcdn.com/dims/PGMC/5/400/850/90/'], showDisclaimerText:['false'], disclaimerText:[''], CSS_Title:['#f7f7f7'], CSS_Caption:['#cecece'], CSS_Disclaimer:['#cecece'], CSS_Container:['#262626'], CSS_Border:['#474747'], CSS_PhotoWell:['#646464'], CSS_photoHolder:[''], CSS_Buttons:['#3399cc'], CSS_BtnOver:['#abacad'], CSS_Scroll:['#acacac'], topMargin:['4,0,400,850,408,269,0,-258'] } );
Not a Flash fan? Read more for an in-page view.

As far as design flaws go, "prone to squirrel-based defeat" is probably pretty major.

MODOK once turned all of the Avengers -- including Wolverine -- into MODOKs, complete with their own hoverchairs. This is unquestionably the greatest comic book of the modern age.

It's never funny when someone dies, even if it's a supervillain. When they have to get a second table at the morgue to support your giant head, well... okay, that's pretty funny.

Unsurprisingly, MODOK is a popular subject for commissioned pieces, like this one by Bob McLeod, which improves MODOK in the only way possible: by making him Barbarian King of Mars.

With recruitment posters like this, is it any wonder that there are always plenty of beekeeper/scientists for Captain America to smack around?

Who would've thought that MODOK would be such a vindictive ex-boyfriend? Heck, who would've thought he'd ever be in a position to BECOME an ex-boyfriend?
Although to be fair, he has had a few notable romances, first with the marriage-minded "Miss MODOK," who was on the rebound from the Hulk (yes, really)....

...and then with MODAM (the Mental Organism Designed for Aggressive Maneuvers), who... well, the difficulties here should be obvious.

And then there were... other complications.

Ladies and gentlemen, we give you Colonel Tom Parker's worst nightmare: A squadron of revenge-crazed telepathic flying Elvii.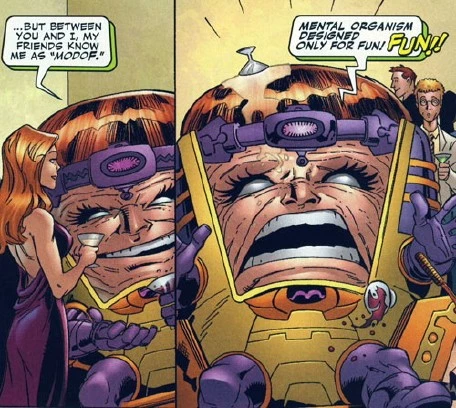 But through it all, he keeps on smiling! At least, he does in this sketch by Marvel Adventures Avengers writer Jeff Parker, showing the Happiest MODOK Ever.