 This Week's New Releases and Recommendations
I was so sick this week that not only could I not write this post on time, but I couldn't even read comics while I was in bed. Now that's sick. Reading comics while you are sick is a right of poor health. In fact, it's how a surprising amount of people first started reading comics...when they were laid-up sick. True story. Now please excuse me while I cough up my other lung.

PREDATOR OMNIBUS VOL 1 TP
By now you should know that the word "omnibus" gets a book an automatic recommendation in this space. Or maybe you shouldn't know that...or should you?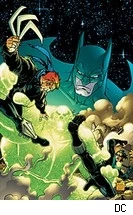 OUTSIDERS FIVE OF A KIND WEEK 1 NIGHTWING BOOMERANG
Usually five Wednesdays in a month means one week of slim pickings for new comics. DC was nice enough to give us a weekly event in the form of the formation of the new Outsiders team. I'm aware I just typed "form of the formation." I'm trying to work more alliteration into these recommendations. Awesome amounts of alliteration.
Just two words for this one: Hell Yeah. The good just keeps getting better with this one.
I'll recommend every issue of Garth Ennis Punisher, but this one stands to be a real keeper. Don't say we didn't warn you.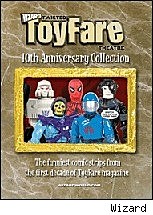 TWISTED TOYFARE 10TH ANNIVERSARY COLLECTION TP
My favorite Spider-Man to read every month isn't in any comic, but in the pages of Twisted Toyfare Theater. Huh? 10th Anniversary Collection? I am getting soooooo old. Guh.
Here's the complete list of new comics on the stands today:
MAR070030 CONAN & THE MIDNIGHT GOD #5 (OF 5) $2.99
APR070049 EDEN VOL 8 ITS AN ENDLESS WORLD TP (MR) $12.95
JUN070062 JOURNAL SANJAY PATEL $9.99
APR070050 OLD BOY VOL 7 TP (MR) $12.95
APR070018 PREDATOR OMNIBUS VOL 1 TP $24.95
JUN070061 STATIONERY SET SANJAY PATEL GODDESSES $4.99
JUN070147 ACTION COMICS #853 (CD) $2.99
JUN070149 ALL NEW ATOM #14 (CD) $2.99
MAY070231 AMERICAN VIRGIN #17 (MR) $2.99
MAY070153 BIRDS OF PREY BLOOD AND CIRCUITS TP $17.99
JUN070193 BLACK CANARY #3 (OF 4) $2.99
JUN070141 COUNTDOWN 39 $2.99
JUN070165 DETECTIVE COMICS #835 $2.99
JUN070269 EXTERMINATORS #20 (MR) $2.99
JUN070266 FAKER #2 (OF 6) (MR) $2.99
MAY078334 GREEN LANTERN SINESTRO CORPS SPECIAL 3RD PTG #1 $4.99
APR070192 GREEN LANTERN WANTED HAL JORDAN HC $19.99
JAN070384 JLA COVER TO COVER STATUE THE FLASH $59.99
JUN070207 JONAH HEX #22 $2.99
JUN070225 JUSTICE LEAGUE UNLIMITED #36 $2.25
JUN070202 JUSTICE SOCIETY OF AMERICA #8 $2.99
JUN070203 JUSTICE SOCIETY OF AMERICA VAR ED #8 $2.99
MAY070200 KING OF CARDS VOL 1 $9.99
JUN070229 LOONEY TUNES #153 $2.25
JUN070208 METAL MEN #1 (OF 8) $2.99
JUN070243 MIDNIGHTER #10 $2.99
JUN070167 NIGHTWING #135 $2.99
MAY070205 OMUKAE DESU VOL 5 $9.99
JUN070159 OUTSIDERS FIVE OF A KIND WEEK 1 NIGHTWING BOOMERANG $2.99
JUN070276 SCALPED #8 (MR) $2.99
MAY070243 SCALPED VOL 1 INDIAN COUNTRY TP (MR) $9.99
JAN070404 STARDUST NOTECARD SET $17.99
JUN070153 SUPERGIRL #20 (AA) $2.99
JUN070253 SUPERNATURAL ORIGINS #4 $2.99
JUN070247 WELCOME TO TRANQUILITY #9 $2.99
JAN071927 ELEPHANTMEN VOL 1 WOUNDED ANIMALS HC $24.99
MAY071891 FIRST BORN SEJIC CVR B #1 (OF 3) $2.99
MAY071890 FIRST BORN SILVESTRI CVR A #1 (OF 3) $2.99
MAY071862 GODLAND CELESTIAL ED HC $34.99
MAY078270 GUTSVILLE (NEW PTG) #1 (OF 6) (MR) $2.99
MAY071881 SPAWN GODSLAYER #3 $2.99
JUN072145 DAREDEVIL BATTLIN JACK MURDOCK #3 (OF 4) $3.99
JUN072115 DARK TOWER GUNSLINGER BORN #7 (OF 7) $3.99
JUN072116 DARK TOWER GUNSLINGER BORN COIPEL VAR #7 (OF 7) $3.99
JUN072117 DARK TOWER GUNSLINGER BORN JAE LEE SKETCH VAR #7 (OF 7) $3.99
MAY072117 FANTASTIC FOUR #548 CWI $2.99
JUN072149 FANTASTIC FOUR AND POWER PACK #2 (OF 4) $2.99
JUN072153 IRREDEEMABLE ANT-MAN #11 $2.99
JUN072167 MARVEL ADVENTURES SPIDER-MAN #30 $2.99
MAY072091 MARVEL ILLUSTRATED LAST OF THE MOHICANS #3 (OF 6) $2.99
MAY072131 MARVEL SPOTLIGHT WORLD WAR HULK $2.99
MAY072142 MARVEL TAROT $3.99
JUN072169 MARVEL TWO-IN-ONE #2 $4.99
JUN072172 MS MARVEL #18 $2.99
MAY072145 NEW AVENGERS ILLUMINATI #4 (OF 5) $2.99
JUN072224 NEW AVENGERS VOL 5 CIVIL WAR TP $14.99
JUN072176 NEW WARRIORS #3 CWI $2.99
JUN072201 PUNISHER #50 (MR) $3.99
JUN072183 SHANNA SHE-DEVIL SURVIVAL OF THE FITTEST #1 (OF 4) $2.99
APR072329 SHE-HULK 2 #20 $2.99
MAY072098 SPIDER-MAN FANTASTIC FOUR #4 (OF 4) $2.99
JUN072132 SPIDER-MAN RED SONJA #1 (OF 5) $2.99
JUN072186 THOR #2 $2.99
JUN072230 THUNDERBOLTS PRESENTS ZEMO BORN BETTER TP $10.99
JUN072221 ULTIMATE X-MEN ULTIMATE COLLECTION VOL 2 TP $24.99
JUN072188 UNCANNY X-MEN #489 $2.99
JUN072228 WISDOM RUDIMENTS OF WISDOM TP $21.99
JUN072156 WORLD WAR HULK #3 (OF 5) WWH $3.99
JUN072157 WORLD WAR HULK ROMITA JR VAR #3 (OF 5) $3.99
MAY072190 X-FACTOR VOL 2 LIFE AND DEATH MATTERS TP $14.99
JUN073148 BLACK PANTHER #25 ASPEN COMICS EXC TURNER CGC 9.8 CVR PI
MAY073094 CAPTAIN AMERICA #26 CGC 9.8 ED PI
JUN073156 CIVIL WAR #5 MCNIVEN CVR SGN CGC 9.8 PI
JUN073145 INQUEST GAMER WOW FIRE OF OUTLAND CVR #149 $1.99
MAY073091 TWISTED TOYFARE 10TH ANNIVERSARY COLLECTION TP $29.99
JUN073160 ULTIMATE SPIDER-MAN #100 BAGLEY SGN CGC 9.8 PI
MAY073685 2000 AD #1545 $4.10
MAY073686 2000 AD #1546 $4.10
MAY073400 ABIGAIL & ROX IN THE LAND OF ENCHANTMENT $3.99
MAY073361 AIR GEAR VOL 5 GN (MR) $10.95
MAY073362 ALIVE VOL 1 GN (MR) $10.95
JUN073321 ARCHITECT GN (MR) $9.95
MAY073816 ARKADIAN NO WITNESS ONE SHOT (MR) $2.99
MAY073216 ASPEN SPLASH 2007 SWIMSUIT SPECTACULAR $2.99
JUN073242 AWAKENING #1 (OF 10) (MR) $3.50
MAY073200 BETTY & VERONICA #229 $2.25
MAY073307 CARNAL COMICS 15TH ANN MULTIPACK (A) $9.95
MAY073308 CARNAL COMICS XXX HUMOR MULTIPACK (A) $9.95
FEB073509 CHAMPIONS #38 $2.99
JUN073854 CHARLEYS WAR VOL 2 AUG OCT 1916 HC (O/A) $19.95
JUN073855 CHARLEYS WAR VOL 3 OCT 1916 FEB 1917 HC (O/A) $19.95
APR073420 CHESTACLESE SKETCHBOOK VOL 1 $6.95
APR073616 CHUCKY PHOTO CVR B #3 (OF 5) (MR) $3.50
APR073615 CHUCKY RODRIGUEZ CVR A #3 (OF 5) (MR) $3.50
FEB0735
82 CLIVE BARKERS THIEF OF ALWAYS S&N HC $50.00
MAY073189 CLOCKWORK GIRL #0 $0.25
APR073858 DARK MISTS COLL ED TP (MR) $14.95
MAY073294 DELIVERY CUPID VOL 1 GN (A) $11.99
APR073942 DEVILS PANTIES COLL ED VOL 1 TP #1 $19.95
MAR073420 DF COUNTDOWN 51 $19.99
APR073676 DF WORLD WAR HULK X-MEN #1 CHRISTOS GAGE SGN $19.99
APR073677 DF X-MEN #200 CHRIS BACHALO SGN $39.99
MAR073680 FOR LIFE ONE SHOT $3.95
MAY073133 FOXWOOD FALCONS #1 (OF 3) $3.50
JUN073177 FULL METAL PANIC MANGA VOL 2 TP (O/A) (STAR20332) $9.99
APR073427 GARTH ENNIS CHRONICLES OF WORMWOOD #6 (OF 6) (MR) $3.99
APR073428 GARTH ENNIS CHRONICLES OF WORMWOOD WRAP CVR #6 (OF 6) (MR) $3.99
JUN073291 GEORGE A ROMERO NOTLD HUNGER (MR) $2.99
JUN073292 GEORGE A ROMERO NOTLD HUNGER GORE CVR (MR) $2.99
JUN073293 GEORGE A ROMERO NOTLD HUNGER PAINTED CVR (MR) $2.99
JUN073294 GEORGE A ROMERO NOTLD HUNGER ROTTING CVR (MR) $2.99
JUN073765 GLACIAL PERIOD GN (O/A) (MR) $14.95
JUN073730 GOODNIGHT IRENE GN (RES) (MR) $14.95
APR074096 GRIMM FAIRY TALES #16 (RES) (MR) $2.99
MAY073863 GRIMM FAIRY TALES RETURN TO WONDERLAND #2 (OF 7) (MR) $2.99
MAY073363 GUNDAM SEED DESTINY VOL 4 GN $10.95
MAY073364 GURU GURU PON CHAN VOL 9 GN (MR) $10.95
JUN073797 HARDY BOYS BOXED SET #1 (O/A) $29.95
MAY073817 HERC BROWN #0 $0.99
MAY073445 HEWOES #1 $2.99
APR073584 HIGHLANDER #9 $2.99
JUN073244 INANNAS TEARS #1 (OF 5) (MR) $3.95
JUN073322 INTERGALACTIC #2 $2.99
JUN073269 IRON & THE MAIDEN #1 $3.99
JUN073549 JOHNNY RYANS XXX SCUMBAG PARTY TP (MR) $18.95
MAY073203 JUGHEAD AND FRIENDS DIGEST #22 $2.49
JUN073365 KAMUI GN #8 $9.99
JUN073243 KILLING PICKMAN #1 (OF 6) (MR) $3.50
MAR074036 KISS COMIX #179 (A) $7.99
APR074401 KISS COMIX #180 (A) $7.99
MAY073365 KITCHEN PRINCESS VOL 3 GN $10.95
JUN073536 LADY AND THE VAMPIRE GN (NEW PRINTING) (O/A) (A) $10.95
MAY073505 LIVING WITH ZOMBIES VOL 1 TP (RES) (MR) $14.95
JUN073428 LOBSTER GIRL ONE SHOT (MR) $2.99
MAY073319 LUCKY LUKE BARBED WIRE ON THE PRAIRIE TP $9.99
APR073859 MIDNIGHT KISS COLL ED TP (MR) $16.95
JUN073625 MIKI FALLS VOL 2 SUMMER GN $7.99
FEB073364 MUSHISHI VOL 2 GN (MR) $12.95
JUN073444 MY FRIEND DAHMER #1 (O/A) (MR) $2.95
APR073867 NAKED ARTIST..AND OTHER COMIC BOOK LEGENDS GN (NOV068416) $11.95
JUN073795 NANCY DREW BOXED SET #1 (O/A) $29.95
APR073369 NINJA HIGH SCHOOL #151 $2.99
MAY073367 NODAME CANTABILE VOL 10 GN (MR) $10.95
APR073384 OKKO CYCLE OF WATER #4 (OF 4) (MR) $3.95
MAY073303 OZ WONDERLAND CHRONICLES JUSKO CVR A #2 (OF 4) $3.50
MAY073304 OZ WONDERLAND CHRONICLES VALLEJO CVR B #2 (OF 4) $3.50
MAY073204 PALS N GALS DOUBLE DIGEST #114 $3.69
MAY073369 PICHI PICHI PITCH VOL 6 GN $10.95
MAY073194 RED STAR SWORD OF LIES #2 (RES) $4.50
JUN073174 RIDE HOME GN $8.95
JUN073537 RIVIERA MOON GODDESS GN (O/A) (MR) (A) $10.95
MAY073657 ROADKILL ZOO #4 (OF 6) (MR) $2.50
MAY073545 SCARFACE SCARRED FOR LIFE TP $19.99
MAY073806 SNAKEWOMAN VOL 2 TALE OF THE SNAKE CHARMER #2 (MR) $2.99
MAY073206 SONIC THE HEDGEHOG #178 $2.25
MAY073548 STAR TREK KLINGONS BLOOD WILL TELL #4 $3.99
JUN073313 STARGATE SG1 2007 SPECIAL TEALC CVR $5.99
APR073383 STARKWEATHER IMMORTAL #0 (OF 4) (MR) $4.95
APR073860 STARSHIP TROOPERS DEAD MANS HAND TP (RES) (MR) $14.95
APR073928 STRONTIUM DOG SEARCH DESTROY AGENCY FILES 02 GN $28.99
MAY073370 SUGAR SUGAR RUNE VOL 6 GN $10.95
JUN073540 SUPERNATURAL LAW WOLFF & BYRD THE MOVIE (RES) $3.50
MAR073949 TEACH ME XXX GN (A) $12.95
MAR073505 TRANSFORMERS BEST OF DON FIGUEROA HC $50.00
MAY073371 TSUBASA VOL 14 GN $10.95
MAY073466 UPTIGHT #2 (RES) $2.50
MAY073205 VERONICA #182 $2.25
JAN073662 WITCHGIRLS INC CVR A #5 (NOTE PRICE) $2.99
JAN073664 WITCHGIRLS INC PX CVR B #5 (NOTE PRICE) $2.99