This Week's New Releases and Recommendations
There are a ridiculous number of awesome comics coming out this week. I have to go read them now. Here is a list of one percent of them.
LEAGUE OF EXTRAORDINARY GENTLEMEN THE BLACK DOSSIER HC
Not quite Volume Three (which will be coming out from our friends over at Top Shelf in 2009) THE BLACK DOSSIER is something of a LOEG 2.5. It's full of maps, text, 3-D stuff and (thankfully) some comics, too. It also has the distinguished honor of (probably) being the last thing Moore does with DC, as all of his new comics are (as far as I can tell) being published by Top Shelf.
Just buy the thing! It's a new book by Alan Moore! Is there anything else you need to know?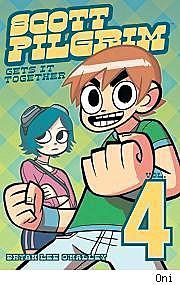 SCOTT PILGRIM VOL 4
If you've read SCOTT PILGRIM, you are very excited about this book. If you have not read SCOTT PILGRIM...GO READ SCOTT PILGRIM!! This story of a Canadian guy who has to fight his new girlfriend's seven evil ex-boyfriends has everything that I could ask for a in a comic. The rock music (in the form of Scott's band, The Sex Bob-Bombs), the videogames (the SUPER MARIO BROS 3 ad for volume 3 was amazing), cute chicks and even some Dragonball Z-style throwdowns!
SALVATION RUN #1
What happens if you put a bunch of supervillains on a semi-inhabited planet and leave them to fend for themselves? My guess is some kind of Thunderdome, but DC has come up with a seven-issue theory called SALVATION RUN, and it looks pretty bad-ass. Written by Fables-scribe Bill Willingham with art by Sean Chen. Word.
WORLD WAR HULK #5
Is there no end to the Hulk's smashing?!? Oh....I guess this is the end. Word is, someone gets punched in this issue. It's just a rumor, though. It is completely unconfirmed and I refuse to leak my source.................
BATMAN & THE OUTSIDERS #1
Batman gets a new team and the OUTSIDERS gets a well-needed jump-start. Expect a lot of action in this book if this first issue is any indication. Also, expect Batman to get unintentionally creepy, because, quite frankly, that's how Batman has chosen to live his life.
There's so much more stuff coming out this week. I refuse to type everything that I'm reading because it will cut into my time to read it! Fend for yourselves. The list is after the jump.
DARK HORSE COMICS
DEC060062 APPLESEED VOL 1 PROMETHEAN CHALLENGE TP NEW PTG $14.95
SEP070079 BPRD KILLING GROUND #4 (OF 5) $2.99
JUL070029 BUFFY THE VAMPIRE SLAYER PANEL TO PANEL TP $19.95
MAY070070 CLASSIC PEANUTS CHARACTER #10 SALLY $39.95
JUN070070 GLENN BARR HELLS PROPRIETOR VINYL FIGURE BLUE $74.99
JUN070069 GLENN BARR HELLS PROPRIETOR VINYL FIGURE BROWN $74.99
AUG070018 HELLBOY ANIMATED VOL 3 THE MENAGERIE TP $6.95
JUL078272 KOTOBUKIYA STAR WARS UTAPAU TROOPER CON EXC VINYL KIT $125.00
APR070089 LISA PETRUCCIS KICK ASS KUTIES SOFT VINYL FIGURE $24.99
SEP070075 LIVING WITH THE DEAD #2 (OF 3) $2.99
JUL070059 VAMPIRE HUNTER D VOL 9 NOVEL (MR) $8.95
DC COMICS
SEP070267 100 BULLETS #86 (MR) $2.99
JUN070172 ALL STAR SUPERMAN #9 $2.99
AUG070205 BATMAN AND THE OUTSIDERS #1 $2.99
AUG070206 BATMAN AND THE OUTSIDERS VAR ED #1 $2.99
MAR070285 BATMAN STATUE DARK CRUSADER $195.00
SEP070227 BATMAN STRIKES #39 $2.25
SEP070169 BLACK ADAM THE DARK AGE #4 (OF 6) $2.99
SEP070164 BOOSTER GOLD #4 $2.99
SEP070152 CAPTAIN CARROT AND THE FINAL ARK #2 (OF 3) $2.99
SEP070231 CARTOON NETWORK ACTION PACK #19 $2.25
SEP070143 COUNTDOWN TO FINAL CRISIS 24 $2.99
SEP070273 DMZ #25 (MR) $2.99
AUG070308 EX MACHINA VOL 6 POWER DOWN TP (MR) $12.99
SEP070274 FABLES #67 (MR) $2.99
SEP070258 GEN 13 #14 $2.99
SEP070155 GREEN ARROW BLACK CANARY #2 $2.99
SEP070156 GREEN ARROW BLACK CANARY VAR ED #2 $2.99
SEP070197 JLA CLASSIFIED #46 $2.99
AUG070276 JLA ULTRAMARINE CORPS TP $14.99
AUG070277 JONAH HEX ORIGINS TP $12.99
MAR070296 JUSTICE BOX SET PI
AUG070324 KIMMIE66 $9.99
JUL078077 LOEG THE BLACK DOSSIER HC STANDARD EDITION (MR) $29.99
JUL060241 LOEG THE BLACK DOSSIER HC VARIANT EDITION (MR) $29.99
SEP070236 MAD KIDS #9 $4.99
SEP070235 MAD MAGAZINE #484 $3.99
AUG070303 MUSASHI #9 VOL 13 $9.99
SEP070176 NIGHTWING #138 (GHUL) $2.99
SEP070153 SALVATION RUN #1 (OF 7) $2.99
SEP070154 SALVATION RUN VAR ED #1 (OF 7) $2.99
JUL078177 SHOWCASE PRESENTS TP SGT ROCK VOL 01 $16.99
SEP070181 SIMON DARK #2 $2.99
SEP070168 SUICIDE SQUAD RAISE THE FLAG #3 (OF 8) $2.99
SEP070185 SUPERMAN BATMAN #42 $2.99
SEP070187 SUPERMAN CONFIDENTIAL #9 $2.99
APR070293 SUPERMAN LAST SON SER 1 BALANCED CASE PI
APR070294 SUPERMAN LAST SON SER 1 BALANCED HALF CASE PI
APR070296 SUPERMAN LAST SON SER 1 BIZARRO AF PI
APR070295 SUPERMAN LAST SON SER 1 SUPERMAN AF PI
APR070297 SUPERMAN LAST SON SER 1 URSA AF PI
APR070298 SUPERMAN LAST SON SER 1 WEIGHTED CASE PI
APR070299 SUPERMAN LAST SON SER 1 WEIGHTED HALF CASE PI
SEP070207 TEEN TITANS EAST SPECIAL #1 $3.99
AUG070293 TEEN TITANS GO TITANS TOGETHER TP $12.99
SEP070278 UN-MEN #4 (MR) $2.99
AUG070298 VENUS IN LOVE VOL 1 $9.99
SEP070261 WELCOME TO TRANQUILITY #12 $2.99
APR070289 WOMEN OF THE DC UNIVERSE BLACK CANARY BUST $45.00
SEP070211 WONDER GIRL #3 (OF 6) $2.99
SEP070208 WONDER WOMAN #14 $2.99
JUL070255 WONDER WOMAN LOVE AND MURDER HC $19.99
SEP070209 WONDER WOMAN VAR ED #14 $2.99
SEP070247 WORLD OF WARCRAFT #1 $2.99
IMAGE COMICS
SEP071948 AFTER THE CAPE II #1 SEASONS IN CHANGE (OF 3) $2.99
JUL071940 AMORY WARS #4 (OF 5) $2.99
AUG072002 BRIT #3 $2.99
SEP071947 CIRCLE #1 $2.99
MAY071902 DARKNESS NOVEL VOL 01 $6.99
JUL071986 DARKNESS WIZARD WORLD PHILI T-SHIRT LG $17.99
JUL071985 DARKNESS WIZARD WORLD PHILI T-SHIRT MED $17.99
JUL071984 DARKNESS WIZARD WORLD PHILI T-SHIRT SM $17.99
JUL071987 DARKNESS WIZARD WORLD PHILI T-SHIRT XL $17.99
JUL071988 DARKNESS WIZARD WORLD PHILI T-SHIRT XXL $17.99
SEP071963 GIRLS COMPLETE COLLECTION DLX HC (MR) $99.99
SEP071964 GIRLS COMPLETE COLLECTION DLX LTD S&N ED HC (MR) $149.99
SEP071999 KILLING GIRL #4 (OF 5) (MR) $2.99
SEP072003 MICE TEMPLAR #2 $2.99
AUG071994 OFFICIAL HANDBOOK OF THE INVINCIBLE UNIVERSE TP $12.99
JUN071946 RISING STARS VOL 5 UNTOUCHABLE VISITATIONS TP $16.99
JUL071961 SPAWN GODSLAYER #5 $2.99
SEP072009 SWORD #2 $2.99
SEP072032 WANTED GN (NEW PTG) $19.99
MARVEL COMICS
SEP072180 AMAZING SPIDER-GIRL #14 $2.99
SEP072282 AMAZING SPIDER-GIRL VOL 2 COMES THE CARNAGE TP $13.99
JUL072214 AMAZING SPIDER-MAN OMNIBUS VOL 1 HC (O/A) $99.99
JUL072215 AMAZIN G SPIDER-MAN OMNIBUS VOL 1 HC VAR ED (O/A) $99.99
AUG072210 AVENGERS INITIATIVE #7 $2.99
SEP072187 CAPTAIN MARVEL #1 (OF 5) $2.99
SEP072190 CIVIL WAR CHRONICLES #5 $4.99
SEP072285 EXCALIBUR CLASSIC VOL 4 CROSSTIME CAPER BOOK 2 TP $24.99
AUG072295 FANTASTIC FOUR NEW FANTASTIC FOUR PREM HC $19.99
JUL072216 FANTASTIC FOUR OMNIBUS HC (O/A) PI
JUL072217 FANTASTIC FOUR OMNIBUS HC VAR DUST JACKET (O/A) PI
SEP072194 GHOST RIDER #17 $2.99
SEP072193 GHOST RIDER ANNUAL #1 $3.99
SEP072196 HOUSE OF M AVENGERS #1 (OF 5) $2.99
SEP072199 IRON MAN POWER PACK #1 (OF 4) $2.99
SEP072275 MARVEL ADVENTURES AVENGERS VOL 4 DIGEST TP $6.99
SEP072206 MARVEL ADVENTURES HULK #5 $2.99
SEP072210 MARVEL COMICS PRESENTS #3 $3.99
SEP072169 MARVEL ILLUSTRATED MAN IN THE IRON MASK #5 (OF 6) $2.99
SEP072216 NEW AVENGERS #36 $2.99
SEP072218 NOVA #8 $2.99
SEP072246 PUNISHER #52 (MR) $2.99
SEP072222 PUNISHER WAR JOURNAL #13 $2.99
SEP072179 SPIDER-MAN RED SONJA #4 (OF 5) $2.99
AUG072256 THOR #4 $2.99
SEP072173 ULTIMATE FANTASTIC FOUR #48 $2.99
SEP072289 ULTIMATES 3 HEROES B & W PANORAMA POSTER $15.99
SEP072288 ULTIMATES 3 HEROES PANORAMA POSTER $15.99
SEP072176 ULTIMATES SAGA $3.99
JUL072218 UNCANNY X-MEN OMNIBUS VOL 1 HC (O/A) $99.99
JUL072219 UNCANNY X-MEN OMNIBUS VOL 1 HC VAR (O/A) $99.99
SEP072240 WOLVERINE #59 $2.99
SEP072278 WOLVERINE ORIGINS VOL 3 SWIFT AND TERRIBLE TP $13.99
AUG072225 WORLD WAR HULK #5 (OF 5) WWH $3.99
AUG072226 WORLD WAR HULK ROMITA JR VAR #5 (OF 5) $3.99
SEP072234 X-FACTOR #25 MC $2.99
SEP072235 X-FACTOR CAMPBELL VAR #25 MC $2.99
SEP072242 X-MEN DIE BY THE SWORD #3 (OF 5) $2.99
WIZARD ENTERTAINMENT
SEP073264 FATHOM KILLIANS VESSEL #1 WWP VIP TURNER SGN CVR PI
SEP073258 TOYFARE MRS CLAUS BY MCFARLANE TOYS CVR #125 $4.99
COMICS OF MANY NATIONS
SEP073954 99 #2 $2.99
SEP073671 AMERICAN BORN CHINESE COLLECTORS ED HC $29.95
AUG074107 AMERIKAN FREAK VOL 1 GN (MR) $9.99
SEP073669 ARCHAIC #11 (NOTE PRICE) $3.50
SEP073361 ARCHIE & FRIENDS #114 $2.25
SEP073371 ARCHIES CHRISTMAS STOCKING #2 (O/A) $2.00
SEP073372 ARCHIES CHRISTMAS STOCKING #3 (O/A) $2.00
SEP073373 ARCHIES CHRISTMAS STOCKING #4 (O/A) $2.00
SEP073374 ARCHIES CHRISTMAS STOCKING #5 (O/A) $2.25
SEP073375 ARCHIES CHRISTMAS STOCKING #6 (O/A) $2.25
SEP073376 ARCHIES CHRISTMAS STOCKING #7 (O/A) $2.29
SEP073532 ARMY OF DARKNESS VOL 5 ASH VS THE MONSTERS CAMMO ED TP (RES) $19.99
SEP073533 ARMY OF DARKNESS VOL 5 ASH VS THE MONSTERS REG ED TP (RES) $19.99
JUL073609 ARMY OF DARKNESS VS MARVEL ZOMBIES #3 GCC EXCL VAR CVR $19.99
AUG073995 ASIAN BEAT GN (MR) $9.99
SEP073551 ATHEIST (DP) #4 (RES) $3.99
SEP073914 ATOMIC ROBO #2 (OF 6) $2.95
AUG073543 ATOMIK MIKE (DP) #2 (OF 4) $3.99
SEP073761 BADGER BULL $3.99
AUG074074 BASARA VOL 25 TP $9.99
SEP073364 BETTY & VERONICA DOUBLE DIGEST #156 $3.69
SEP073299 BLACK DIAMOND #5 (OF 6) $2.95
SEP073894 BUSHI TALES #2 (OF 3) $3.95
AUG073987 CHIBI VAMPIRE VOL 6 GN (OF 11) (MR) $9.99
MAY073664 COURTNEY CRUMRIN AND THE FIRE THIEFS TALE $5.95
AUG074096 DARK PRINCE VOL 1 GN $12.95
SEP073502 DARKCHYLDE TP (NEW PTG) (MR) $19.95
SEP074247 DELETER DIGITAL SCENERY COLL VOL 1 SCHOOL $29.95
SEP074246 DELETER SCENERY COLL VOL 1 SCHOOL $7.99
APR073672 DF BATMAN & SON ANDY KUBERT SGN HC $69.99
AUG073960 DIVISION 18 UNION OF COSTUMED PERFORMERS #1 (OF 3) $2.99
SEP073471 DOC FRANKENSTEIN #2 (O/A) $3.50
SEP073472 DOC FRANKENSTEIN #3 (O/A) $3.50
SEP073473 DOC FRANKENSTEIN SKROCE CVR A #4 (O/A) $3.50
SEP073474 DOC FRANKENSTEIN SKROCE CVR A #5 (O/A) $3.50
SEP073434 DRAGON CROSS #1 (MR) $3.25
MAY073386 DRAGONLANCE CHRONICLES VOL 3 ROBERTS CVR A #5 (OF 12) $3.50
MAY073387 DRAGONLANCE CHRONICLES VOL 3 WALPOLE CVR B #5 (OF 12) $5.50
JUN073239 EVERYTHING EZRA BOX SET $16.95
JUL073199 FEMFORCE #141 $6.95
AUG074084 FIREFIGHTER DAIGO OF FIRE COMPANY M VOL 20 TP $9.95
AUG074085 FLAME OF RECCA VOL 25 TP $9.99
AUG073984 FRUITS BASKET VOL 18 GN (OF 22) $9.99
JUL073775 FURRLOUGH #176 $3.50
AUG073580 GARDEN DREAMS GN $12.95
AUG073419 GARTH ENNIS CHRONICLES OF WORMWOOD HC (MR) $27.99
SEP073766 GENE SIMMONS ZIPPER #1 $3.99
AUG073991 GET BACKERS VOL 21 GN (OF 37) (MR) $9.99
SEP073825 GRAPHIC UNIVERSE ARTHUR AND LANCELOT HC $26.60
AUG074086 HAYATE COMBAT BUTLER VOL 5 TP $9.99
AUG073583 HIDEYUKI KIKUCHIS VAMPIRE HUNTER D VOL 1 GN (MR) $12.95
AUG073589 IRON SIRENS TRIGGER EFFECT $3.99
SEP074030 JOHN WOOS SEVEN BROTHERS SERIES 2 #3 (MR) $2.99
AUG074001 KING OF HELL VOL 17 GN (OF 21) $9.99
AUG073449 LEGEND OF ISIS #4 $3.50
AUG073982 LEGENDS OF THE DARK CRYSTAL VOL 1 GARTHIM WARS GN (OF 3) $9.99
SEP073757 LEGION ONE SHOT $7.49
SEP074088 LIVING CORPSE 1/2 #0 PI
JUN073415 LONE RANGER FOIL CVR #9 PI
AUG074026 LOVE PISTOLS VOL 3 GN (OF 5) (A) $9.99
AUG073986 LOVELESS VOL 7 GN (OF 7) (TKP) (MR) $9.99
JUL073328 MARK MILLAR UNFUNNIES #3 (OF 4) (RES) (MR) $3.99
JUL073330 MARK MILLAR UNFUNNIES #4 (OF 4) (RES) (MR) $3.99
JUL073329 MARK MILLAR UNFUNNIES OFFENSIVE CVR #3 (OF 4) (RES) (MR) $3.99
JUL073331 MARK MILLAR UNFUNNIES OFFENSIVE CVR #4 (OF 4) (RES) (MR) $3.99
AUG073989 ME & MY BROTHERS VOL 2 GN (OF 7) $9.99
AUG073649 MEAT CAKE #16 (MR) $3.95
JUL073776 MILK #61 (A) $3.50
AUG074008 MILLION TEARS VOL 2 GN (OF 2) $9.99
AUG073894 MY INNER BIMBO #2 (OF 5) (RES) (MR) $2.99
JUL073773 NANCY DREW VOL 11 MONKEY WRENCH BLUES HC $12.95
JUL073772 NANCY DREW VOL 11 MONKEY WRENCH BLUES SC $7.95
AUG078035 NARUTO SHADOW BOX SET $189.95
SEP073555 NECESSARY EVIL #2 $3.99
SEP073635 NEW TALES OF OLD PALOMAR #1 (O/A) $7.95
SEP073636 NEW TALES OF OLD PALOMAR #2 (O/A) $7.95
SEP074032 NICOLAS CAGES VOODOO CHILD HYRAPIET COVER #5 (MR) $2.99
SEP074033 NICOLAS CAGES VOODOO CHILD TEMPLESMITH COVER #5 (MR) $2.99
APR073696 PALESTINE HC $29.95
JUL073332 PLAGUE O/T LIVING DEAD #6 (OF 6) (MR) $2.50
JUL073333 PLAGUE O/T LIVING DEAD GORE CVR #6 (OF 6) (MR) $2.99
JUL073334 PLAGUE O/T LIVING DEAD PAINTED CVR #6 (OF 6) (MR) $2.99
JUL073335 PLAGUE O/T LIVING DEAD ROTTING CVR #6 (OF 6) (MR) $2.99
JUL073336 PLAGUE O/T LIVING DEAD TERROR CVR #6 (OF 6) (MR) $2.99
JUL073337 PLAGUE O/T LIVING DEAD WRAP CVR #6 (OF 6) (MR) $2.99
AUG074013 PRESIDENT DAD VOL 7 GN (OF 7) $9.99
AUG073996 PROJECT DOA VOL 1 GN (OF 3) $9.99
AUG073994 PSYCHIC POWER CHRONICLE NANAKI VOL 1 GN (OF 3) $9.99
JUL073757 QUEEN & COUNTRY VOL 8 OPERATION RED PANDA TP $11.95
JUL073610 RED SONJA #13 GCC EXCL HOLY HAREM SGN ED $14.99
JUL073422 RED SONJA VOL 2 ARROWSMITH HC $24.99
AUG073863 REMEMBRANCE THINGS PAST PT 3 LOVE OF SWANN VOL 1 HC $16.95
AUG074006 ROSE HIP ZERO VOL 4 GN (OF 5) (MR) $9.99
SEP073819 ROSES OF THE RHINE GN (A) $10.99
AUG073988 SAMURAI DEEPER KYO VOL 25 GN (OF 38) (MR) $9.99
SEP073535 SAVAGE RED SONJA QOTFW PX CVR HC (RES) $19.99
SEP073534 SAVAGE RED SONJA QOTFW REG ED HC (RES) $19.99
FEB073341 SAVAGE RED SONJA QOTFW VOL 1 PX CVR TP $14.99
FEB073340 SAVAGE RED SONJA QOTFW VOL 1 REG CVR TP $14.99
JUN073779 SCOTT PILGRIM VOL 4 SCOTT PILGRIM GETS IT TOGETHER GN (MR) $11.95
JUN073623 SEEKERS #3 $2.99
AUG074059 SHOJO BEAT DEC 07 VOL 3 #12 $5.99
AUG073699 SHOOTING WAR GN $21.99
AUG073973 STILL PLAYING WITH TOYS PRESENTS #1 (OF 4) $2.99
AUG074039 STREET FIGHTER SAKURA GANBARU VOL 2 GN $12.95
AUG073997 SUPPLI VOL 1 GN (OF 5) (MR) $9.99
AUG073848 TALES OF RAPHAEL BAD MOON RISING #4 (OF 4) $3.25
SEP073436 TEMPEST #1 $3.25
AUG074091 TOGARI VOL 3 TP $9.99
SEP073429 TOMB RAIDER VOL 5 TP (BANDAI) $9.99
SEP073438 TOTEM #1 $3.25
AUG073990 TRINITY BLOOD VOL 4 GN (OF 8) (MR) $9.99
AUG 074018 UTOPIAS AVENGER VOL 4 GN (OF 4) $9.99
AUG074027 VOICE OR NOISE VOL 1 GN (OF 2) (A) $9.99
JUL073439 WITCHBLADE SHADES OF GRAY FOIL CVR #3 (OF 4) (RES) PI
AUG073579 WORLDS END GN (MR) $12.95
AUG074093 YAKITATE JAPAN VOL 8 TP $9.99
AUG074102 YAOI HENTAI VOL 4 GN (MAY078047) (A) $12.95
AUG074068 YU GI OH GX VOL 1 GN $7.99
AUG073306 YURI MONOGATARI VOL 5 GN (MR) $15.95
AUG073985 ZIG ZAG VOL 1 GN (OF 5) $9.99
SEP073857 ZOMBIE PROOF #2 $3.50
SEP073317 ZOMBIES CALLING GN $9.95