The Top 10 DC Comics Coming in April 2011
DC released their solicitations on Thursday rather than Monday this week, so here we are with our (somewhat belated) look at the top ten most interesting-looking DC Comics solicitations of products due to come out in April 2011. Below you'll see the culmination of the first part of Reign of Doomsday, a new deluxe hardcover of Grant Morrison and Frank Quitely's seminal We3, a totally awesome Batman Incorporated cover and the ends of both Brightest Day and Justice League: Generation Lost.

10. JUSTICE LEAGUE: GENERATION LOST #23-24
Written by JUDD WINICK

Issue #23 art by FERNANDO DAGNINO

Issue #24 art by AARON LOPRESTI

Covers by DUSTIN NGUYEN

1:10 Variant cover by KEVIN MAGUIRE

DC's bi-weekly JUSTICE LEAGUE reaches its shocking conclusion!

In issue #23, WONDER WOMAN and the JLI find themselves face-to-face with the ultimate weapon Maxwell Lord has been planning since the beginning of GENERATION LOST. The world seems to be revolting against the human race. Can our heroes defeat Lord's machinations?

And in the extra-sized issue #24, the final battle is here! But who will be the victor?

Retailers please note: These issues will ship with two covers. Please see the Previews Order Form for more information.

#23 on sale APRIL 13 • 32 pg, FC, $2.99 US, RATED T

#24 on sale APRIL 27 • 48 pg, FC, $4.99 US, RATED T
Judd Winick's 24-issue JLI epic comes to a conclusion in April, alongside its sister "biweekly" (actually semi-monthly -- anyone else remember when they announced these titles would be 26 issues?) Brightest Day. It'll be interesting to see how DC tries to coordinate whatever epic, world-ending scenario wraps this book up with the world-ending scenario in BD the previous week. Still, I hope that Winick gets a chance to continue with these characters, since Generation Lost has been a surprising book in a lot of ways -- a DC title with high stakes and apocalyptic implications that doesn't resort to cheap thrill tactics. Will Jaime Reyes make it out alive? Will they satisfyingly explain Max Lord's current personality in light of his original appearances?
Written by GEOFF JOHNS and PETER J. TOMASI

Art by IVAN REIS, PAT GLEASON, ARDIAN SYAF, SCOTT CLARK and JOE PRADO

Cover #23 by GARY FRANK

Cover #24 by DAVID FINCH

1:10 Variant Covers by IVAN REIS

It's the beginning of the end as we head toward the epic conclusion to BRIGHTEST DAY! The mystery of the heroes' return and the secrets of the white forest are revealed! Plus, Captain Boomerang draws closer to completing his mission! And at last, it's Firestorm vs. Deadman!

And in the extra-sized issue #24, a new age for the DC Universe begins! A long shadow is cast across the world in a a finale that will have everyone talking! Twelve heroes and villains were resurrected, but that doesn't mean it will remain that way as the new champion of Earth is chosen!

Retailers please note: This issue will ship with two covers. Please see the Previews Order Form for more information.

#23 on sale APRIL 6 • 32 pg, FC, $2.99 US, RATED T

#24 on sale APRIL 20 • 48 pg, FC, $4.99 US, RATED T
And this is the other ending semi-monthly title. If there's one thing you can bet on, it's that the closing chapter of a DCU-spanning epic involving Geoff Johns will probably be Important. And while it's a common complaint these days that Importance is selling books more than quality -- look at the failure of Thor: The Mighty Avenger for example -- there's something to be said for eventfulness, especially in an event title. While Brightest Day had a somewhat slogging first half, it's finally begin finding its voice and its pace. So in this finale, who will live? Who will die? And how will the White Light find new ways to be a gigantic dick? Will Boston Brand have to choose between Dove and cheeseburgers?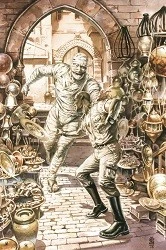 Written by J.G. JONES

Art by QING PING MUI

Cover by J.G. JONES

It's the start of "Raise The Khan," a globetrotting six-issue arc written by artist (and Doc Savage fan) extraordinaire J.G. Jones! When is a mummy not a mummy? When it's neither dead nor Egyptian, for starters. So what was a nearly unstoppable bruiser in bandages doing attacking the Egyptian wing of the Met in New York, and taking Johnny hostage on the streets of Cairo?

On sale APRIL 13 • 32 pg, FC, $2.99 US, RATED T
I remember that around the time Final Crisis was wrapping up -- when J.G. Jones had already wrapped up his involvement, since he couldn't participate in #7 -- he said that his next project would be self-written. That still hasn't appeared, but J.G. Jones is taking a break from cover duty to write a six-issue arc of Doc Savage. This is his only writing credit next to a co-plotting credit on Shi #2, so this'll be an interesting trial by fire. I imagine he'd be drawing for himself if he wasn't, well, so damn slow, and Doc Savage such a relatively low-profile book (especially in comparison to Tony Daniel's Batman and David Finch's The Dark Knight). I'm curious to see how Jones operates as an authorial voice.
7. PLANETARY/BATMAN DELUXE EDITION HC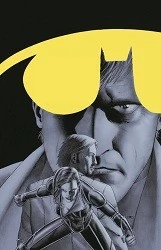 Written by WARREN ELLIS

Art and cover by JOHN CASSADAY

Planetary, the archaeologists of the unknown, cross paths with Batman on the trail of a killer in this new, Deluxe Edition hardcover.

When Planetary - Jakita Wagner, Elijah Snow and the Drummer - travel to Gotham City, they mean business. Wagner, Snow and the Drummer track an amoral killer to Gotham City, prepared for battle.

What they aren't prepared for is the Dark Knight! Of course, Batman doesn't exist on the same Earth as Planetary, which means the killer has worked in some very strange ways! Now the killer's reality-distorting technology is pulling, twisting and shifting the heroes through untold versions of Gotham City – and Batman!

This new hardcover also features Warren Ellis's script for this story.

On sale JUNE 1 • 96 pg, FC, 7.0625" x 10.875", $22.99 US
This was a very glaring omission from last year's Absolute Planetary collection, and while it would have been nice to have it inserted into the story's continuum alongside the other Ellis/Cassaday collaborations, a deluxe edition is pretty good too, I guess. Planetary/Batman is definitely more of a fun side-story rather than a stop on the main road, though, and it's arguable the presence of Batman -- and the cute jokes -- would undercut the parade of analogues in the main Planetary story. Either way, this is an early and interesting use of the DC/WildStorm partnership, and you get to see John Cassaday draw almost every iteration of Batman conceivable. Despite his reputation as a hero-hater, Ellis delves very elegantly into the core of the Batman concept and exposes it here. Great comics, although I have to think that $22.99 for what was about 50 pages of story is kind of highway robbery.
Written by CHRIS ROBERSON

Art by GILBERT HERNANDEZ

Cover by MICHAEL ALLRED

Ellie the Ghost Girl is in the spotlight as secrets are revealed in a series of "Ghost Stories." Lovecraftian creatures from beyond space and time, monster-hunting gunslingers of the Old West and something that still haunts Ellie beyond the grave are brought to life by superstar guest artist Gilbert (Love & Rockets) Hernandez.

On sale APRIL 6 • 32 pg, FC, $2.99 US • MATURE READERS
Eleven issues with Michael Allred is one way to start off your first Vertigo ongoing; getting Gilbert freaking Hernandez to do a fill-in issue puts you over the stratosphere. I'm still waiting for the first trade, so I honestly can't comment on iZombie as a whole from my own experience (awaiting comments telling me how much I'm missing out -- I know, I know!), but still, Gilbert Hernandez. I don't know what kind of deals with Darkseid Chris Roberson made to get such sweet-ass artists on this title, but they're pretty damn successful.
Written by PAUL CORNELL, RICHARD DONNER, DAVID GOYER, DAMON LINDELOF and more

Art by PETE WOODS, JESUS MERINO and more

Cover by DAVID FINCH

Superman returns to ACTION COMICS just in time for the title's historic 900th issue, which clocks in at 100 pages! Everything Paul Cornell and Pete Woods have been building to over the last year culminates here in the ultimate Superman vs. Lex Luthor battle! But that's not all - this story will lay the grounds for an insanely epic story coming out this summer in the pages of ACTION!

Plus, an incredible roster of guest talent help us celebrate this landmark issue, including the screenwriter of The Dark Knight, David Goyer; famed Superman: The Movie director Richard Donner; the co-creator of Lost, Damon Lindelof; and the creative team behind the hit DC UNIVERSE ONLINE game!

Retailers please note: This issue will ship with two covers. Please see the Previews Order Form for more information.

On sale APRIL 27 • 96 pg, FC, $5.99 US, RATED T
Apparently, this is where we'll see the "Reign of Doomsday" storyline continuing, which makes sense, in retrospect, since Steve Lyons's Steel oneshot was hijacked to kick it off, and he's an old Doctor Who buddy of Action Comics scribe Paul Cornell's. It looks like this issue will both continue that storyline and wrap up the ongoing Lex Luthor "Black Ring" arc that's been going since #890. Also, the usual bevy of anniversary-issue guest-stars: Donner last put his hat in the comics ring co-writing an arc of this very title with Geoff Johns, Goyer hasn't worked for them since I believe JSA, and this is Damon Lindelof's first DC Comics work.
4. T.H.U.N.D.E.R. AGENTS #6
Written by NICK SPENCER

Art by CAFU & BIT

Cover by JOHN CASSADAY

The first arc of the series everyone's talking about comes to a dramatic conclusion as the T.H.U.N.D.E.R. Agents attempt to deal with the fallout from last issue's startling events! Featuring a thrilling, no-holds-barred battle royal between T.H.U.N.D.E.R. and Spider! It's an issue so fantastic, you'll want to burn your copy, erase your own memory and buy it all over again!

On sale APRIL 13 • 32 pg, FC $2.99 US, RATED T
Nick Spencer's super-convoluted super-espionage "your powers will kill you" title wraps up its first arc, this time without one of the amazingly accomplished guest artists who've been on this title recently (Howard Chaykin, ChrisCross, George Perez, Ryan Sook). Each issue has focused on moving the very-complicated plot along to some degree while also introducing, in detail, a member of the team; it reminds me a lot of Matt Fraction's The Order in both construction and tone, although it certainly isn't a rip-off of that concept. I just hope this book gets to stick around long enough to fulfill its potential - and that Nick Spencer stays around to shepherd it, since I can't imagine it in anyone else's hands.
Written by JOHN ROZUM

Art and cover by FRAZER IRVING

David Kim has a choice: Join his companions in battle against a horde of murderous creatures or abandon them to their fates while he sets off alone to tackle escaped killer James Church. Plus: Nuns with guns!

On sale APRIL 27 • 32 pg, FC, $2.99 US, RATED T
I already wrote about this title last month, and I haven't read the first issue, so I don't have much to say other than this: this cover is visually arresting as all hell, and I'm even more excited to read the book than before. Even if it's just an excuse for Frazer Irving to draw creepy dead stuff for 20 pages a month -- hell, ESPECIALLY if it's that -- I can't wait for this title.
2. BATMAN INCORPORATED #6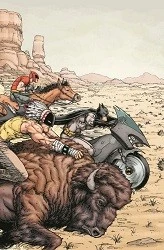 Written by GRANT MORRISON

Art and cover by CHRIS BURNHAM

1:25 Variant cover by FRAZER IRVING

Man-of-Bats is a self-styled hero and community leader who protects his Sioux reservation from crime and disease. His son, Raven Red, can't seem to keep his father's often-embarrassing enthusiasm in check – and he dreams of escaping his father's shadow to become a big time hero. But what happens when this homemade Dynamic Duo become the targets of a sophisticated, well-connected killer from the shadows? Can the intervention of Batman save them before it's too late?

Retailers please note: This issue will ship with two covers. Please see the Previews Order Form for more information.

On sale APRIL 20 • 32 pg, FC, $2.99 US, RATED T
I leave this off the list every month not because I don't love this title, but because if I put it on, it'd take up a space every month while I waxed not-so-eloquent about how much I love this comic, Grant Morrison, his take on the Bat-verse, how refreshing it is to see him attack the mythos from a totally different angle, the fantastic art, the on-point characterization, the short-arc and done-in-one format with satisfying overall plot arcs... and on top of that, this cover features Chief Man-of-Bats racing a motorcycling Batman on a buffalo. From the cover, Nathan Fairbairn's coloring seems to open up Chris Burnham's art, rendering the spaces between the linework perfectly to convey a sense of texture and depth rather than the cluttered look Sinclair's coloring gave Burnham's art in Batman and Robin #16. I'll try not to revisit this book for another few months, but as I'm sure you all know, in my heart this is always number one.
Written by GRANT MORRISON

Art and cover by FRANK QUITELY

For the first time in hardcover, a powerful tale from the ALL-STAR SUPERMAN team of Grant Morrison and Frank Quitely!

Morrison and Quitely deliver the emotional journey of WE3 – three house pets weaponized for combat by the government – as they search for "home" and ward off the shadowy agency that created them.

With nervous systems amplified to match their terrifying exoskeletons, the members of Animal Weapon 3 (WE3) have the firepower of a battalion. But as prototypes, they're slated to be permanently "decommissioned" after their testing is complete, causing them to make a desperate run for freedom. Relentlessly pursued by their makers, WE3 must navigate a frightening world where their heightened abilities make them as much a threat as those hunting them – but a world in which they must find a home.

This amazing hardcover features new story pages by Morrison and Quitely.

On sale JUNE 15 • 144 pg, FC, 7.0625" x 10.875", $24.99 US • MATURE READERS
What might be Morrison and Quitely's best work finally comes out in -- well, not the format it deserves, although a 144-page Absolute Edition is far too short. Still, these pages will be nicely oversized -- as a matter of fact, I believe this is the last Morrison/Quitely collaboration to be reprinted in oversized format other than this year's upcoming Flex Mentallo - and the story will be, too, with ten all-new pages by Morrison, Quitely and, I'd hope, colorist extraordinaire Jamie Grant. Homeward Bound meets The Terminator is the common elevator pitch, but that description doesn't come close to the emotional wallop this book packs. An almost perfectly paced, extremely tight, gorgeously illustrated story, We3 is both form (it's gorgeous) and function (it will make. you. cry). Pick of the solicitation cycle, easily.