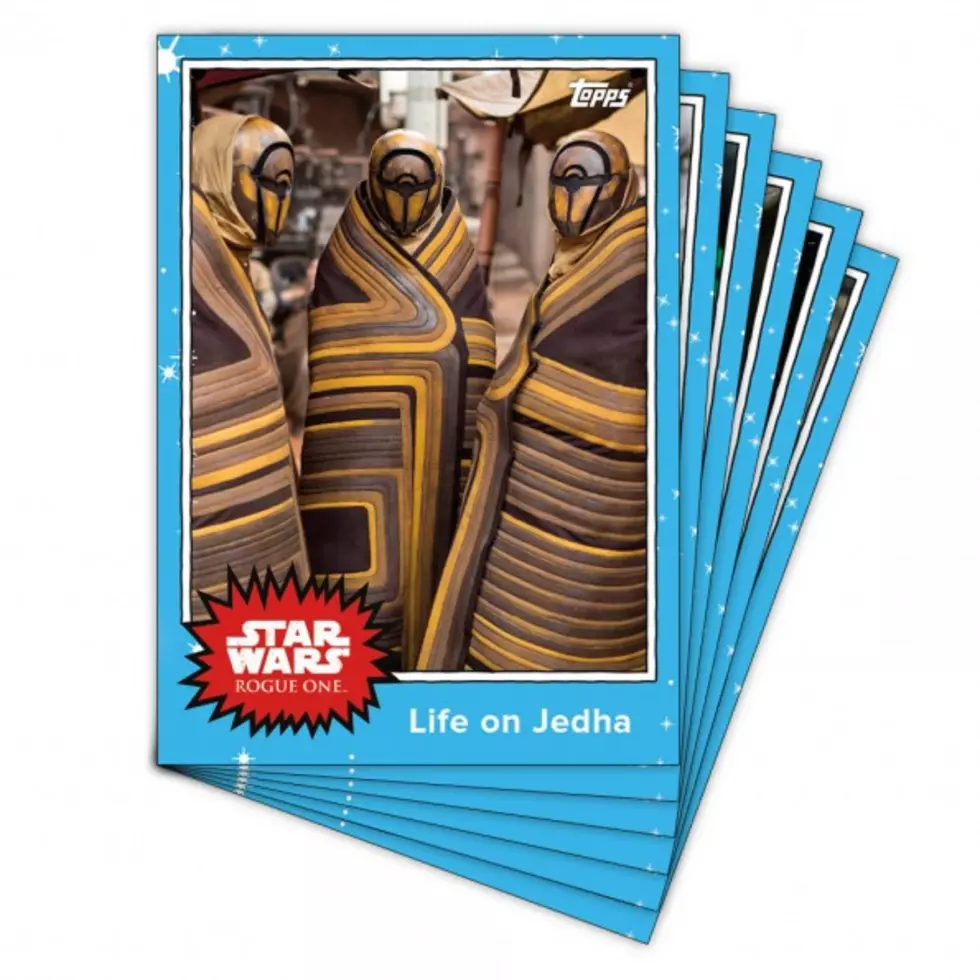 Topps Introduces On-Demand 'Star Wars' Trading Card Series Leading Into 'Rogue One'
Topps
Print on-demand trading cards have been a rather nice hit for Topps, particularly as it pertains to baseball and soccer. The Topps Now series has offered daily trading cards based on the entire season, spotlighting big events in the major leagues all season long. The limited run cards have done so well for Topps, this year we saw the company branch out into sets for AMC's Preacher and the WWE, as well as new sets for AMC's The Walking Dead.
As massive as those properties are in the pop culture collective, they pale in comparison to the power of Star Wars. Of course, Star Wars doesn't update as frequently as sports or television shows like those on AMC. Rather than focus on events as they're unfolding, the all-new Star Wars: Rogue One Mission Briefing Monday sets offer a glimpse into characters we've never seen or met before.
Every week for the next seven weeks, Topps will offer five exclusive Star Wars: Rogue One trading cards that will not be offered anywhere else. That means these five specific cards won't be in any Rogue One trading card sets beyond this Mission Briefing Monday offer. All told, there will be 35 cards in the base set, all with print runs determined solely by the number ordered in a given week. Some weeks (like this week) will host "bonus" cards, so the full card count for this set is unclear at this time. Where most Topps on-demand cards have a much slimmer order timeline, this week-long period at least gives you some time to agonize over whether or not Star Wars trading cards for characters you may not even end up liking are worth $5 a pop.
The complete set will set you back $175, which is a lot even by Topps' sometimes pricey standards for limited sets. None of these even have manufactured relics or autographs, which are a fairly important part of drawing collectors to Topps' other numerous Star Wars trading card sets. What's more, while these cards won't be available physically anywhere, they are already in the digital realm in Star Wars Card Trader, and they were technically free. That said, a complete set could have a really low print run, making a complete order something of a rarity once the last wave ships.
The first set of Star Wars: Rogue One Mission Briefing Monday cards is available for order now for $24.99, and will only be available through Monday, Nov. 14. The next set will go on sale Nov. 14, and it and subsequent sets will follow the same pattern all the way up to Rogue One's release on Dec. 16.
You can see the five cards in this week's set below. The bonus card this week is the "Life of Jedha" card above.