High School Athletes Transform into Mecha-Jocks in ESPN Art
I had no idea, but it turns out that they have sports in high school now. Even more surprisingly, the ESPN sports empire has an entire magazine dedicated to these high school games. That magazine is called ESPN Rise, and the latest issue features exclusive superhero art by Alvin Lee, part of the prestigious UDON art collective. Lee illustrated imaginative versions four gentlemen whom are apparently the mightiest sportsball warriors practicing at the secondary school level, including one jam piece in which they don't quite form some kind of jock Voltron, but it still looks really cool. The artist was given carte blanche, with only the young men's high school uniform colors remaining intact. You can check out his excellent work below.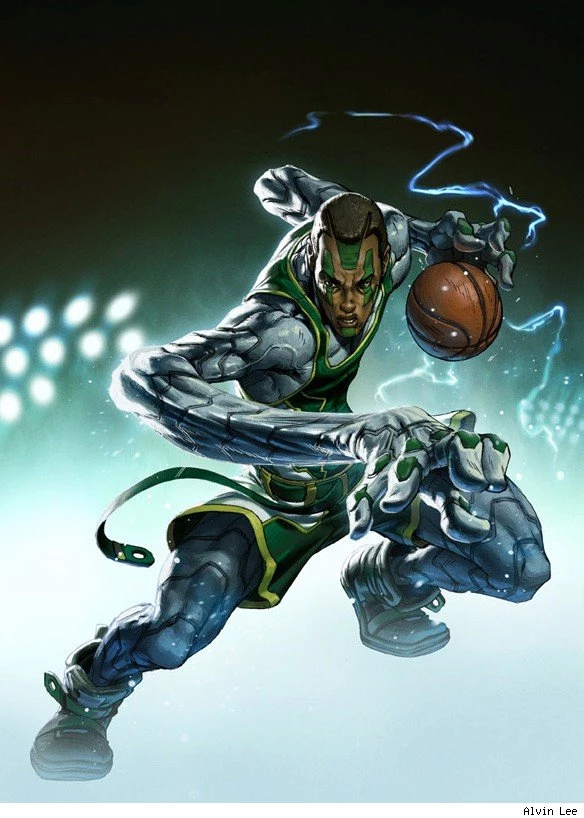 High school basketsportsball expert Michael Gilchrist features on the ESPN Rise cover. In what we tentatively designate as reality, Gilchrist "shoots hoop" as a "small forward" for St. Patrick's High School in Somerdale, New Jersey. He's 6'7" tall, weighs 210 pounds and, according to ESPN.com, has 98 hit points. In Lee's vision, Gilchrist has "badass kicks" and extendable limbs, which will come in handy whilst doing battle with Galactus in the basketball courtroom.
Nick Vena already has two superhero nicknames - "Zee Cannon" and "Mr. Atlas," the latter of which should have him on the phone with the Flex Mentallo people very soon. Vena is a champion shot-putter, having broken records in three out of four high school years -- which must be easy because surely that sport no longer exists? In any case, Lee enhanced Vena's persona with robotic arms and grenades instead of those big heavy things -- what do you call them? Balls.
On his blog, Lee admitted to Tr0nning the f*ck out with his redesign of baseballer Daniel Norris, who has "pitched" a perfect game for the amazingly named Science Hill High in Johnson City, Tennessee. With an eye-module reminiscent of Cyclops, Norris can target any opponent's head with laser-guided precision and "derez" him fully with the retrievable light-ball, allowing the "batterer" to make it around the grid and back "homescreen" safely.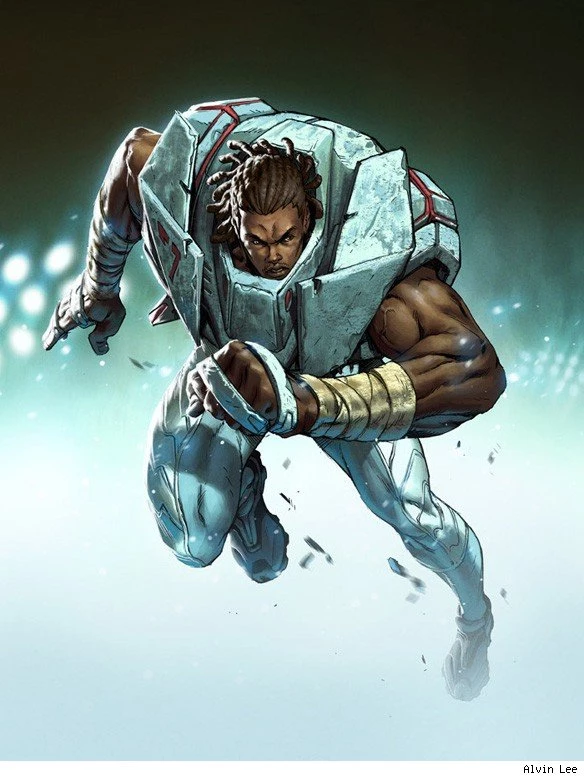 The fourth reimagining is of South Carolina's Jadeveon Clowney, who is so dedicated to the game of not-soccer-football that he has professed a dislike of speech. If you didn't know, American-style fütsportsball is based completely around Ram-Man from Masters the Universe, where players -- called "dancers" -- take turns smashing their bodies into each other at enormous speeds but with the goal of only advancing the most minimal possible distance to their ultimate destination, which is a large "H" on the other side of the field that stands for "Hell." The major complaint about the game is that the participants are so well padded that spectators are reminded of their soft beds and become sleepy during the matches -- called "pas de tois" -- so Lee redesigned Clowney with some study, concrete/metal-looking apparatus that will making the event more enjoyable for everybody except for the ball itself, which is actually a pig.
Finally, Lee created a stunning collage-style piece that puts all four sportsball heroes in action together, suggesting a brand new sport where people throw Tron-balls and grenades at each other's faces with super-long arms while being rammed and smashed into a bunch of goo. It's kind of like rugby.