What We Brought Home: ComicsAlliance's Comic-Con Haul
It's been a little more than a week since we got home from Comic-Con, which means our bags are (mostly) unpacked and our lives have returned to whatever passes for normal in the blogosphere. Rested and cured of Con Crud, we're reflecting on what went on when we weren't on duty and had a chance to celebrate the true meaning of Comic-Con: Buying awesome things. Hit the jump for a breakdown of some of what the ComicsAlliance crew amassed during its time in San Diego this summer.

Chris Sims:
- A bag promoting the Pan Am show on ABC, which I could care less about but dang if I don't love the aesthetic of these things.

- A sticker from my trip to In-N-Out.

- A CD by the Fuglies, a band that includes comic artist/twartist/swell guy Andy Kuhn.

- A Mass Effect 3 N7 temporary tattoo.

- A $100 Wayne Casino poker chip, given to me by a DC Comics staffer after my Batman: Arkham City demo.

- The League of Extraordinary Gentlemen: Century - 1969 from Top Shelf.

- Michael Kupperman's Autobiography of Mark Twain: 1910 - 2010 from Fantagraphics.

- A Dinosaur Comics whiteboard

- Empowered: Extra Sketchiness, by Adam Warren

- An inflatable Omniblade from Mass Effect 3.

- The Very Best of Archie Comics -- probably the thing I'm most excited about from the entire con. It's smaller than, but just as thick as, an Essential or Showcase. 400 pages, FULL COLOR, ten bucks retail. Seriously amazing.

- Dinosaur Comics: Dudes Already Know About Chickens by Ryan North.
Andy Khouri:
- A Dustin Nguyen print of Batman and his ladies Catwoman, Talia, Poison Ivy, Harley Quinn and Roxy Rocket

- Any Empire, the graphic novel by Nate Powell published by Top Shelf

- Confetti, a self-published art book by Brittney Lee

- A high quality print of an Elektra-meets-Flashdance illustration by Cliff Chiang

- The Immortal Iron Fist omnibus by Ed Brubaker, Matt Fraction and David Aja, published by Marvel

- A print by Brittney Lee

- Boo: The Life of the World's Cutest Dog by J.H. Lee

- DC Direct's Ame-Comi Catwoman (version 2)

- An All My Friends Are Dead postcard by Avery Monsen and Jory John

- Bear and Fox #2 by I don't know who, there are no credits, and I don't know how this ended up in my bag

- Fantastic Four vol 1 by Mark Waid and Mike Wieringo, published by Marvel

- Book Plate Betties by Bill Pressing, self published

- A set of 1980s album art-inspired superhero postcards by Cliff Chiang

- Dave Stevens: Complete Sketches and Studies variant edition hardcover by IDW Publishing

- Chester 5000 by Jess Fink, published by Top Shelf

- Infinite Kung Fu by Kagan McLeod, published by Top Shelf

- Local by Brian Wood and Ryan Kelly, published by Oni Press

- Batman/Grendel by Matt Wagner (with Wagner sketches inside), published by DC/Dark Horse

- Criminal: The Deluxe Edition by Ed Brubaker and Sean Phillips, published by Icon/Marvel
Bethany Fong:
- Batgirl print, by Mike Maihack

- Vintage Super Juniors Robin & Batman cutouts

- Ducktales #1 (8-bit variant covers)

- Hark! A Vagrant by Kate Beaton

- Adventure Time temporary tattoos (sans Lumpy Space Princess - I already used that one)

- Kirby Krackle pins for their latest album "Super Powered Love"

- A micro mini-comic, by Hope Larson

- Adventure Time Jake plush keychain (freebie from Ciro's Pizza)

- Three Star Trek slide viewer keychains

- Adventure Time Ice King pin (freebie from Cartoon Network)

- Two Flaming C pins (freebies from the COCOMOCA)

- Two luchador masks

- Two Super-Mameshiba plush keychains

- A Sketch of Dr. Girlfriend, signed by Jackson Publick & Doc Hammer (one of our prizes for winning Judges' Choice at Adult Swim's Venture Bros. Costume Contest!)
Chris Murphy: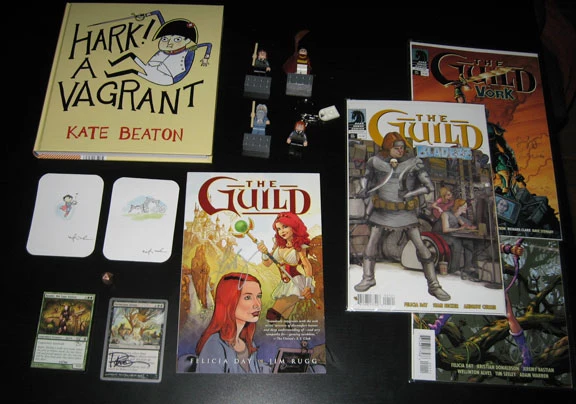 Clockwise, from top left:
- The upcoming
Hark! A Vagrant
hardcover by Kate Beaton from Drawn & Quarterly, which Laura and I literally rushed to the D&Q booth to buy as soon as the con opened on Preview Night
-
Lego Harry Potter
minifigs
- Three signed
The Guild
one-shots, published by Dark Horse
-
The trade paperback collection of The Guild mini
, published by Dark Horse, signed by Felicia Day. There's also a closeup image of a little heart and arrow she drew to the ComicsAlliance review quoted on the back of the book when I mentioned it was from my review of the book
-
Two signed artist's proofs of Magic: The Gathering cards
. On right, one by Rebecca Guay, who's got books coming out from Vertigo and Dark Horse later this year. On left, one by r.k. post, with a close-up on the sketch he did on the card's blank back.
- A small metal twenty-sided die
-
Two commission mini-sketches by Katie Cook
. On left, Superman with a kitten. On right my cats. Well, technically my girlfriend's cats that I'm responsible for looking after, but it's easier to just say "my cats". There's a close-up on those sketches too.
David Brothers:
From left to right:

- Lenny Zero and the Perps of Mega-City One

- Jean-Michel Charlier & Moebius's Blueberry 4 (Graphitti Designs Hardcover)

- Jodorowsky and Moebius's The Incal

- Peter Milligan/Brett Ewin/Jim McCarthy/Steve Dillon's The Complete Bad Company

- Peter Milligan and Jamie Hewlett's Hewligan's Haircut

- Judge Dredd: Mega-City Masters 02

- Giannis Milonogiannis's Old City Blues

- Michael Kupperman's Mark Twain's Autobiography 1910-2010
Laura Hudson:
I didn't have a lot of time to run around on the convention floor and pick up goodies, but I knew there was one thing I had to have: a
poster
of the panda/samurai battle from the Gabriel Ba cover to Matt Fraction's
Casanova: Avaritia
#2. Buy, buy, buy this comic. - Limited luggage kept me from buying much during the show (besides a pair of shoes to wear to The Eisners), but Hasbro was cool enough to send CA a ton of their exclusive toys beforehand. I especially dig the huuuuge Sentinel and The Avengers Mini Muggs set. Laura was also kind enough to hook me up with one of the promotional The Avengers logo tees being given away at Marvel's S.H.I.E.L.D. helicarrier.