'Wizard' and 'ToyFare' Magazines Canceled — R.I.P.
digg_url = 'http://comicsalliance.com/2011/01/24/wizard-and-toyfare-magazines-cancelled-r-i-p/';
tweetmeme_url = 'http://comicsalliance.com/2011/01/24/wizard-and-toyfare-magazines-cancelled-r-i-p/'; tweetmeme_source = 'comicsalliance';
ComicsAlliance has received confirmation that Wizard Magazine is to close its doors immediately after twenty years. Nearly all staff have been laid off and all freelancers terminated. Sister publication ToyFare, covering the action figures and collectibles industry, has also been shut down. Additionally, parent Wizard World, Inc. has become a public company (off-exchange) that will administer the brand's convention business and launch a new digital magazine also called Wizard World whose aim is presumably the same as the print version they just shuttered.Like the WildStorm news of last year, the reality of Wizard shutting down comes as a shock despite making quite a lot of sense. Founded by Gareb Shamus in 1991, Wizard was a champion for the causes of really, really mainstream comics, dubious collectors' items and pricing speculation, and included what became an infamous Top 10 Writers/Artists list. But despite no small amount of resentment within many circles (creators, media, retailers), the irreverent and purposefully juvenile Wizard was beloved by comics fans for many years, particularly to the younger generation who embraced comics around the same time the magazine launched in the early 1990s. It was exhilarating to read a highly visible and professional-quality magazine that promoted comics, toys and other material that was otherwise relegated to the fringes of popular culture.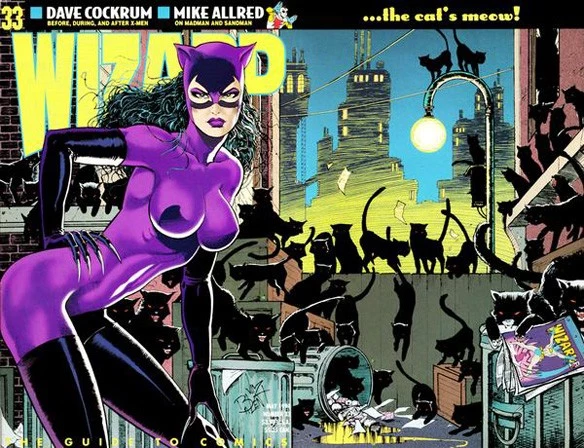 Wizard was inspiring not just to hopeful comics creators who wished to see their work covered by the magazine, but by future media soldiers as well. Many of the industry's most prominently placed journalists, bloggers and public relations personnel got their start at Wizard, including Kiel Phegley (CBR, News Editor), Ryan Penagos (Editor, Marvel.com), Ben Morse (Associate Editor, Marvel.com), Alex Segura (formerly DC Comics, currently Archie PR), Mel Caylo (Archaia PR), Sean T. Collins (Robot 6 blogger), Jim McLauchlin (The Hero Initiative), and Rick Marshall (MTV's Splash Page), among many, many others. Though never a staffer, ComicsAlliance Editor-in-Chief Laura Hudson contributed freelance work to Wizard in the past, and Senior Editor Caleb Goellner contributed to both Wizard and ToyFare.
Controversies over taste and content (Frank Miller famously tore a copy in half at the 2001 Harvey Awards, calling the magazine "a bible written by Satan") didn't hurt Wizard for many years, but the magazine has been suffering over the last decade as critically bad management contributed to the loss of the aforementioned staff.
The company also failed to make an impact on the Web. As recently as 2008, the Wizard World website was reported to have made years of content suddenly unavailable in the wake of an ill-considered redesign, effectively crippling the digital résumés of many contributors. Additionally, paid writers were alienated when the site allegedly recruited new "staff" from its message boards, who were paid only with the hope of maybe seeing their work in the print magazine, which at the time was said to be more profitable than the Web (inspiring disbelief in many, including myself).
A confusingly written press release sent out Monday morning confirmed the continuing operations of the Wizard World convention business and the creation of the new digital magazine. No mention is made of the print magazines Wizard or ToyFare, which is curious given the company's new nature as public -- full disclosure and all that. But the truth is that such practices are typical of the management style that placed Wizard where it is today. The following suspicious copy that accompanied the press release demonstrates the phenomenon better than we could hope to explain.
Cautionary Statement Regarding Forward-Looking Statements

Statements in this press release relating to Wizard World's future plans, expectations, beliefs, intentions and prospects are "forward-looking statements" and are subject to material risks and uncertainties. When used in this press release, the words "will", "future", "expect", "look forward to", similar expressions and any other statements that are not historical facts are intended to identify those assertions as forward-looking statements. Any such statement may be influenced by a variety of factors, many of which are beyond the control of Wizard World that could cause actual outcomes and results to be materially different from those projected, described, expressed or implied in this press release due to a number of risks and uncertainties. Accordingly, no assurances can be given that any of the events anticipated by the forward-looking statements will transpire or occur. A detailed discussion of these factors and other risks that affect our business is contained in our SEC filings, including our most recent reports on Form 10-K and Form 10-Q, particularly under the heading "Risk Factors." Copies of these filings are available online from the SEC or by contacting [contact info redacted]. All information set forth in this press release is current as of January 24, 2011. Wizard World undertakes no duty to update any statement in light of new information or future events.