Marvel to Release $200, 16-lbs, 720-Page 'Wolverine: The Adamantium Collection'
Marvel confirmed on Friday via press release that it's compiled its first Mighty Marvel Format book in the form of Wolverine: The Adamantium Collection. Packaged in a slipcase and adorned with artwork by Gabrielle Del'Otto and Billy Tan, the $200 book measures a massive 11.5" x 15.5", weighs 16 pounds and contains 720 pages of material from some of the character's most notable authors including Chris Claremont, Frank Miller, Barry Windsor-Smith, Warren Ellis, Adam Kubert, Jason Aaron, Chris Bachalo, as well as assorted single issue stories by Larry Hama, Dave Cockrum, Jim Lee and others.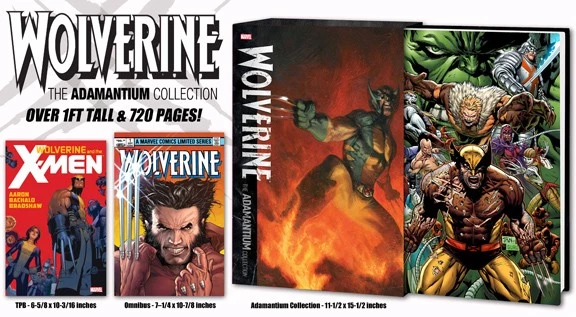 The size and price of the Mighty Marvel format surpasses that of rival DC Comics' popular Absolute Editions, which serve as auspicious artist spotlights and collect single perennial works or series like The Sandman and Crisis on Infinite Earths. But unlike the Absolutes' more unified, archival approach to reprinting classic works, this Wolverine book collects disparate graphic novel-length stories as well as a selection of memorable single issues from across the character's entire history. The Adamantium Edition would seem to make an extremely rarefied collection for the hardcore Wolverine fan, but it'd be nice to see the complete works contained here receive their own separate, similarly prestigious releases in this new format. Those contained works are, by the way:
- Wolverine: Origin by Paul Jenkins and Adam Kubert

- Wolverine: Weapon X by Barry Windsor Smith

- Wolverine by Chris Claremont and Frank Miller

- Wolverine: Not Dead Yet by Warren Ellis and Leinil Yu

- Wolverine & The X-Men by Jason Aaron and Chris Bachalo

- Some single issues by Larry Hama, Mark Millar, Dave Cockrum, Jim Lee and Kaare Andrews

- Other extras
Reservations aside -- as dedicated collected edition and deluxe comic book fetishists, we have to say that this has been a long time coming. Marvel's been slow to catch up to DC, IDW and Dark Horse in the area of high end collector's edition books, and it's great to see the publisher throw its hat in the ring. Certainly, that the book is so audacious fits well within Marvel and Wolverine's long established idioms.
Wolverine: The Adamantium Collection goes on sale in June from finer comics shops and bookstores, and will come with a free digital copy that unlocks Marvel AR material including cover recaps, behind the scenes features and other exclusive content.