The Free 266-Page 'Adventure Time' eBook of Quotes and Storyboards Is The Best Present You'll Get Today

If you're a fan of Cartoon Network's Adventure Time -- and here at ComicsAlliance, we definitely are -- then we have some good news for you. This week, series creator Pendleton Ward, Frederator Studios and Cartoon Network have put together a collection of over 250 of the best, funniest and most memorable storyboards that they've been featuring on their tumblr, and compiled them into a downloadable ebook.
And the best part? They're offering it up completely free as a gift fans of the show! You can read or download the complete Wit and Wisdom in the Land of Ooo and see a few of our favorites after the cut!
The collection culled from the Adventure Time Art Tumblr is the perfect thing to flip through on, say, a lazy Friday afternoon when you should be doing actual work, and every storyboard included is pretty fantastic. There are, however, a few favorites that we wanted to single out as the best.
After all, what makes Adventure Time so great is that it's a show willing to include things like the existential horror of being alive: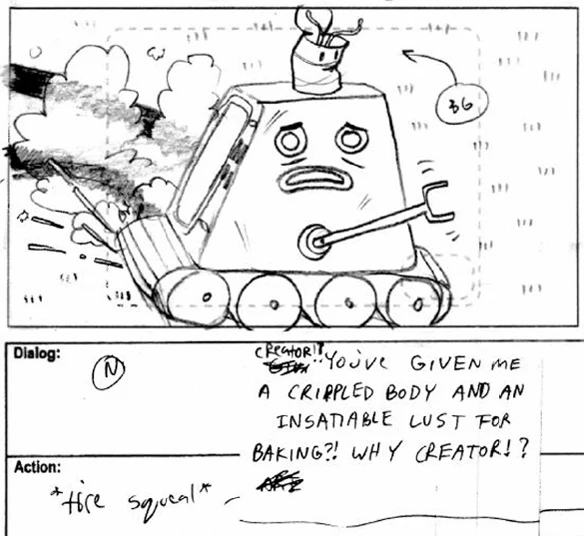 Appearances by the most radical of all deities, the Party God:

The classic thrill of puttin' boots to Draculas:

The eternal frustrations of the brilliant:

A phonetic guide to the Lumpy Space accent:

And... well, I guess the only way to describe this one would be "combat tassels."
It's pretty awesome stuff. And just to add another additional layer to the fun, Frederator's website has also hinted that there may be a contest in the future to give away a physical copy of the book as well!
Either way, releasing the whole thing to their fans for free was a pretty cool move on their part, and it's certainly one of the best ways we've seen around here to kick off the weekend.