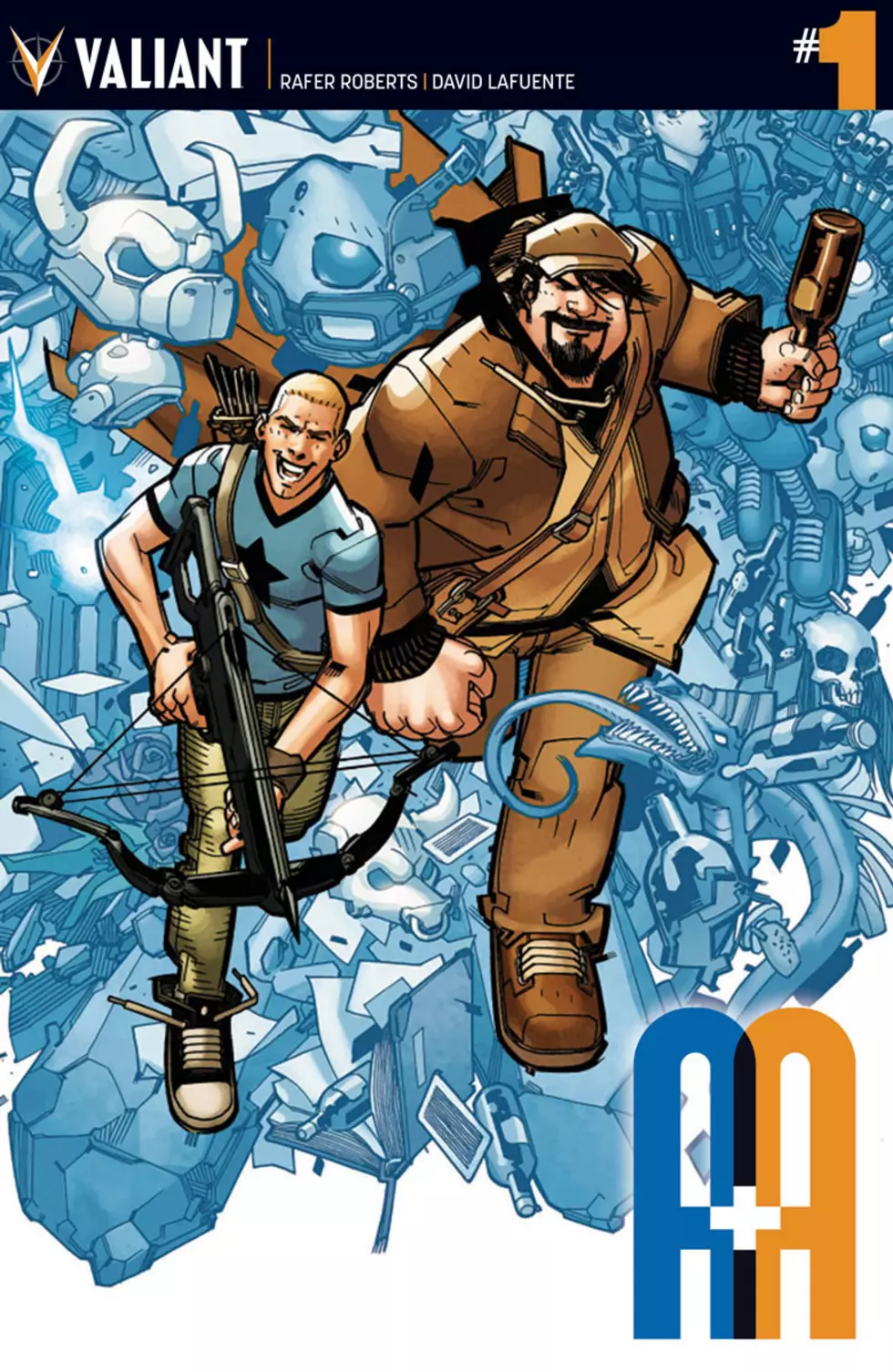 'The Adventures of Archer and Armstrong' #1 Has It in the Bag [Preview]
Cover A by David Lafuente
The first storyline, "In the Bag," features Archer (a very nice young man who was raised in a religious theme park and trained to be an assassin) searching for his best friend Armstrong (fun-loving immortal vagrant and occasional hero) inside the latter's magic bag, which opens into a kind of mystical warehouse/library which apparently holds, among other surprises, the god Bacchus.
The book promises to be a lot of fun --- the previous Archer and Armstrong series was a hoot --- and Lafuente brings his unique style and charm to the characters. In particular, his Archer looks like a more martial 21st Century Tintin, which I think totally works.
From Valiant's Press Release:
Archer is about to set off on his most dangerous mission yet – a quest into the mystic reaches of Armstrong's bottomless satchel to liberate his friend and comrade from the clutches of the mad god Bacchus! (Okay, so, Armstrong went into the satchel himself to get a bottle of whiskey that he kinda misplaced and got stuck. It's like the Amazon warehouse of arcane treasures in there…and he doesn't exactly have a maid service.)
Imprisoned in Armstrong's satchel for centuries, Bacchus now commands a legion of monsters, goblins and golems bent on escaping back into the world of man and enacting revenge on their captor… Can Archer single-handedly combat the godly embodiment of intoxication himself – and rescue his best buddy – without becoming lost amongst Armstrong's endless repository of bizarre artifacts and historical oddities in the process?
"A&A: THE ADVENTURES OF ARCHER & ARMSTRONG is a funny book. It is also action-packed and full of strange and surreal characters and situations. However, under all the humor and surrealness, there is a great deal of heart," series writer Rafer Roberts told ComicBook.com.
"One of the most satisfying things I get to play with in A&A is the fluid dynamic of a strong friendship under the guise of a manic action series. Like in any relationship there will be ups and downs. There will be good times spent fighting an army of lizard-men and trash golems, and bad times where they are getting their asses kicked by an 80-foot tall goat monster that they unleashed upon the Earth."
An immortal mischief-maker, a teenage assassin with a heart of gold, and the Greek god of partying walk into a fifth-dimensional messenger bag… Stop us if you've heard this one before when "IN THE BAG" starts with a bang on March 16th, only in A&A: THE ADVENTURES OF ARCHER & ARMSTRONG #1 – featuring covers by David Lafuente (Patsy Walker: Hellcat), Kano (Swamp Thing),Trevor Hairsine (DIVINITY), Clayton Henry (HARBINGER), Rafer Roberts (Carpool Buddies of Doom), and Phil Jimenez (Infinite Crisis)!