 American Yaoi: A Look at Three Man-on-Man Webcomics for Women
Japanese culture is extraordinary for the way it seems able to accommodate every niche, every fetish, every tribe. Whatever you're into, you're not alone, and when you find your fellow travelers you can construct your own community, language, art and culture together. The Internet will get us all there eventually, but Japan usually gets there first.
Case in point: yaoi, man-on-man relationship comics aimed at female readers and typically produced by female authors. And now the phenomenon is moving West. For ComicsAlliance's thematic fortnight of love and blissful togetherness, I decided to look at three examples of Western webcomics that build on the yaoi tradition.Yaoi is not a mainstream idea. It couldn't be much further from the mainstream. Mainstream culture is built on ideas of male power and female submission; yaoi is all about the objectification of men in a female-constructed world. As a gay man, I am not the intended audience for yaoi, but I find the genre fascinating. It's the richest seam of male-male relationships in comics, yet it's almost completely detached from gay culture. It's a gay Narnia, but it's not for gay men.
I think it's important to acknowledge upfront that Japan did not manufacture a female audience for man-on-man fiction. The same tradition emerged in the West in the form of slash fan-fiction, which inserts male-male relationships into the texts of popular works, a trend that can now be seen in the growing presence of male/male romance books and erotica in book stores.
What's different about Japan is that it has embraced its male/male audience longer, and with more sophistication. Yaoi has been around for more than thirty years, and it provides a livelihood for several publishers and creators in Japan and Korea. It also supports a thriving fan community, to the point where there are bookstores in Tokyo that sell professional-quality collections of fan-produced yaoi.
Because the internet encourages the same sort of niche community-building that seems to come naturally in Japan, we're also seeing the emergence of female-oriented male/male webcomics in English. These series, like Teahouse, Artifice, and The Less Than Epic Adventures of TJ and Amal, might not be considered yaoi by purists, but yaoi provides the precedent and the frame of reference.
Teahouse has the most Japanese flavor of the three, a lavishly beautiful series about the employees of a high class brothel in the Belle Epoque setting of the fictional country of Ivore. The work of two North American professional creators working under the pseudonym Emirain, Teahouse boasts manga-inspired character design and a flair for fashion that would fit comfortably in Harajuku; it also features many of the dynamics that are hallmarks of yaoi, including the uke/seme relationship. (The uke is the object of romantic or erotic pursuit, and is usually slender and androgynous. The seme is the pursuer, and is usually the larger and more masculine partner.)
Teahouse embraces these archetypes across multiple same-sex relationships. The conspicuously androgynous über-uke Linnaeus attracts two very different semes -- one emotionally dominant, the other physically so -- while the relationship between rentboy Rory and his exclusive client Reed explores the possible owner/slave implications of the dynamic. But Teahouse also subverts these archetypes; the characters Axis and Rhys are seemingly both seme alphas, but it's clear which one of them is the pursuer and which is the object. (A character who loudly protests his straightness is usually an uke.)
It ought to go without saying, but this comic about a brothel is a very sexual work. Yaoi is frequently explicit (by some definitions, yaoi has to be explicit to qualify), and Teahouse is not the least bit conservative in its range of sexual interests. Though yaoi takes its name from a pejorative Japanese acronym for "no climax, no point, no meaning," it usually isn't porn just for porn's sake, so anyone looking for wall-to-wall plotless sex scenes should look elsewhere. Yaoi usually only gets to the sex after it has established the emotional stakes.
Yaoi allows both authors and readers to explore sexual power dynamics without confusing them with traditional gender dynamics. This is certainly true in Teahouse, where the focus on the male employees of a brothel allows the series to examine emotional complications of transactional sexual relationships without getting snared in cultural questions about men's treatment of women.
The themes in Teahouse may not be to everyone's taste, but the art is well worth a look (if you're an adult and not at work right now). Teahouse is extraordinarily beautiful, and the creators' approaches to design and color are breathtaking. The series updates every Wednesday. It has been running for two years and is currently up to page 97.
Artifice, by writer Alex Woolfson and artist Winona Nelson, breaks the conventions of yaoi in one important way: It's written by a man. That isn't unprecedented, but it is uncommon. A story about a machine that wants to know if he can ever be a man, Artifice explores a typical sci-fi trope, where love is the miracle that may allow him to find his humanity. What sets Artifice apart -- you may already have guessed -- is that both the machine and his love interest are male. The central characters are Deacon, an unusually hunky killer robot (sorry, "artificial person"); Jeff, the lone survivor of the colony massacred by Deacon and his team; and Dr Maven, who is debriefing Deacon to get to the bottom of their tangled relationship.
Artifice does not look like typical yaoi. Winona Nelson, a fantasy illustrator from the Midwest, has swapped the painted style of her book covers for a crisp realism that feels distinctly Western. Deacon and Jeff are arguably seme and uke -- Deacon is older, stronger and has short hair, while Jeff is young, vulnerable and has long hair -- but the story does not belabor those archetypes. This feels like a truly Western execution of the genre. Artifice is not beholden to formula or cliché. It's a model for putting the story first and making the sexes of the characters almost incidental, which is something I'm especially pleased to see.
Artifice updates every Saturday, and after just under a year of publication it is up to page 74. Woolfson has other completed series available on his website, produced with other artists, but you have to register with the site to download them.
The Less Than Epic Adventures of TJ and Amal by E.K. Weaver is a road trip story about Amal, a young man driving from Berkeley to his sister's graduation in Providence, Rhode Island with TJ, a cocky, contrary, pain-in-the-ass travelling companion. Weaver is a gifted cartoonist with a great eye for expression and body language, and the pair she has created make for and an absolutely charming protagonist and an infuriating manic pixie dream boy.
On her FAQ, Weaver says that her comic is "[p]robably not" yaoi, and she's probably right. Although TJ and Amal is a story from a female author about an emerging relationship between men, and the readership appears to be largely female, the comic doesn't feel like yaoi in any classic sense. It's more like an American indie movie on the page than anything you might expect to find on a manga shelf.
Perhaps what sets it apart is its sense of realism. The art style is beautifully cartoonish, but TJ and Amal feels like it is set in a familiar word; it is naturalistic, understated, and well paced; the dialogue feels authentic and the characters are frank about their sexual identities. Yaoi often takes a whimsical "love is magic" approach that does not touch on questions of identity, culture and politics. TJ and Amal occupies a different space.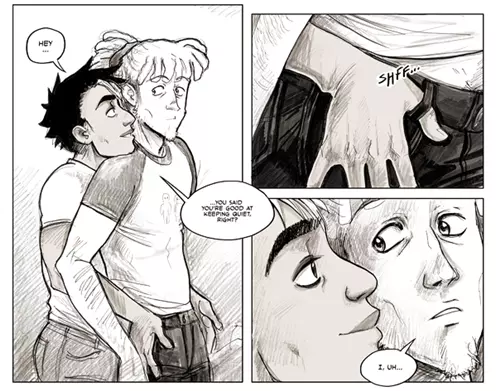 So while this isn't exactly yaoi, I think it serves the same appetite, and it may be an example of something similar yet new: a broader approach to romantic male/male fiction by or for women. I think that's something the world could use a great deal more of, and not just because I want to peek through the cracks in the wardrobe door into this subversive other Narnia.
TJ and Amal updates every Tuesday. There are currently over 250 pages available, and the series is in its fourth year of publication.