Ba and Moon Deliver in Vertigo's 'Daytripper'
Fábio Moon and Gabriel Bá have come a long way in a short amount of time. The Brazilian twins landed in America to some acclaim with anthology projects from Image and Dark Horse. But it was "De:Tales - Stories from Urban Brazil" that really introduced the pair to industry, garnering critical acclaim from a variety of sources with a beautiful black and white tale that hinted at great potential waiting to be honed.
After arriving on the U.S. comics scene, Fábio soon went to work with Matt Fraction on "Casanova," and later the Joss Whedon one-shot "Sugarshock," while Gabriel brought Gerard Way's "The Umbrella Academy" to life. As if working on incredibly impressive series separately wasn't enough, the pair managed to release the Eisner-winning "5," and a modern horror tale, "Pixu," with rising stars Becky Cloonan and Vasilis Lolos.
And so, in many ways, "Daytripper," their ten-part Vertigo comics series that launches tomorrow, is the culmination of years of experience, raw talent, and the influence of other great storytellers.
The story follows one Brazilian man on a "trip" through the significant moments of his life, and since I don't want to spoil too much about the first issue, let me just say that I'm happy Vertigo was nice enough to provide issues #1 and #2 for review, because without the second I fear readers will be left wondering where the hell, and how the hell, the story was supposed to continue.
It does. And not in a fantasy, superhero, alternative dimension, raised from the dead, revenge driven, save the planet kind of way, thank Christ. Instead, the series breaks one of the first rules of fiction, but manages to be whimsical, professional, and hauntingly charming in all the best ways.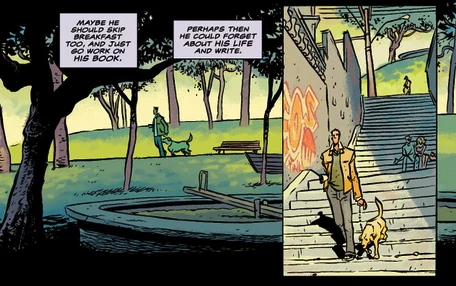 Despite the legions of Paul Pope imitators in much of comics today, both Bá and Moon have managed to stay both in vogue and distinct from each other and others in the field with a similar style. Colorist Dave Stewart, a regular collaborator with both, is perfectly matched for the brothers in the series and knows how to highlight their strengths, both in the tone of the story and in the line work on the pages.
I was puzzled at first by why was a Vertigo title, since it seems to fall right in-line with Dark Horse's other books by the brothers, and the content is so tame compared to the rest of Vertigo's line, at first I didn't understand why it wasn't branded under a different logo at DC. But it finally came to me - America is still a hypocritical child when it comes to real sexuality, and the minor cursing wouldn't have been able to fly under the flagship banner. Plus, no one's zooming around in tights trying to save a metropolitan area from repetitive doom.
Anyway, do yourself a favor and buy "Daytripper." it looks as though each issue will be a tiny, delicious slice of how the medium can be many things for many artists. Vertigo has a seven-page preview you can see here.