'Beyond' DC Digital: New Creators and Titles Including Sean Murphy, Kyle Higgins, Annie Wu and 'Batgirl Beyond' The "Beyond" titles of DC Comics' acclaimed digital-first series are getting something of a software update this summer in the form of new creative teams and titles, some of which are particularly good news for longtime fans of the universe which first debuted with the Batman Beyond animated series all the way back in 1999. The flagship title Batman Beyond will be taken over by writer Kyle Higgins (Nightwing) and artist Thony Silas (Venom) with covers by the acclaimed Punk Rock Jesus creator Sean Murphy. Avengers Academy writer Christos Gage and Superboy artist Iban Coello will handle Justice League Beyond. Perhaps most auspiciously, longtime Batman editor and former Batgirl co-writer Scott Peterson will team up with one of our favorite illustrators, Annie Wu, for a brand new series and character: Batgirl Beyond.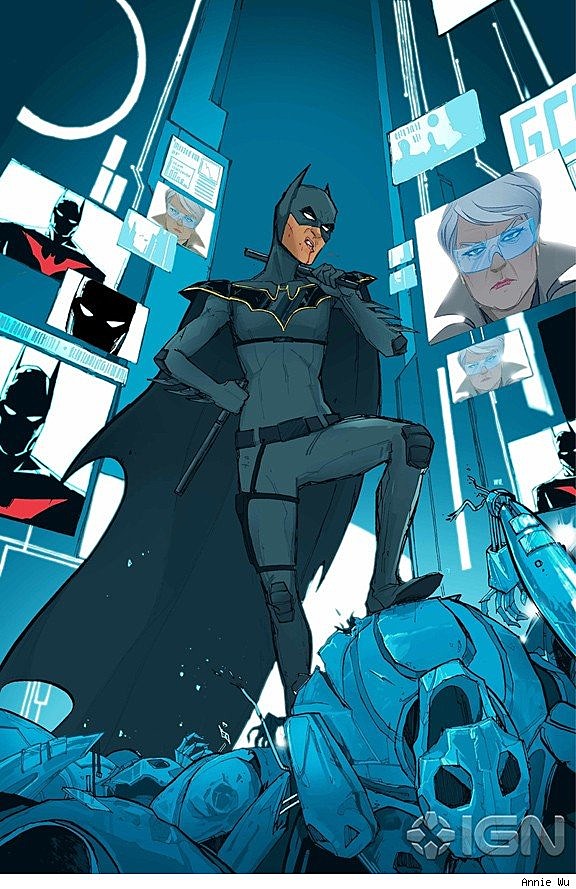 Batgirl Beyond
Writer Scott Peterson is a name well known to devotees of the so-called DC Animated Universe. In the 1990s he edited The Batman Adventures, which is considered by some hardcore Batfans (like me) to be the best Dark Knight ongoing series of all time. Peterson was also the editor behind Paul Dini and Bruce Timm's hugely popular Batman: Mad Love, which revealed the origin of Harley Quinn, and would go on to write Batman: Gotham Adventures for several years. Peterson's also a fan-favorite among Batgirl readers for his work on the very first Batgirl ongoing series in the early 2000s, which starred Cassandra Cain as the titular heroine. He also co-edited with current DC VP of Art Direction and Design Mark Chiarello the widely acclaimed Batman: Black and White anthology (for which he was nominated for an Eisner Award for Best Editor), which was a profound piece of work for a generation of art aficionados, and I'd venture to say an influence on the non-continuity, creator-centric and aesthetically-conscious work coming out of DC's digital office in Burbank like Batman: Legends of the Dark Knight and the forthcoming Adventures of Superman.
All this experience makes Peterson a natural choice to introduce the Batgirl of the Beyond universe, and that he's teaming up with Annie Wu to do so is cause for celebration if you follow her online illustration and fanart scenes. While her most prominent comic work is a guest spot in a recent issue of Marvel's Hawkeye, Wu has become one of our favorite artists for the feisty and dynamic work she regularly publishes online, including this highly proliferated punk rock remix of the Justice League:

Little is known about Batgirl Beyond, but according to IGN the character will have a "healthy working relationship" with original Batgirl Barbara Gordon, who in that future universe has assumed the role of police commissioner.
As he intimated in an interview with IGN, writing Batman Beyond is something of a dream come true for Kyle Higgins. One of the New 52's few mainstays, the writer has dealt with Gotham City's past in Batman: Gates of Gotham, its present in Nightwing, and now its future in Batman Beyond. "First and foremost, my interest lies in the characters. Terry, Bruce, Barbara, Dick... the chance to explore and push these guys within the context of the DC Animated Universe is -- bar none -- one of the coolest opportunities I could ever hope for," said Higgins. "If you look at my stuff on Nightwing and Gates of Gotham, I think it's pretty evident that 'my' Batman -- I imagine every writer has 'their' Batman -- is very much from the animated series."
Higgins, who also gave props to outgoing Batman Beyond writer Adam Beechen, said his first stories would deal with a mysterious rift between future Batman Terry McGinnis and Commissioner Barbara Gordon, as well as a murder in Neo-Gotham.
Artwork for Batman Beyond will come courtesy of Thony Silas, formerly of Marvel's Venom, with covers by Sean Murphy and colorist Jordie Bellaire. As you can see from this in-progress cover, Murphy and Bellaire are availing themselves of the visual treats Beyond has to offer, and have created some Batman-meets-Blade-Runner imagery that gets one excited about a book like this.
Writer of Avengers Academy, X-Men: Legacy and too many other comics to list, Christos Gage will take over from Derek Fridolfs as the writer of Justice League Beyond. His first story will see the Superman of the future losing control of his powers and every member of the Justice League will have to contribute something to the solution. But Gage plans on some more intimate character moments too, as he told IGN, "One of my favorite sequences in the first story arc is when a co-worker of Superman's asks him out, and he is trying to plan his first date in who knows how long, and he's asking the various members of the League what they think makes for a good date. That was a blast to write. The tragedies he's experienced make Superman both stronger and more vulnerable, so we'll be exploring that."
Justice League Beyond will be drawn by Iban Coello, an artist whose work I'm unfamiliar with but about whom Gage said, "...will really turn some heads... this guy can do it all!"
No news! The series will continue to be written by JT Krul and drawn by Howard Porter.
DC's digital first series go on sale every Saturday for $0.99 each in the DC Comics app and on ComiXology. Each month three installments are compiled into a print issue that can be purchased at finer comic book stores. The new Beyond runs will begin later in 2013.