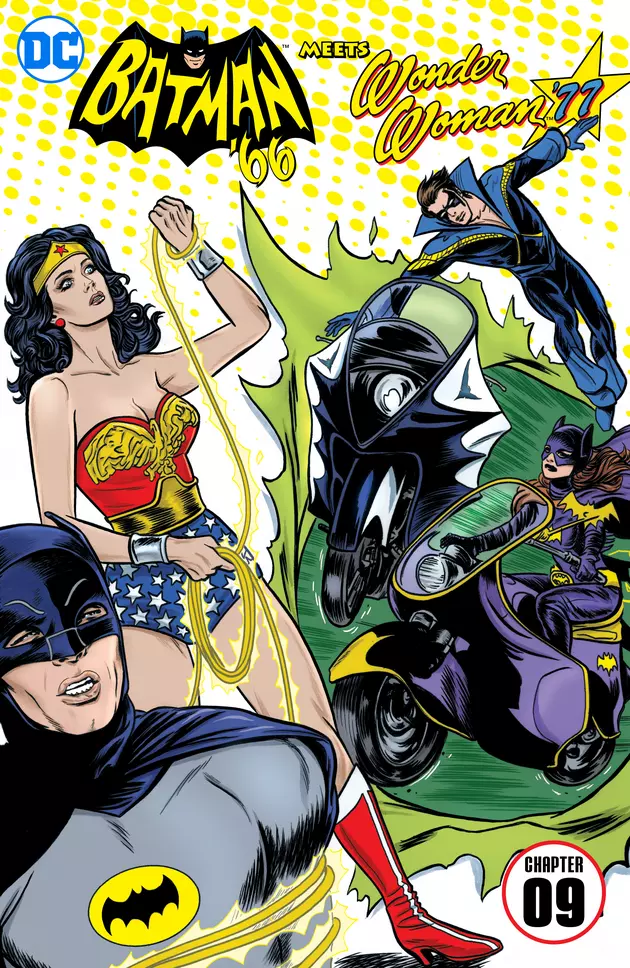 '70s Gotham (And '70s Nightwing) Come To Life In 'Batman '66 Meets Wonder Woman '77' [Exclusive Preview]
DC Comics
The retro-TV adventures in DC's digital-first line just keep getting cooler, particularly in Batman '66 Meets Wonder Woman '77. If you haven't been reading the crossover series by Marc Andreyko, Jeff Parker, and David Hahn, you've been missing out on a decades-spanning-epic. The story began in the 1940s, with WWII-era Wonder Woman meeting a young Bruce Wayne. Then it continued in 1966, with Batman and Robin following Ra's al Ghul's trail to Paradise Island.
Here in Chapter Nine, available digitally March 22, the story jumps forward again, to 1977, as Wonder Woman rides her motorcycle to Gotham City in search of Batman. But this is a decade after Batman's heyday, and things have changed in the years since.
Sure there's still a Commissioner Gordon and a Chief O'Hara, but nothing's quite the same. Stately Wayne Manor still stands, but Alfred doesn't, and neither does Batman. Fortunately, Gotham is still protected, thanks to grown-up Dick Grayson, aka Nightwing!
All of this is exactly the sort of fun I want these TV-derived comics to be. A crossover between Lynda Carter's Wonder Woman and Adam West's Batman is already a beautiful and impossible dream, and to have the story span decades, with the characters who aren't immortal aging normally along the way, only pushes this further into the realm of fun stuff that only comics can do.
I'm especially amused by the idea of a grownup Batman '66 Dick Grayson, since Burt Ward was actually a full grown (albeit diminutive) man the entire time he played the role.
Check out the exclusive preview below!
Here are the details, courtesy of DC:
Writers: Jeff Parker & Marc Andreyko
Penciller: David Hahn
Inker: Karl Kesel
Colorist: Madpencil Studios
Cover Artists: Michael and Laura Allred

The action heats up in 1970s Gotham, as Wonder Woman comes to Man's World in search of the Batman. But she'll find new allies instead!