Battle Beasts Minimates Series One Set For December Launch After releasing a handful of early Vorin variants at conventions debuting a special 2-pack alongside an IDW comic, Diamond Select Toys and Art Asylum are finally ready to unleash its first proper line of Battle Beasts Minimates. Set to arrive in specialty stores and comic shops in December, the new figures should be familiar to fans who've been picking up IDW's new four-issue Battle Beasts mini-series by Bobby Curnow and Valerio Schiti (Journey Into Mystery). If you haven't checked it out just yet, the story basically sees two factions of alien beasts on the hunt for weapons on Earth with humankind stuck in the middle. Unlike the original Battle Beasts toys from Takara/Hasbro (or tie-in comic by Blackthorne Publishing), these characters aren't tied to specific elements with heat-activated stickers for rock-paper-scissors style combat, however. According to Art Asylum, an exclusive Toys "R" Us assortment is also on the way, which could mean even more characters are on the way in the new Minimates line (like the previously-released villainous dragonfly Zik). You can check out the first wave of Battle Beasts Minimates 2-packs after the cut.

[Click Images to Enlarge]
From DST and Art Asylum's official product info:
Vorin the Ram vs. the Scorpion

The leader of the the heroic band of rebels faces off with the leader of a nasty band of desert Beasts!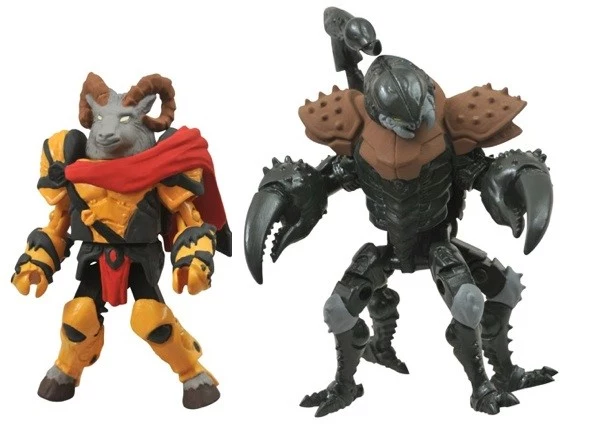 Merk the Falcon vs. The Tarantula

Vorin's deadly comrade takes on one of the creepiest Beasts he's ever encountered!


Gruntos the Walrus and Tate Reynolds (exclusive)

The trio's good-natured powerhouse teams up with his newfound human compatriot!


Bliss Reynolds (exclusive) vs. The Snake

The human heroine is hunted by a slithering Beast for her knowledge of the Dread Weapons!