'Birds Of Prey' #1: Black Canary Takes Flight/Fight [Exclusive Preview]
On sale next week from DC Comics is Birds Of Prey #1, part of the publisher's ambitious and largely successful New 52 initiative, whereby the company has launched, relaunched and in many cases rebooted its entire superhero lineup. Written by Duane Swierczynski with artwork by Jesus Saiz, Birds Of Prey is a new take on the fan-favorite, all-female superhero team that traditionally starred Black Canary and Oracle -- aka Barbara Gordon, the original Batgirl -- among other DC heroines. With Barbara back as Batgirl and starring in her own title, the new Birds Of Prey team includes Black Canary, Poison Ivy, Katana and the new character Starling.
Check out an exclusive preview of Birds Of Prey #1 after the cut.Written primarily by Gail Simone and Chuck Dixon, the previous Birds Of Prey series were characterized not just by exciting superhero action but also by the camaraderie of its expansive cast, which in the past has included Power Girl, Huntress, Lady Blackhawk and Big Barda. Fans of the team are especially fond of the relationship between Oracle and Black Canary, which, given the revelations of Batgirl #1, appears to have never happened in the new DC Universe.
On DC's The Source blog, new Birds Of Prey editor Janelle Asselin wrote that the series' traditional theme of friendship will still be the forefront of the new series, as demonstrated by the relationship between Black Canary and Starling, a new character who, in the new DC Universe, has been "BFFs" with Canary since their college days.
This spirit of friendship is most evident between Black Canary and our new character, Starling. Black Canary is, for the most part, the same incredible character she's always been. As we move forward with the series, readers will discover that Black Canary in world of the New 52 has moved to the fringes of the super-heroic world but refuses to give up trying to save the world in her own way. Her good friend Starling has been by her side since college and they make a fun duo. For anyone who's ever had that awesome BFF that's nothing like you but seems to understand you anyway – you'll immediately recognize and love the dynamic between Black Canary and Starling.
Asselin said you'll have to wait and see for details about how Katana and Poison Ivy come to join Canary and Starling's ranks, but she was very forthcoming about the work of Birds Of Prey artist Jesus Saiz.
The thing I love about Jesus's art is that he draws women realistically. The BIRDS are sexy, don't get me wrong. But they're a realistic kind of sexy that is a visual representation of the dedication the whole team has to making these characters real – not just eye candy. Each character has an individual style and flair that Jesus takes pains to show in his art. From the classic, traditional style of Black Canary to the rockabilly flair of Starling to the modern-samurai-chic of Katana to the sexy organic dress of Poison Ivy, each lady looks different and matches their personality externally.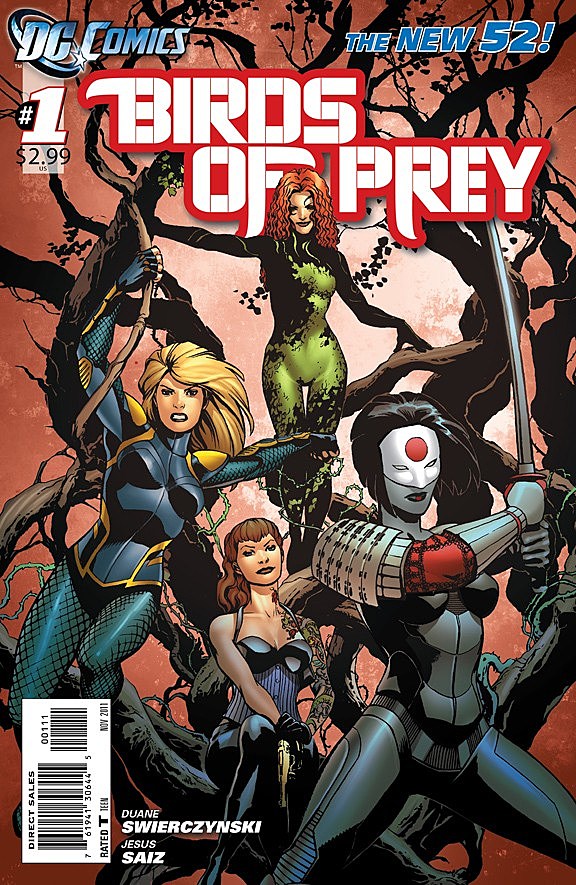 One is wanted for a murder she didn't commit. The other is on the run because she knows too much. They are Dinah Laurel Lance and Ev Crawford – a.k.a. Black Canary and Starling – and together, as Gotham City's covert ops team, they're taking down the villains other heroes can't touch. But now they've attracted the attention of a grizzled newspaper reporter who wants to expose them, as well as a creepy, chameleon-like strike team that's out to kill them.

Don't miss the start of this hard-hitting new series from mystery novelist/comics writer Duane Swierczynski (Expiration Date, Cable).