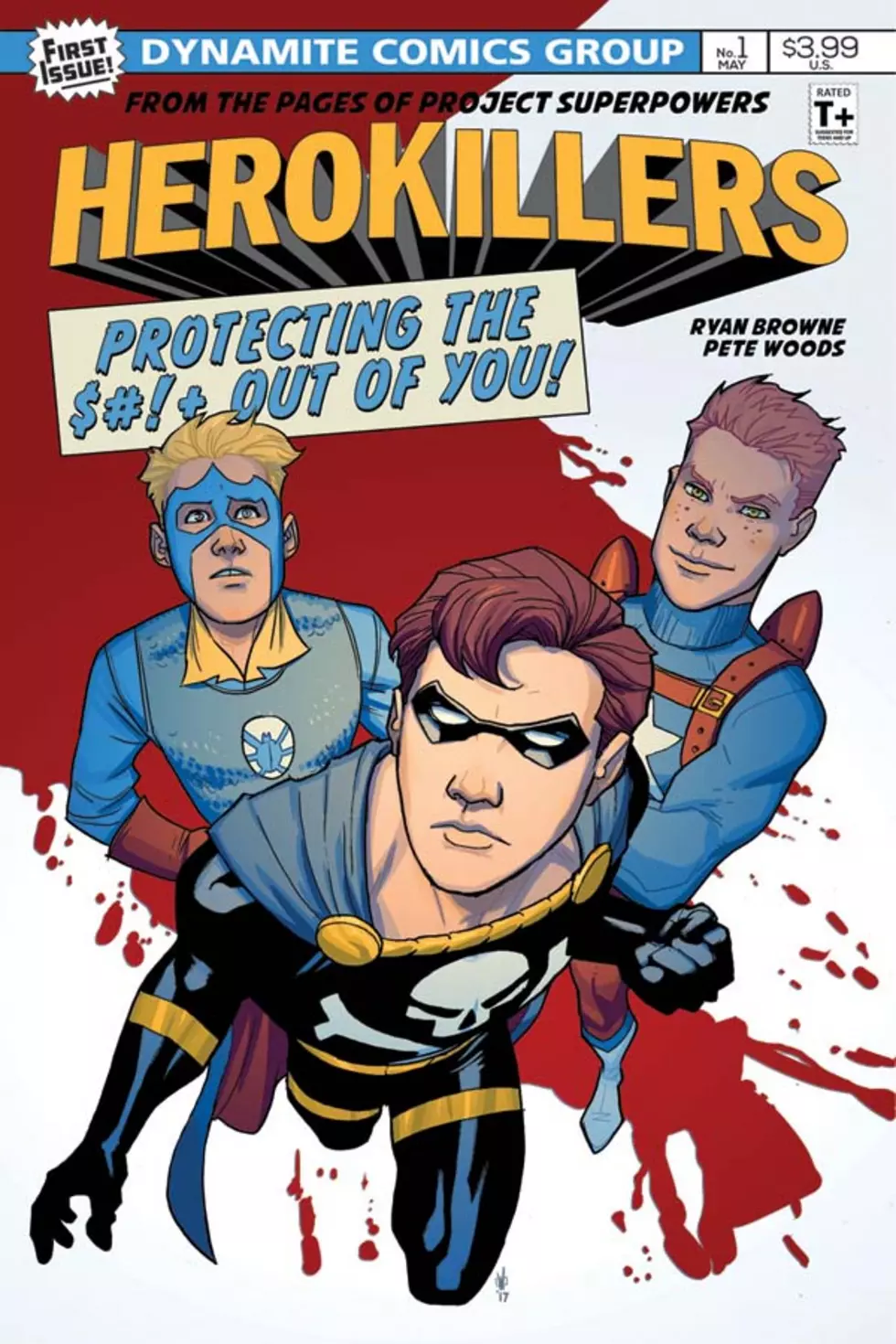 Ryan Browne And Pete Woods Send Up Superheroes In 'Project Superpowers: Hero Killers'
Peter Woods / Dynamite Entertainment
Dynamite Entertainment has made a name for itself in the past decade as the place to go for reverential yet modern takes on classic Golden Age superheroes like The Black Terror, The Death-Defying Devil, and The Green Lama in its Project Superpowers shared universe.
Now, Dynamite is throwing out the rulebook and has recruited Ryan Browne and Pete Woods for a new superhero satire series titled Project Superpowers: Hero Killers, about a group of teenage heroes trying to make a name for themselves in a crowded market.
Project Superpowers: Hero Killers follows three young heroes --- Captain Battle Jr., Sparky, and Tim, as they struggle to find a foothold in the Libertyville crime-fighting scene when so many old-timers refuse to retire and make room for the new generation.
In a statement provided by Dynamite, CEO and publisher Nick Barrucci explained how the project came together, and what makes it a perfect fit for the established Dynamite superhero universe:
"One of the things we pride ourselves on with Project Superpowers is the ability to bring in top creators and give them the ability to tell exactly the kind of superhero story that suits their tastes. When Ryan and Pete came up with a story to poke fun at superhero tropes with a witty take on the genre, we thought, 'Why not put it in the context our own universe for something wholly original?' This series is guaranteed to entertain any fan of superpowered storylines!"
Check out the variant covers below:
Here's the official word from Dynamite:
Welcome to Libertyville, USA... home to too damn many superheroes! When all crime is soon eradicated, a handful of heroes leave for greener pastures, but most stay for the affordable housing, hoping to rise to the top and become the legendary hero who saved the world's greatest metropolis. Captain Battle Jr., Sparky, and an unfortunate crime-fighter named Tim try to stand out, but it's hard to do in a city full of capes stopping every misdemeanor with a spandex-wrapped flourish. Things get weird when these three lad companions try to get to the criminals before their bosses do!