C2E2 2011: The Best and Weirdest Panels and Events

This weekend, the Chicago Comic & Entertainment Expo kicks off its second year in the Windy City's McCormick Place. Sadly, none of the staffers here at ComicsAlliance are going to be in attendance this year, but in a bit of wishful thinking, we discovered that for a relatively new show, C2E2 has a lot going on.
So much, in fact, that it might be a little overwhelming, even for a seasoned con-goer. That's why today, I've gone through the listings on the website to bring you a rundown of the C2E2 Panels and Events that you don't want to miss -- and a few that you're probably better off skipping, from Speed Dating to Quidditch!
11:15 AM: Reading Comic Books in College: Using Michigan State University's Comic Art Collection for Research and Teaching - While it's tempting to spend the first day of the show hitting the floor, getting an early spot on the list of your favorite artist's commissions and dusting off your copy of Comic Foundry #1 to take Matt Fraction up on his offer to sign anything he was involved with, C2E2's events hit the ground running. There's an early panel at 11 being put on by Reading With Pictures, a charity that promotes using comic books in the classroom, but for those of you interested in academic pursuits, the panel on Michigan University's comic book collection is well worth checking out.
Admittedly, this probably isn't going to be the sort of thing that appeals to the average C2E2 attendee who's only interested in hitting the quarter bin to fill holes in his run of Spider-Man, but MU's comic book collection is a fascinating resource that's extremely valuable to the study of comics. Their dedication to putting together a comprehensive history of the art form -- even the bad parts -- has even led them to archive things that you won't find anywhere else, like the book that college professor, comics scholar and friend of ComicsAlliance Dr. K named, without any exaggeration, The Worst Comic Book of All Time.
2:00 PM: Speed Dating - If you're going stag to C2E2 this year and want to find someone to share those discounted trade paperbacks with, then you might want to consider dropping in on the first of several Comic Con Speed Dating events! They're being put on by the same outfit that ran the event I was in back at the New York Comic Con, and they provide what might be the perfect way to find romance with someone dressed as a character from Strike Witches. It might be a little intimidating to try putting yourself out there in a harsh time limit of three minutes, but seriously? It's speed dating at a comic book convention. I literally talked about Batman the entire time and got five numbers.
And if it doesn't work out, hey: I'm sure you can find an anime sex pillow for sale somewhere on the floor.

3:00 PM: So, You Wanna Be a Comic Book Retailer - No you don't.
If, however, you're dead set on the idea, then I'm curious to see if this panel will be covering a few of the lessons I learned during my six years of comics retail, like how to avoid getting involved in conversations about how this week's issues contradict the customer's fan-fiction, how to accurately recommend comics to people who only want them for tattoo designs, and the fifty different ways to inform customers that their copies of the Death of Superman will not be getting their children through college and/or out on bail.

4:00 PM: Dirty Pair Screening - From what I've heard, C2E2 is a great show, which presents a unique problem for those Eeyores out there who are only happy when they have something to complain about. Fortunately, fans of crushing disappointment will be able to catch a screening of the Dirty Pair anime and spend around 90 minutes experiencing the complete letdown of it being nowhere near as good as Adam Warren's Dirty Pair comics.

And for added schadenfreude, please enjoy the flamewar that's about to break out in the comments below.
5:00 PM: Quidditch Q&A - For our final event selection on Friday, be sure to check out the panel and exhibition being performed by The International Quidditch Association, which has brought the sport of wizards to college campuses across the world as Ultimate Frisbee's nerdier cousin.
According to the IQA, games of "Muggle Quidditch" -- which they call it in an apparent effort to differentiate it from the games of actual Quidditch being played by wizards -- involves similar rules to those laid out in the Harry Potter books, except with the lead bludgers being replaced by dodgeballs and the Golden Snitch being represented by a dude wearing yellow who runs around the field trying to avoid being caught.
It doesn't seem like it'd be that hard to grab him, but keep in mind that the other players are running around the field holding brooms between their legs, making Quidditch the most groin-injury-prone sport since the University of South Carolina briefly adopted varsity Rochambeau in '02.
In addition to exhibition matches, players will also be answering questions, which will give them time to explain just how they've managed to avoid getting hauled off to Azkaban by J.K. Rowling's team of Legalmancers.

2:15 PM: Eliza Dushku & Tahmoh Penikett Q&A - Given that both of its attendees were actors on the three-episode television miniseries Dollhouse, this panel -- hosted by comedian, podcaster and former Jenny McCarthy wrangler Chris Hardwick -- is likely to be a wall-to-wall discussion of Dushku's roles in various Joss Whedon propeties. There's pretty much no way around it.
That said, it is my fondest Christmas wish that instead of asking Dushku questions about why Faith said one line of dialogue with a certain inflection and whether that means she was secretly in love with Buffy the entire time, this panel turns into a comprehensive discussion of her greatest role as Missy in the most moving epic of our times, Bring It On.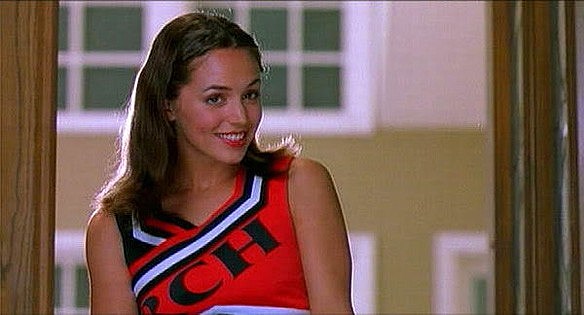 "Yes, my question is for Ms. Dushku. Is it cold in here? And if so, are there Toros in the atmosphere?"

4:00 PM: Oni Press Presents Panelmonium 2011 - If you're interested in hitting up a panel that actually involves comics for a change, you could do a lot worse than to check out our friends at Oni Press. In addition to some big announcements, free comics, and prizes, you'll also be able to hear Cullen Bunn and Brian Hurtt talk about their supernatural western hit The Sixth Gun, as well as Ray Fawkes of Apocalipstix (and I believe he will also be taking questions about Skullkickers #6), as well as Greg Rucka, the writer of Queen & Country and Stumptown, as well as a few books about more obscure characters like Batman and Wonder Woman.

4:00 PM: Ghost Hunters Q&A - Important Programming Note! Don't confuse this panel with the Ghostbusters panel happening at C2E2, which takes place on Friday at 3:00. The last thing I want is for anyone who wants to hear about completely fictional ghosts that were made up by guys who thought it would be funny when what they actually want is to hear about completely fictional ghosts that were made up by guys who thought creaky floorboards were definitive evidence of disembodied spirits.
6:00 PM: Video Games in Urban Culture: Nerdcore Hip Hop -

Okay, I'll admit that when I first saw this listing, I was a little disappointed that ComicsAlliance's favorite don't-call-me-nerdcore rapper Adam WarRock wasn't going to be involved, but then I noticed that instead, this one's about Raheem Jarbo, a.k.a. Random, a.k.a. Mega Ran.
Random and fellow panelist K-Murdock's Forever Famicom was easily one of my favorite albums of 2010. Unlike a lot of people creating music about comics and games, Random doesn't just rely on the references to carry his work, instead bringing some genuinely clever lyrics and a great flow to his songs, which is probably why Capcom put their stamp of approval on the albums where he sampled their soundtracks.
By all accounts, he's well worth seeing in person, and while I'm not sure whether this panel's going to include a performance or just involve the panelists discussing how they go about turning good memories into good music, I imagine it'll be a good time.

2:30 PM: Marvel: Next Big Thing - As the con starts to wind down, Marvel's going to be attempting to keep the excitement going in a panel featuring Superstar Writer Brian Bendis (who I believe we are legally required to refer to as "Superstar Writer" every time we mention him) Fred Van Lente (Power Man & Iron Fist) and David Liss (Black Panther: Man Without Fear) and the promise of "surprise announcements."
There's been speculation on just what that might involve, but my money's on the senses-shattering because-you-demanded-it return of Woodgod!

C'mon, Marvel: Did you really think you could seed the return of the Satyr of Science in the pages of Hulk and the Woodgod fan community wouldn't notice? They notice everything.

2:45 PM: Avatar: The Last Airbender: Beginning and Beyond - All right, I'm going to be real with you guys: I love some Avatar: The Last Airbender. I am stoked about Dark Horse's upcoming release of the Avatar comics from Nickelodeon Magazine that also include a huge amount of new material, and I'm even more excited about the upcoming Avatar: The Legend of Korra animated series.
But most of all, I am excited that this panel is listed as being moderated by someone named "Avatar_Mom." That sounds amazing.

3:00 PM: Silver Age Trivia Challenge - Finally, before you head down to the floor to catch some last minute deals, you may want to check out C2E2's Silver Age Trivia challenge, where Mark Waid will challenge other experts to see who knows more about the Silver Age.
A word of advice, though: Do not engage Mark Waid in a Silver Age trivia challenge yourself. You will lose. This is a guy who legendarily knows Superman's social security number, and to be honest, it's a testament to Waid's own Kent-like morality that he hasn't used it to open bank accounts and credit cards in Superman's name. Seriously, who's going to check that dude's credit?