 'Calvin and Hobbes' Mashups with Everything from 'Watchmen' to 'Walking Dead' [art]


Someone recently told me that the Internet is a sinkhole of nostalgia, that we glorify the culture of the past because it's readily available to us all the time. It's hard not to be nostalgic about Calvin and Hobbes, though. After all, Bill Watterson's comic is all about nostalgia, and it transports everyone who reads it to a magical childhood, and lets us believe, if only for a minute, that we actually experienced it ourselves. So we can forgive ourselves for wanting to apply an adorable Calvin and Hobbes mask over our other pop culture heroes and villains. That's why so many artists have drawn their favorite characters in the style of Calvin and Hobbes. Want to see who's been Hobbesified? See the pictures below the cut.We've featured Calvin and Hobbes mash-ups before, but these are, more specifically, other characters done in the Calvin and Hobbes style. The image up top is a bit of a cheat, with Hobbes dressed as the Comedian, but the poster is available from Art V Cancer, which donates a proportion of its profits to cancer-fighting charities.
Many of these images are available as prints or t-shirts, although that may be anathema to fans of the notoriously anti-merchandise Watterson. Even if you don't regard Calvin-esque tees as blasphemy, be prepared to get an earful from those who do.


Bilbo should watch out. Calvinball is a lot less fun when you're playing it with the One Ring against Gollum and Smaug. By Cool Johnny.


I featured Joel Watson's Jon Snow and Ghost piece in the gallery of Game of Thrones mashup art. Here's he more aptly blends Calvin with the world's least supervised child: The Walking Dead's Carl.


Prince Adam and Calvin have a lot in common. They both pal around with tigers; they're both disappointments to their parents and they both lead rich inner lives. It's just a good thing no one ever gave Calvin a sword. By Christopher Tupa.
I could actually believe Adventure Time as a game played by two kids who pretend that their stuffed animals are in love. Aw, now I'm kind of sad. By Kristine Thune.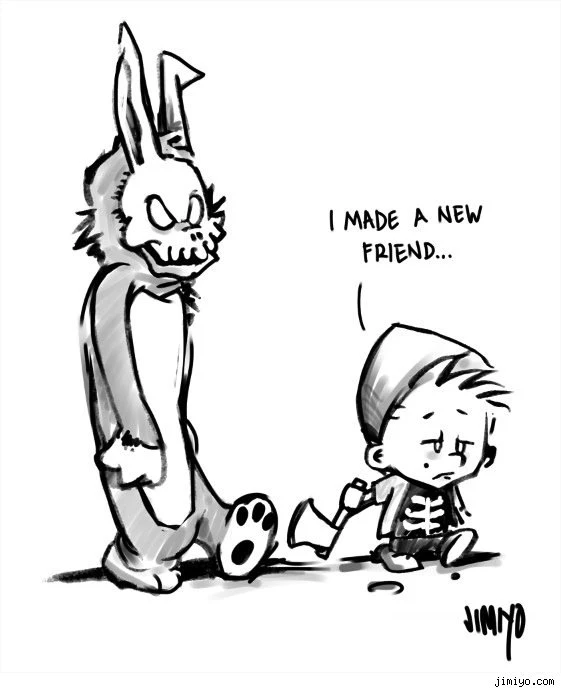 Spoiler: Hobbes isn't imaginary. He's a messenger from God. By
Jimiyo
.
This makes me rethink the Hank McCoy/Raven flirtation in
X-Men: First Class
in a distressingly creepy way. By
Rat Creature
.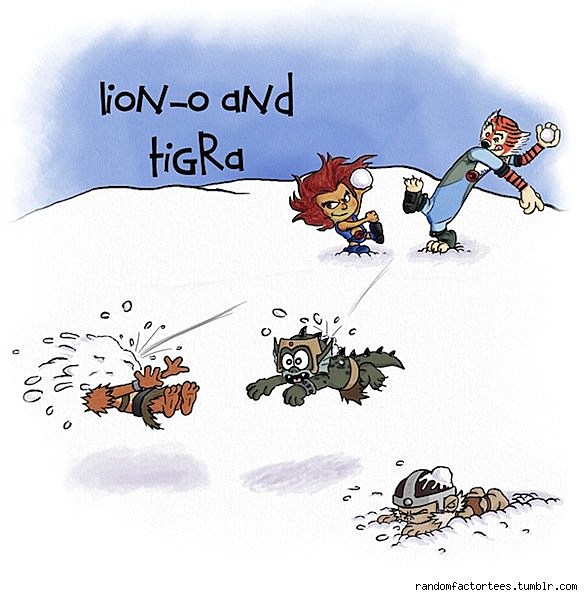 Does this make Cheetara Susie Derkins? Do she and Lion-O grow up to have a baby named Bacon Treat? By
TheRandomFactor
.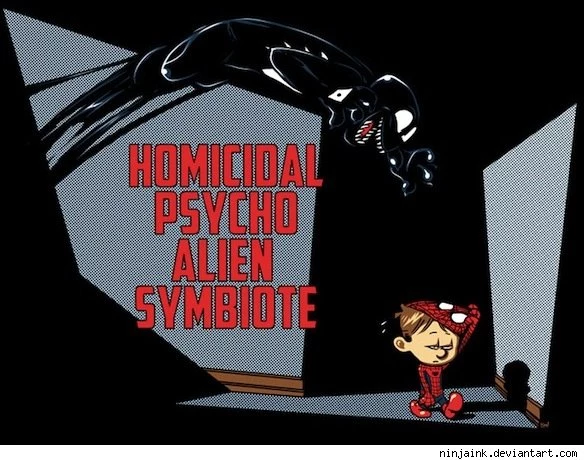 Community
's Troy grew up and made a real friend. Then they had imaginary adventures together. I wonder if Hobbes ever pops up in the Dreamatorium. By
Megan Lara
.
Shirtoid
has a whole series of characters as Calvin and Hobbes riding different "sleds" -- so many, in fact, that it feels more like a crass commercial grab than a loving homage. But there's still charm in this Chewie and Han illustration by
Chris Wahl
, perhaps because I could imagine Calvin actually playing at
Star Wars
.
I realize that Jim Henson is a real person, but this made me too sad not to post it. By Mighty Rain.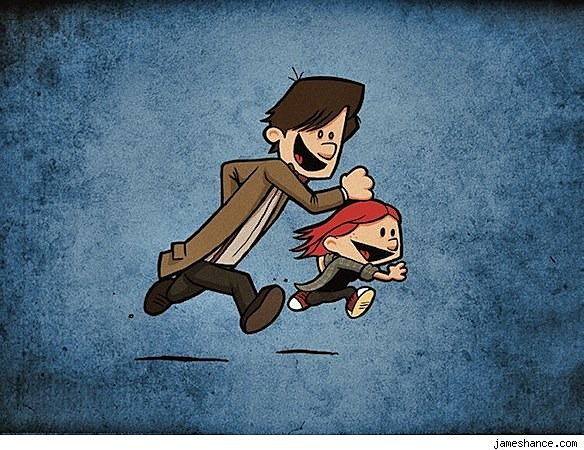 Amy Pond knows what it's like to have an imaginary friend. But his magical box isn't made out of cardboard. By
James Hance
, who does tons of spectacular mashup art.
At his webcomic
Legacy Control
, Javis Ray casts
Skyrim
's Dragonborn as Calvin and the dragon Alduin as Hobbes. Imagine how much damage Calvin could do with a dragon shout.


Brian Azzarello and Lee Bermejo took the two supervillains whose personas they've picked apart -- Lex Luthor and the Joker -- and put them in a Calvin and Hobbes-style Sunday comic strip. You can see the full comic here. Some people have no imagination. Lex and the Joker are not among them.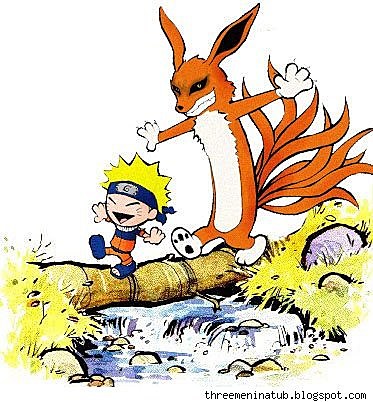 Cartoonist
Ted Dawson
posted this Naruto-as-Calvin image as part of an April Fool's Joke, claiming
Calvin and Hobbes
was being revived as a manga. I bet there are publishers who wish they could get away with a series like that. Pesky intellectual property rights.


Karen Hallion has a whole series of Firefly characters in the style of Bill Watterson, including Calvin and Hobbes dressed up as Mal and Jayne. (Serenity is, naturally, a cardboard box.) But let's face it, out of the entire crew, Wash is the true kid at heart.


We're capping things off with two more real, but necessary, additions to the Calvinification: the philosophers John Calvin and Thomas Hobbes. Nina Matsumoto lays bare the comic's philosophical roots with this warm image of two very contentious thinkers.