24 Amazing Comics Letterheads: From Marvel & DC to 'Calvin & Hobbes'

Aside from a love of fancy notebooks, I don't really have much of an attachment to the artifacts of the pre-Internet era of instant communication. That said, the letterheads of the past are a thousand times better than today's neon pink, Comic Sans email signatures.
That's why I often find myself browsing through Letterheady, a site devoted to displaying the beautifully designed stationery of the past. The site's creator, Shaun Usher, has gathered up letterheads from Nikola Tesla to Muhammad Ali, and along the way, he's collected several amazing and interesting pieces related to comics, too! Check out 24 of my favorites, featuring companies, creators and even one notable advertiser after the jump!Usher's collection of letterheads used by Marvel Comics over the years is worth checking out all by itself, if only for the way that it charts the history of design at the company. First up, a simple logo from the early days, featuring the Thing and crediting Stan Lee as "Editorial & Art Director":

As Marvel's stable of characters increased, their letterhead got an overhaul to match, from 1964:
In 1976, things were simplified down for the UK version, which also shows Stan Lee's takeover as publisher from Martin Goodman:
During the Jim Shooter era circa 1982, when Marvel was owned by Cadence Publishing, Spider-Man was featured in a nifty right-hand sidebar design:
And finally, one of a more recent vintage, from 2007, with Spidey joined by his fellow movie stars:

Legendary Peanuts creator Charles Schulz also had a series of beautiful letterheads over the years. 1957's was a strip in its own right:
The 2007 letterhead for DC Comics looks a little plain...
But the reverse features a nice tower of their super-heroes. It's worth noting, however, that unless this image has been flipped, that's definitely Bizarro there on the bottom:
From EC Comics in 1950, featuring the art of Jack Davis:
But by 1955, EC had given way to MAD Magazine, the year it was rebooted from a comic to its more familiar magazine format:

And circa 1980, complete with an Alfred E. Neuman watermark:
Along the same lines, the letterhead for Trump, the magazine Harvey Kurtzman founded after leaving MAD in 1956:
Batman co-creator Bob Kane's letterhead design is so awesome that I'm almost certain it was Bill Finger's idea:
The Man of Steel appears on stationery for Macy's Superman Adventure from 1939:
And for Superman, Inc. (hopefully the subject of a future Grant Morrison story) in 1940:
From Fawcett's Captain Marvel Club, 1942:
In 1945, the young fans of All Star Comics could look forward to a letter from The Junior Justice Society: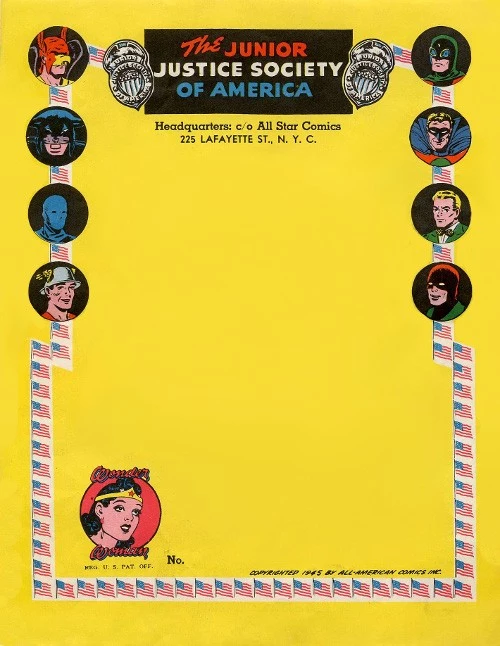 The same image also appears on the letterhead for Wonder Woman Enterprises:
Harvey Comics, the publishers of Richie Rich and Casper, circa 1956. Richie, of course, just sent letters written on sheets of taped-together hundos, because he has no concept of what money means to his lessers:
Kevin Eastman and Peter Laird's Mirage Studios from 1985, the debut year of the Teenage Mutant Ninja Turtles:
Trina Robbins uses a clever comic-style sidebar for hers...
Calvin & Hobbes creator Bill Watterson:
And finally, while not actually a comic book creator himself, the "Hero of the Beach" Charles Atlas should be a familiar site for anyone reading comics in the Silver Age:
For more amazing letterheads, keep an eye on Letterheady!