Commissioner James Gordon One of Country's Cutest Dogs
Competitions have been unkind to Batman fandom every since, in 1988, a call-in poll sent Jason Todd to that big waiting room in the sky for about 15 years. But this past Thanksgiving another cruel blow was dealt when Commissioner James Gordon was not named America's Cutest Dog.
Owned by webcomic creator Chris Hastings of "The Adventures of Dr. McNinja" and Carly Monardo, a freelance illustrator and character and prop stylist for the "Venture Bros." show, Commissioner James Gordon did his namesake proud by making it all the way to the semifinals of the All American Pet Brands Cutest Dog Competition. And yet somehow, this Pomeranian was somehow deemed not quite adorable enough:
But Hastings and Monardo didn't walk away empty handed. In addition to a wonderful outpouring of support and Gordon cameo comics from webcomic-creating friends, the couple also ended up with a $5,000 prize that will go towards their wedding. ComicsAlliance talked with Chris and Carly about their experience in the competition, Commissioner James Gordon, and that other Commissioner James Gordon.
COMICSALLIANCE: Tell me about Gordon, how you got him, and how you decided on his name.
CHRIS: I just think that Pomeranians are amongst the goofiest looking dogs (which I find adorable), and after doing some research, it really seemed like their personality fit us pretty well. Plus he's so small, he has a litter box. It's the greatest. Carly and I are both big Batman fans, and we thought it would be really funny to name a tiny puffy dog "Commissioner James Gordon" (But we just call him Gordon.)
CA: I know that friends in the webcomic and art community all chipped in to help rally support for Gordon in the competition, many through Gordon comics. How did that start?
CHRIS: A lot of our super talented friends just really like Gordon! Or at least they do a really great job of pretending to. We've tried really hard to train Gordon from having so many of the awful annoying habits that small dogs get.
CARLY: We really were blown away by how incredibly supportive everyone was, friends and fans alike. I feel like it created a fun sense of community. Everyone was amazing!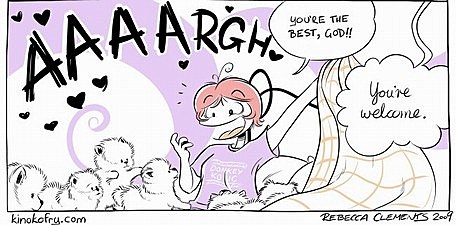 Panel from a Gordon comic by Rebecca Clements of KinokoFry


Panels from a Gordon comic by KC Green

CA: After your Gordon, which version of Commissioner James Gordon would each of you say is the cutest?
CHRIS: Well, he's definitely not my favorite Gordon, but look at dis widdle guy!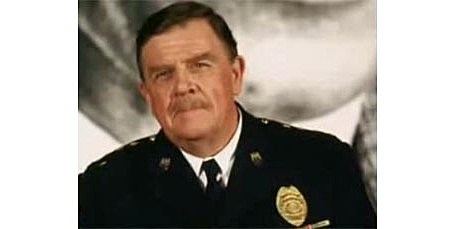 [Ed. note: Actor Pat Hingle played Commissioner Gordon in the first four "Batman" films]
CARLY: You know, my friend Mike who does the voice of Dean on "Venture Bros." told me he had the opportunity to work with the late Pat Hingle, and he was apparently a very sweet guy. So, I think I have to agree with Chris here, although I also really love what Gary Oldman has done with the character. And of course, Bob Hastings's voiceover for Gordon in "Batman: The Animated Series" will forever hold a special place in my heart. That's where my love of the character really started.
CA: What's your favorite story featuring Commissioner James Gordon, in either comic, cartoon or film form?
CHRIS: Any story where Tim Sale draws him all dramatic in the striped shadows from the window blinds.
CARLY: Shadow of the Bat, parts I & II from Batman: The Animated Series.
CA: Ace the Bat-Hound: Do we see too little of him or should we never see any of him, ever? Further thoughts on a costumed vigilante who relies on stealth and rooftop travel having a dog sidekick?
CHRIS: I love Batman's insane and goofy history, so I have no beef with Ace. And I thought he was used excellently in Batman Beyond.
CARLY: I'm all for goofy Batman, but I just think it's irresponsible to expose a dog to the kind of dangerous lifestyle Batman leads. I mean, Robin was asking for it; Ace is just a dog.
CA: Chris, I recall there being a part in an early Dr. McNinja where an adorable dog is eaten by a velociraptor. Did you get any flak from dog lovers when that came out? Did you own Gordon at the time you wrote that?




CHRIS: That was back when I still had a day job, and I didn't have Gordon yet. That dog was inspired by my boss's dog, who I had to walk every day. No flak from dog lovers!
CA: Last question. For each of you, who's your favorite comic or cartoon dog?
CHRIS: Science Dog from "Invincible."
CARLY: This is really tough! I think I have to go with Rowlf, the Muppet. Does he count?
Our thanks to Chris and Carly for talking about their love of Gordon, Batman, and dogs. And congratulations again to Commissioner James Gordon on his well-deserved semifinalist finish.
Elsewhere on the web:




The 12 Days of Christmas, Comics-Style. (Lord Vaders a Leaping!)