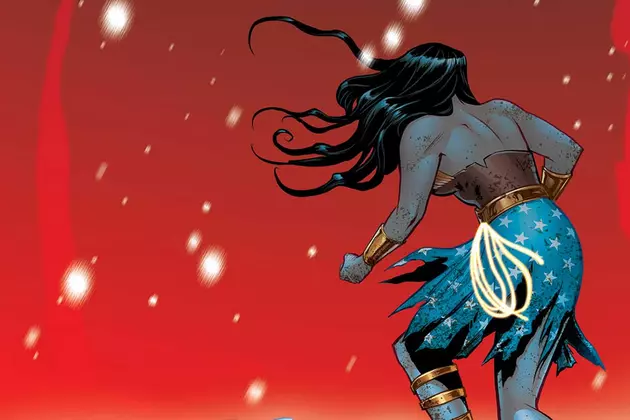 'Legend Of Wonder Woman' And The Suppression Of Creator Dissent
Renae De Liz and Ray Dillon / DC Comics
It's always sad to hear of someone losing work during the Holiday Season, and sadly such a story has emerged in the comics community these past few weeks, as we heard news of DC suddenly canceling the previously announced second volume of The Legend of Wonder Woman, a digital-first series by husband-and-wife creative team Renae De Liz and Ray Dillon.
Rumors swirled for days that this cancellation of a book that De Liz and Dillon had apparently already begun work on was the result of negative tweets that Dillon had made about the upcoming The Odyssey of the Amazons, a Wonder Woman prequel series by an all-male creative team that reportedly covers similar ground to pitches made by De Liz. Dillon had also previously expressed dissatisfaction on Twitter about Grant Morrison and Yanick Paquette's Wonder Woman: Earth One being picked up for further volumes when he was still waiting to hear about the future of Legend.
DC's reasons behind the cancellation moved beyond the realm of rumor on Tuesday, when the Guardian published an article by Sian Cain with quotes from an unnamed DC Comics spokesperson, who said that the cancellation was the result of "a challenging relationship" with Dillon and De Liz. Cain confirmed that DC "was concerned about Dillon's public comments about other teams at DC on social media," and directly quoted the spokesperson saying, "It is an unfortunate situation. We tried hard to make it work."
Renae De Liz has since made a statement on Facebook, in which she doesn't entirely disagree with DC's statements:
DC stated "challenging relationship" as the cause for the end of LOWW, which I feel is fair from both sides. I want LoWW readers to know, never once did I *knowingly* cross any lines, or felt I risked LoWW in any way, which is why I was SO shocked by the turn of events. I am a very careful person, and would never have risked it.

My couple tweets seen in most articles were relating feelings and not intended as a negative towards DC. I didn't recognize it was viewed so harshly, and I apologize for any harm they did.

In the last week I've lost a dream project, been uplifted by the comics community, been accused of being horrible things, while dealing with a threatened pregnancy.

We are not bad people, we didn't know we were...er..."poo-ing" where we ate and weren't roving around DC like a couple ungrateful, mindless rebels. We just missed information somewhere which led to us choosing honesty when perhaps we shouldn't have been.
De Liz also asked in her statement that people move on from this story and give her family "peace through the Holidays," and it's not my goal here to violate that request. It's relatively clear now what happened, and there's no further use in speculating about DC's specific objections or Dillon's choices regarding what to tweet.
My concern, as we contemplate the world of comics (and the world at large) in 2016, and the unfortunately inevitable controversies to come, is about the environment that's created when those making comics are afraid to express concerns for fear of losing their jobs. It's troubling enough that very few comics creators have job security or benefits, but expecting them to watch what they say at all times for fear of unemployment can only make that lack of security feel that much worse.
This isn't the first time something like this has happened. Back in 2009, DC fired Dwayne McDuffie from his job writing Justice League of America after CBR published a compilation of very frank answers he'd given to fans about working on the book, and revealed how often his creative decisions were hampered by editorial concerns and the demands of a continuity-heavy fictional universe.
This was controversial at the time, particularly because McDuffie was widely beloved for his work on the DC Animated Universe, and for prioritizing diversity in comics. I like to imagine a world in which DC would have eventually reached out to make amends with McDuffie, as it seemingly did recently with current Wonder Woman writer Greg Rucka, but McDuffie tragically passed away in 2011, leaving both comics and animation poorer for his absence.
What concerned me now is the future. Not so much Renae De Liz and Ray Dillon's future, although I genuinely hope they have a great 2017 and find success outside of DC Comics. I'm concerned about creators at major publishers who are unhappy with their treatment, or with the treatment of others, who now feel nervous about speaking out. And who could blame them?
The comic book industry is plagued with problems, but there are plenty of people attempting to do the hard work of dragging it into the future. Unfortunately, a fear of speaking out is pervasive. For example, writers who have attempted to do in-depth reporting about sexual harassment in the comics industry have found that many victims and witnesses are unwilling to go on the record, because they fear reprisals not for the harassers, but for themselves.
And there've been rumors of editorial policies at major publishers that are suppressing queer representation. Queer creators like Kate Leth and Marguerite Bennett have tweeted about losing the fight to get queer stories into their comics, but the accounts are always vague. And that's understandable. Not tweeting about problems with your employers is common wisdom, and well justified by these recent events. But if these anti-queer policies are going to be changed, somebody, eventually is going to have to get specific. And if everyone is afraid of losing their jobs, how will that ever happen?
Corporate publishers are never going to be forces for progress. Their concerns are about markets, profit, and avoiding public backlash. Editors can sometimes champion specific projects, like Sana Amanat did with Ms. Marvel, but ultimately that's not the usual job of an editor (even for those editors who would like it to be).
If progress is going to come, along any axis, it's going to be pushed for by the writers and the artists. And when those writers and artists are afraid to speak their minds, progress is inevitably hampered. That's not just bad for comics creators; it's bad for all of us who love the medium.