Danny Elfman & Tim Burton Team for 25th Anniversary Music Box Set
For comics readers of a certain generation, the 1989 "Batman" film directed by Tim Burton marked a defining (if not inciting) moment in our love of the American comic book medium and its classic characters. Those same fans will agree that the music by Danny Elfman played a crucial role in that experience. More than twenty years later, Warner Bros. Records recognizes that partnership with a new and incredibly cool box setthat celebrates the entirety of Burton and Elfman's collaborations.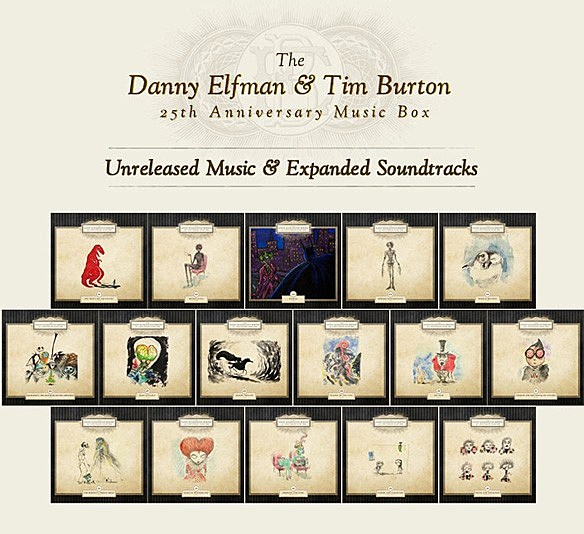 The Danny Elfman & Tim Burton 25th Anniversary Music Box contains an overwhelming sixteen discs of music, original illustrations by Tim Burton, a Burton-esque skeleton USB drive, a one-hour video interview with Elfman and Burton, and a handsome 250-page hardcover book documenting their work.
The box offers compelling material for Batman fans, including 24 tracks not released on the original "Batman" and "Batman Returns" score albums, many of them demos or so-called "work tapes." Elfman's "Mars Attacks!" score is similarly supplemented by expanded and released material.
Top top it all off, the Elfman & Burton box set features a working zoetrope with artwork by Burton and a new composition by Elfman.
Where do you get this wonderful toy? Well, you probably can't. The Elfman & Burton 25th Anniversary Music Box is limited to just 1,000 and priced at a maddening $499.99 (plus shipping and handling!).
I believe the word you're looking for is... "AAAAAHH!"