 Dark Horse: Reissued Remender + New Oeming, Francavilla, Tobin, DeConnick, Noto & More
We already told you the great news about Dark Horse bringing Jeff Parker and Erica Moen's beloved Bucko webcomic to print, but the Oregon-based publisher came to Seattle's Emerald City Comicon with a few more cool announcements to make. Readers can look forward to brand new series Colder, an ongoing horror/crime from title writer Paul Tobin (Small Favors, Spider-Girl) and artist Juan Ferreyra (Rex Mundi), and The Victories, an ambitious new superhero book created by Michael Avon Oeming (Powers). Steve Niles' Criminal Macabre welcomes artist Scott Morse (Soulwind, Spaghetti Western) for an original graphic novel, while vintage Dark Horse property Ghost returns in a new incarnation by writer Kelly Sue DeConnick and artist Phil Noto. The Rick Remender-written Fear Agent gets the deluxe omnibus treatment, featuring the sci-fi artwork of Tony Moore and Jerome Openña. Also on hand in Seattle was Francesco Francavilla (Batman: The Black Mirror), whose pulpy Black Beetle project will debut in Dark Horse Presents.


Compared by Dark Horse to such notable works as Locke & Key, Preacher and B.P.R.D., Paul Tobin and Juan Ferreyra's Colder is about Declan Thomas, man whose body temperature drops to that of a corpse. Consequently, he never gets sick or feels pain, which makes him quite a mystery to a hospital staffer who's also discovered the seemingly 30-something man may have lived as far back as the 1940s.
"Horror and mystery are two things that have always fascinated me, and I wanted to bring those elements together in a story woven around what I consider one of my strongest tools as a writer, which is character," Tobin said in a statement. "One facet of horror that I really wanted to explore is how the tension of horror is at its peak when it's still a mystery. But what if we had a chance to peek behind the curtain and into the darkened closet, and found that the truth is even worse?"
An ongoing series, Colder #1 drops November 7.

Steve Niles' longrunning Criminal Macabre title, chronicling the grim adventures of occult detective Cal McDonald, takes the new form of an illustrated prose novel. Featuring artwork by Pixar member and Soulwind creator Scott Morse, Criminal Macabre: The Iron Spirit follows McDonald on an investigation involving the ghosts of U.S. soldiers who were experimented upon in an underground military base.
"Iron Spirit combines all of my favorite things. I wrote it as prose and handed it to Scott Morse and now Dark Horse is publishing it," said Niles. "I think readers will be surprised at this oddly touching story about death and undeath and the responsibilities that come with both."
Criminal Macabre: The Iron Spirit is set for release on September 12.

Powers and Takio co-creator Michael Avon Oeming presents another twist on the superhero genre with The Victories, which he both writes and draws. The Victories depicts a team of costumed heroes whose ranks include a man who succumbs to some kind of personal trauma that threatens to end his career. If the promo image above is any indication, the characters may be based on some heroes we might recognize.
Editor Scott Allie was unequivocal in his confidence in The Victories, comparing the book to some auspicious forbearers in the realm of "mature readers" superhero comics. "Every few years a book comes along to push superheroes into a new place-Watchmen did it, and Powers did it," said Allie in a press release. "The Victories does it in a way that'll make people uncomfortable. Not for the faint of heart."
Planned as the first in a series of miniseries, The Victories #1 goes on sale August 14.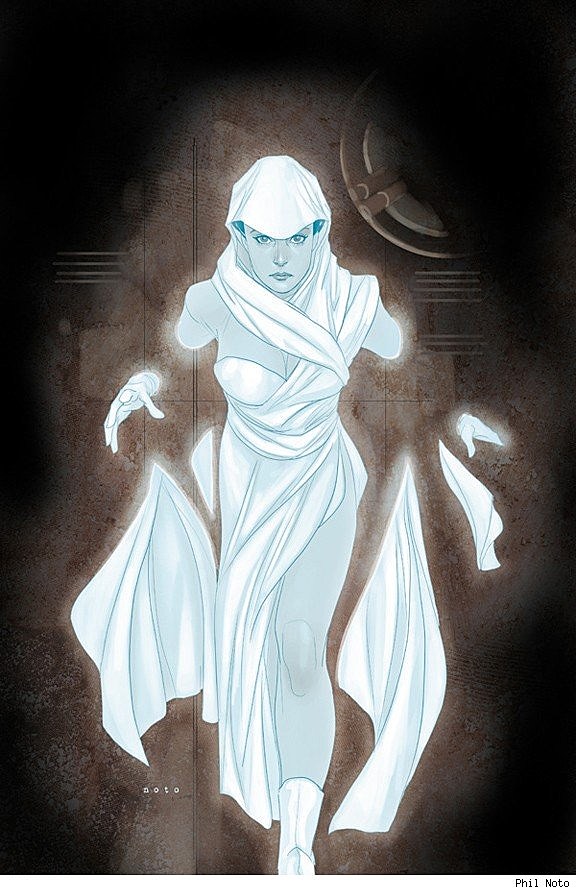 Created by "Team Comics Greatest World" -- the name given to the Dark Horse braintrust of Mike Richardson, Randy Stradley, Barbara Kessel, Jerry Prosser, Chris Warner, who together also created Barb Wire and X, among others -- Ghost is a 1990s property that I recognize instantly thanks to the artwork, covers and pinups by artists like Adam Hughes and Terry Dodson, but other than that I know nothing about it. But in the hopes of reincarnating the enigmatic heroine for new readers like me, Dark Horse recruited writer Kelly Sue DeConnick (Osborn, Captain Marvel) and artist Phil Noto (The Infinite Horizon, X-23) to start from scratch.
All that's known about the story is that the eponymous Ghost is a deceased journalist and becomes a force in the unraveling life of a disgraced TV newsman, but DeConnick shared some remarks in a statement issued during the convention: "There's something about her, something about the way Phil draws her. I think it's in the eyes. It's like he's given her a soul. She's equal parts charismatic and creepy for me to work with, honestly."
DeConnick & Noto's work begins in June's Dark Horse Presents #13 and will continue into a new Ghost miniseries in the Fall. On sale September 19, Ghost #0 will collect the DHP material before Ghost #1 drops on October 10.

In other Dark Horse Presents news, the venerable anthology series will present new work from Francesco Francavilla, whose artwork ComicsAlliance readers no doubt remember from Batman: The Black Mirror as well as Marvel's Captain America and Black Panther. Written and illustrated by Francavilla, The Black Beetle is a pulp/noir adventure hero that the cartoonist had been publishing online before Dark Horse became involved.
"As a huge fan of pulp and noir, working on my own characters and stories really gives me free reign to explore this world and create lots of fun scenarios and thrilling situations," Francavilla said in a press release. "The stories are definitely full of mystery and intrigue, plus I get to give the Black Beetle lots of cool and funky gadgets. 'Night Shift' promises to be full of action, excitement, danger, and double-crosses, so I am overjoyed to see this new tale in print, and hope this is the first of many more to come in Dark Horse Presents."
"The Black Beetle: Night Shift" begins in Dark Horse Presents #11, on sale April 18.

Finally, Dark Horse announced plans to reissue the idiosyncratic sci-fi/action opus Fear Agent in deluxe hardcover format. Written by Rick Remender and featuring the artwork of Tony Moore and Jerome Opeña, among others, the first hardcover goes on sale in October and collects three paperback volumes of the saga of Texas spaceman Heath Houston. The book will include bonus material and be followed by a second, which will collect the remaining stories. iFanboy spoke with Remender about the project and premiered some excellent Opeña artwork to celebrate the announcement: