DC Collectibles On Sale In November 2012: 'Justice League' 7-Pack, Deluxe Darkseid And More
It looks like November is going to be a big month for Justice League, MAD and The Dark Knight Rises items from DC Collectibles. DCC's latest solicitation info sees action figures of New 52 Justice League versions of Wonder Woman and Cyborg arrive in stores, along with a special "We Can Be Heroes" JL seven-pack, which collects the entire team into one box set with 10 percent of its roughly $100 purchase price going to the publisher's current charity efforts. Giving the team a proper threat to face will be the new Jim Lee-designed Deluxe Darkseid, who joins the similarly-styled Parademon that drops in August. On the statue/bust front there's a new Blue Beetle bust, an Ami-Come Catwoman styled for the holidays and plenty of Batmannage, with statues stemming from The Dark Knight Returns, The Dark Knight Rises and Batman Beyond. Rounding out the month are the three more Batmannish figures from the "Just-Us" League of Stupid Heroes line, which sees MAD's Alfred E. Neuman cosplay as Batman, Robin and the Joker. You can see all of the DC Collectibles' offerings for November after the jump.

CYBORG AND WONDER WOMAN ACTION FIGURES
Star athlete-turned-superhero Cyborg. Vic Stone, is ready to join the big leagues – and your collection!

As a founding member of the Justice League, Wonder Woman has no problem keeping up with the boys. The question is, can they keep up with her? Get your hands on one before it's too late!

* Action Figures * $22.95 US • On Sale November 28, 2012

* Allocations May Occur

Cyborg – 7" h

Wonder Woman – 6.75" h
DARKSEID DELUXE ACTION FIGURE
BOOM! Straight from the pages of DC Comics–The New 52 comes a brand new take on one of the Justice League's most powerful villains--Darkseid! This Apokaliptic conqueror will crush all who oppose him--so start building your defenses today!

* Action Figure * $89.95 US • On Sale November 28, 2012 * Allocations May Occur
THE MOST POWERFUL HEROES IN THE UNIVERSE, TOGETHER IN ONE BOX SET!

It's the worst hunger crisis in 60 years. More than 9 million people in Somalia, Ethiopia, and Kenya are in need of immediate assistance. They need our help.

We Can Be Heroes (www.WeCanBeHeroes.org) is a giving campaign designed to increase awareness and raise funds to provide relief for the drought and famine in the Horn of Africa. Using the iconic Justice League characters from DC Entertainment – Superman, Batman, Wonder Woman, Green Lantern, The Flash, Aquaman, and Cyborg – We Can Be Heroes helps our nonprofit partner organizations Save the Children, International Rescue Committee and Mercy Corps provide on-the-ground support where it is needed most.

One small act can make you a hero. Your purchase of this very special set featuring DC Comics–The New 52 action gures will benefit We Can Be Heroes. 10% of the purchase price will go directly to saving lives.

* Action Figures * $99.95 US • On Sale November 28, 2012 *Allocations May Occur
THE DARK KNIGHT RETURNS: SUPERMAN VS. BATMAN STATUE A FIGHT FOR THE AGES!
Who will win this epic battle as a heavily armored Batman faces off against the Man of Steel himself–Superman! Ripped from the pages of Frank Miller's acclaimed BATMAN: THE DARK KNIGHT RETURNS, this statue is a timeless addition to any collection!

Sculpted by Derek Miller

Statue measures approximately 11" high x 11" wide x 9" deep

$324.95 US • On Sale November 28, 2012 *Allocations May Occur

Retailers: This item is resolicited. All previous orders are cancelled.
THE DARK KNIGHT RISES: BATMAN WITH EMP RIFLE
After the blockbuster The Dark Knight Rises hits theaters July 20, be sure to pick up this bust as Batman with EMP rifle in hand prepares for his showdown in the streets of Gotham City. This scene-stealing collectible is sure to fly off the shelves! This hand-painted, cold-cast porcelain statue is packaged in a 4-color box.

Batman – 6.5" h

Sculpted by Dave Cortes and Paul Harding

$79.95 US On Sale November 21, 2012 *Allocations May Occur
DC COMICS SUPER–HEROES: BLUE BEETLE BUST
Sculpted by Steve KiwUS

Bonded with a mystical scarab of unknown origins, Jaime Reyes is back in the DC Comics–The New 52! This skillfully designed bust showcases the all-new look of the Blue Beetle's suit, but what other mysteries remain undiscovered? Find out for yourself and order one today!

Measuring approximately 6.6" high x 5.7" wide x 3.75" deep, this hand-painted, cold-cast porcelain statue is packaged in a 4-color box.

$69.95 US • On Sale November 28, 2012 *Allocations May Occur
BATMAN BEYOND STATUE BY DUSTIN NGUYEN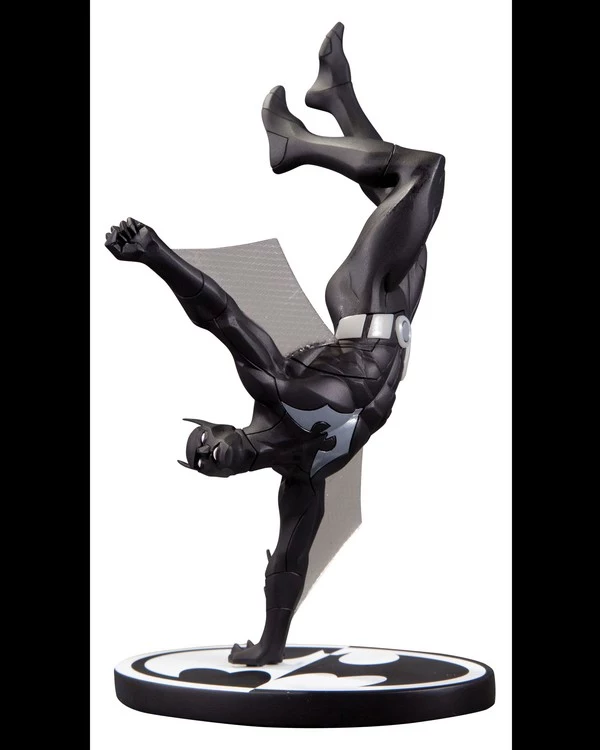 DESIGNED BY DUSTIN NGUYEN

SCULPTED BY JON MATTHEWS

Terry McGinnis makes his triumphant return as the Dark Knight of the future in this timeless addition to the "Batman: Black and White" line of collectables. Based on designs by the talented Dustin Nguyen, the monochromatic tones of this elegant statue make this a must-have for any Bat-fan.

Statue measures 8.2" high x 4.5" wide x 4.5" deep.

$79.95 US • On Sale November 21, 2012 *Allocations May Occur
BEFORE WATCHMEN: DR. MANHATTAN STATUE
The god-like Dr. Manhattan stands tall in this new statue from BEFORE WATCHMEN. Used as a living weapon by the American government, the clairvoyant Dr. Manhattan has control over matter–but what remains of Jon Osterman?

Be sure to add this expertly crafted statue to your collection today!

Sculpted by Tim Bruckner

Statue approximately measures 10.5" high x 7.5" wide x 5" deep

$149.95 US• On sale November 28, 2012 *Allocations May Occur
DESIGNED BY JIM FLETCHER • SCULPTED BY JACK MATHEWS

'TIS THE SEASON TO BE CATTY!

It's a candy cane Catwoman in this special holiday variant from the smokin' hot line of Ame-Comi collectible figures. But has Selena Kyle been naughty or nice? Order now, because this peppermint pussycat will be gone before you know it!

Packaged in a 4-color window box with J-hook, this non-articulated PVC statue stands approximately 9.25" high.

$69.95 US • On Sale November 28, 2012 *Allocations May Occur
"JUST-US" LEAGUE OF STUPID HEROES
The dumb just keep getting dumber with the return of the "Just-Us" League of Stupid Heroes, featuring MAD Magazine icon Alfred E. Neuman in classic Justice League costumes! Timed to coincide with Mad's historic 60th anniversary, each _gure features multiple points of articulation and stands 6" tall.

Sculpted by James Shoop

* Action Figures * $22.95 US • On Sale November 28, 2012 *Allocations May Occur